Pete Townshend's autobiography, which has been on the way for something like 20 years, is due in the fall, and we're pretty sure it's going to be amazing. He's clearly been there and done that, and he can spin a yarn, so it's going to be great, there's no question.
But how will it compare to the masters? The art of the rock biog lies in remembering things you clearly shouldn't be able to, telling the stories that people want to hear with a fresh perspective, and living up to everyone's fantasy of what your life has been like.
Here are five examples (and another five for good measure) of doing the thing properly.
Julian Cope – Head On/Repossessed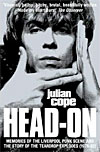 Anyone considering sitting down to write their memoirs of, well, anything ever would be well advised to give this book a read first. Julian writes clearly and beautifully about his sometimes inspiring, sometimes preposterous past as the leader of the post-punk psychedelics the Teardrop Explodes (the Head On bit) and then as a prematurely-cowed cosmic has-been, pulling himself together again (Repossessed). And for someone who took all of the mind-expanding substances he could, he remembers, and can explain, the rationale behind every decision, even the really weird ones. So it's less a diary and more a coach trip around the mind of someone who may not share the same sense of aesthetics and righteousness as you. His skill as a writer is convincing the reader that he was right all along.
See also: James Young's account of his time as Nico's pianist, during her drug-addled twilight years – Songs They Never Play On The Radio.
Luke Haines – Bad Vibes – Britpop: My Part In Its Downfall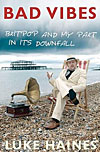 Some of you may not be aware of Luke's work. He's the singer and songwriter in the pre-Britpop band the Auteurs, who also released an album as Baader Meinhof, and then formed the disturbing dreampop trio Black Box Recorder. Along the way he broke both his ankles, got into a fight with Matt Johnson of The The, and released a lot of scabrous, but beautiful music. His is not a celebratory tome for the Britpop years; it's more of a late audit of that era's pretentions and self-celebration. He, like all good pop journeymen, begins with the hits, and is then forced to travel through a prolonged no-hit wilderness, during which time he releases some of his best songs, while rival acts triumph peddling less worthy material. He comes out the other side still essentially bitter and vengeful, but a little calmer.
See also: Ray Davies – X-Ray
Keith Richards – Life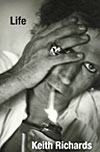 Another man who remembers rather more than he has any right to, Keith's biography is the one book (apart from Dylan's Chronicles) that every self-respecting rock fan had wanted to read for years, but always feared would never happen. Turns out that Mr Richards has a fine memory for how things came to be, a great line in self-depreciating humour, and the ability to capture some of the excitement of being in the Greatest Rock 'n' Roll Band In The World at a time when carrying that honour really meant something. Along the way, seismic shifts occur, and terrible things happen to people, which sometimes feels righteous, and other times is clearly a tragedy. But Keith keeps on going, unphased by drug arrests, feuds with Mick Jagger, or homicidal coconut trees.
See also: Marianne Faithfull – Faithfull: An Autobiography
Boy George – Take It Like A Man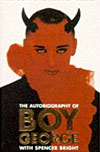 Oh sure, he broke cultural boundaries when he flounced around the international stage singing "Do You Really Want To Hurt Me" in full makeup, and in being such an approachable soul, he took the sting out of being gay for countless young pop fans AND their families, but this is no rags-to-bitches fairy tale. What happened next, the drugs, the artistic decline, the tabloid battles and the paranoia, is the true story of how modern celebrity culture works. You think you're playing a game, you think everyone knows the rules, and then you lose (your boyfriend) and you lose (fans) and you lose (a ton of weight). Turns out, being astonishingly famous is, like, really bad for you? Who knew?
See also: John Lydon – Rotten: No Irish, No Blacks, No Dogs
Bill Drummond – 45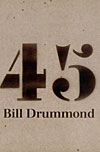 It's not just performers who can turn a phrase, you know. Managers have been around for many of the same highs, and have played a part in clearing up after all of the lows, so they have just as many war stories to bring back. Bill Drummond, who managed Echo and the Bunnymen, and the Teardrop Explodes (I know, them again, but bear with me) and went on to form the KLF and then make a film of himself burning a million pounds as an artistic statement, is on the dividing point between artist, lunatic and puppeteer. He sent the Bunnymen on a UK tour devised so that the map of their trip would look like a rabbit's head. He also planned foreign tours for both of his bands so that they would be playing on an international leyline, which crossed in Liverpool's Mathew Street, where he would be standing. And he didn't even really believe in leylines. The stories are legion and all glorious, and if you don't come away from reading it inspired to do something ridiculous and creative with no thought of how it could be monetised, you're probably Simon Cowell.
See also: Simon Napier Bell – You Don't Have To Say You Love Me
What did we forget? Tell us here.
Read More
Filed Under: