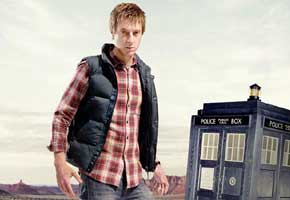 Now that the TARDIS has turned its lights off for the time being, Arthur Darvill is moving on to another doctor. On Saturday (June 18), he'll hit the Shakespeare's Globe stage for Christopher Marlowe's Dr. Faustus, which will see him in the role of the evil Mephistopheles.
When speaking with BBC News recently, Darvill revealed that the Elizabethan classic is one that's dear to his heart.
"It's been a play that I've loved since I was quite young," Darvill said. "Mephistopheles is an agent of the Devil in human form. I find the relationship he has with Faustus and the people whose souls he collects quite fascinating."
The set of Dr. Faustus will also see a host of "Renaissance costumes" and "horned stilt walkers," plus "giant dragon puppets." And if you didn't already know, our dear Rory is no stranger to puppets. When he was a kid, his mother used to perform with a puppet theater group in his native Birmingham.
He explained: "It was normal for me – I used to go on tour with her and help set up the puppets. Later on, my mum did children's TV – she was the 'Why Bird on Play Days' for 10 years."
And does he still have a fondness for puppets? You better believe it. "There are puppets all over my house and I've got a ventriloquist's dummy," Darvill dished. "I'm rubbish at doing it, but I really like it."
• Oh, and while we're talking about Arthur, here's how his own family reacted to the dramatic twisty events of the mid-season cliff-hanger: "My mum sent me a text straight after the episode saying, 'Does this mean I'm Alex Kingston's grandmother?'"
• Speaking of whom, Alex Kingston shares some seriously steamy smooches with The Doctor, doesn't she? Anyhow, of her co-star Matt Smith, Kingston likens her connection to him as something more maternal. "Matt's a great flirt. But I feel… I'm going to make myself sound old, but I feel quite motherly towards him," she tells The Guardian. "Maybe not motherly. Actually, I hope he doesn't regard me as a mother. Older sister, perhaps."
• Are you still reeling from last weekend's jaw-dropping mid-season closer "A Good Man Goes to War"? WOWSA! If you are too, the latest Doctor Who Confidential goes behind the scenes of this stellar episode. For those who haven't seen it, we're issuing a spoiler alert right here and now.
• If you happened to step away from the television during last Saturday's episode, you may have missed who won the "Where's the TARDIS?" contest. If so, meet the Bull Family of Wisconsin. Their ice shanty is very, very cool!
• …and we have some more TARDIS talk for you: In a previous roundup, we highlighted Newport, South Wales resident John Williams's garden TARDIS. His "BlueBox Type 40" has landed in the finals for the National Shed of the Year 2011 contest scheduled for July 4. On the count of three, let's all give Williams a hearty Whoo hooo! (via Wales Online)
• And if that's not enough Welsh Whovian construction for you, you'll be delighted to know that BBC Wales are in talks with Cardiff council to find a permanent home for their museum The Doctor Who Experience. This means tourists who want to go and see the locations of some of the more recent Who stories will also have a great big treat to round their day off, or somewhere to go when it's raining.
• We've stumbled across one of the coolest kids in the Whoniverse! This kindergartner gives The Eleventh Doctor's powerful Pandorica speech quite the spin. Plus, he's decked in his best bowtie for the occasion. Absolutely brilliant!
• The Gallifrey and Geek Squad Tumblr reminds us why the Tenth Doctor and Rose Tyler ruled so much.
• Meanwhile, Karen Gillan has been singled out by the Telegraph's fashion section as a good example of a hot new look for the female celebs. They've called it the skirt-and-a-shirt, which is kind of clunky. Surely skirtshirt would be much better? Or even shkirt?
• We know there's a wealth of Whovians out there who've been blessed with artistic talent. Cartoonist Zack Smith gathers some of 'em for a kickass Doctor Who sketchbook called The Universal Databank. "My rules were no repeat characters, and no repeat artists," Smith told USA Today. "I now have renderings of all 11 Doctors! Now all I have to do is get the rest of the Master's incarnations …"
• Remember the reviews we posted of the David Tennant and Catherine Tate production of Much Ado About Nothing? Well it seems we've one more to add to that pile. Or at least we would have, if the playwright and director Jonathan Miller (yep, the same one who was in Beyond The Fringe with Alan Bennett, Peter Cook and Dudley Moore) wasn't so scared of rampaging hooligan Whovians. Having received some stiff criticism for daring to challenge why David should have been allowed to play Hamlet when he was merely "the man from Doctor Who," his opinion of the new production is a lot more circumspect.
He told the Telegraph: "I received such adverse comments over the Hamlet business, I am not prepared to venture a comment."
• One person who is a little more forthcoming is Christopher Eccleston, who recently wrote a nice thing for The Guardian about his favorite TV writer, Jim Allen, and how he was inspired to get involved in the world of theatre and acting by Jim's TV play The Spongers, which was shown in the late '70s. Which effectively means that Jim is indirectly responsible for the entire relaunch of Doctor Who and everything that has happened since it came back.
Read More
Filed Under: