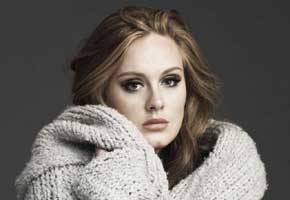 Has Adele's love of smoking taken a toll on her brilliant singing voice? Maybe.
According to Metro (via Britain's News of the World, the 23-year-old English songstress has been advised to "stop talking for a month while the severe inflammation of her vocal cords eases."
She can't talk and she can't sing. Yikes! And as far as her favorite vice goes, Adele has been told that she must cut out those ciggy breaks once and for all. Earlier this month, the "Someone Like You" singer canceled the remaining nine dates of her sold-out North American run due to laryngitis.
"Adele's voice is very special," said a source. "But if she continues to abuse it in the way she has, then she could lose it completely."
A month seems like an awfully long time, doesn't it? Can you imagine not speaking for a full four weeks? And Adele is quite a chatty one when it comes to the press. Well, we hope she's getting the rest she needs and that she's able to get back behind the mic very, very soon.
Read More
Filed Under: