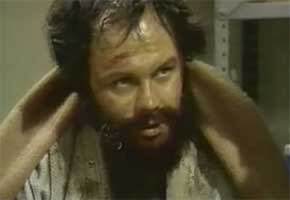 Some performers manage play a huge role in your childhood without you ever really knowing who they are, not until you're a grown-up, at any rate.
Like Mel Blanc doing the voices for those immortal Warner Brothers cartoons, or Jim Henson transforming felt and glue models into the Muppets. And it's sad when they pass away; not least because that's another closed door back to your past, another vanished chunk of the world you grew into.
There will be many people in Britain feeling that pang today, as they find out that the voice actor Roy Skelton has died of a sudden stroke, at the age of 79.
Hardcore Whovians may already know who Roy is. He was the voice of the Daleks from 1967 until 1988, the years in which Doctor Who changed from being just a hit sci-fi series to a beloved cultural instition. He also voiced many of the show's other monsters, from the Cybermen to the Monoids to the Krotons, and appeared as an actor in the Doctor Who adventures The Green Death, The Tenth Planet, and Colony In Space.
He even reprised his dalek role for a 1999 Comic Relief Who spoof starring Rowan Atkinson, The Curse Of Fatal Death. Roy's final service to the show was the role of James Carver in a 2002 audiobook adventure called Sarah Jane Smith: Test of Nerve.
But for British viewers, Roy will forever be known as the voice of the two puppets Zippy and George on the children's TV show Rainbow, which ran for 20 years. Here they are, doing what they always did, bickering. Just remember, this is one man arguing with himself, essentially:
http://www.youtube.com/watch?v=X6fskQ4pHPA
His co-star Geoffrey Hayes told BBC News: "The most wonderful thing was if Zippy and George were having an argument between themselves, it sounded like he'd double-tracked it as they seemed to be talking over each other. It was a wonderful technique and I don't know how he did it. "
You might also have seen Zippy pop up in one of the dream sequences in Ashes to Ashes, that's how big a reference point Rainbow is in British cultural life. And that's before you take into account all of the spoofs, where people (sometimes Roy himself) put rude words into Zippy and Bungle's mouths.
Talking to a reporter recently, Roy explained that he felt glad to be able to put his talents to such enjoyable use: "I've been very lucky, but I hope I have brought a certain happy energy to my work. I suppose I have a voice that can grab and colour a character in, I hope, an exciting way. I have been very lucky because I have always been doing a job that gave me so much pleasure."
As a final tribute from us, here's Roy, from 1983, giving it the full angry dalek treatment:
Read More
Filed Under: