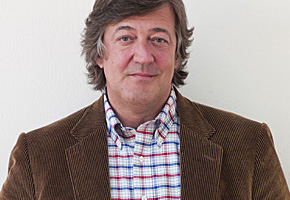 Suppose you were on a holiday in the British countryside, having a wander through some scenic park or the grounds of a stately home. Tired, you alight upon an ornately carved bench which, in some undefinable way, to be a bit Stephen Fry-ish. Still, you sit down, to rest your weary feet, and then, out of nowhere, comes the voice of the great man himself.
Well, I don't know about you, but if that were me, and I didn't know it was about to happen, I would RUN HOME.
And yet, the National Trust have just launched a scheme across the UK where notable public figures such as Stephen, and Miranda Hart, have recorded stories to be fitted to specially carved benches, that suddenly start up whenever someone sits on them.
The full list of contributors (and locations) is as follows:
Stephen Fry – Felbrigg Hall, Norfolk
Miranda Hart – Cragside, Northumberland
Claudia Winkleman, BBC presenter – Quarry Mill Bank, Cheshire
John Sergeant, broadcaster – Petworth House, West Sussex
Alain de Botton, philosopher and author – Castle Ward, County Down
Nick Baker, naturalist and broadcaster – Cotehele, Cornwall
David Gower, former cricketer – Calke Abbey, Derbyshire
Iolo Williams, naturalist and broadcaster – Dinefwr Park & Castle, Carmarthenshire
Stephen said, in a press release about the scheme: "To quote, or nearly quote, WH Davies; 'what is this life if, full of care, we have no time to sit and stare?'
"I am very proud to be associated with a bench and I hope I provide comfort and solace for many a weary bottom."
I know, that could have another meaning. Let's skirt around it, pretend it didn't happen, and then go and read what Miranda said:
"The idea of being somebody's Bench Mate and chatting to them while they get to experience a beautiful view is a lovely, nay, tremendous idea."
Phew! Crisis averted.
Would that appeal, or scare the holy heck out of you? Tell us here.
Read More
Filed Under: