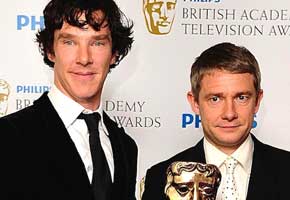 D'oh! Martin Freeman has let the cat out of the bag: his Sherlock co-star Benedict Cumberbatch will indeed be appearing in The Hobbit.
Something tells me that this select bit of info wasn't supposed to be shared just yet. But lucky for us, Freeman served up this tasty morsel when chatting with BBC News after the 2011 BAFTA TV Awards on Sunday (May 22).
"I knew I was a sort of a big mouth but I didn't realize to what extent I was a big mouth, and I've just ruined everything," Freeman said. "I might not actually go back to a job – they might have just sacked me."
Awww, don't be so hard on yourself, Martin. Besides, we can't blame you for being caught up in all the excitement surrounding your big win for Best Supporting Actor, as well as Sherlock's crowning moment for Best Drama.
One guy that showed a little more restraint was Cumberbatch himself. Dude wouldn't budge on any of the details: "I can't say at the moment, thank you very much," he said.
Well there you go, my dear Hobbit enthusiasts. I suppose we'll have to sit tight until director Peter Jackson chimes in via Facebook. Fingers crossed.
How psyched are you about Benedict Cumberbatch's addition to The Hobbit?
Read More
Filed Under: