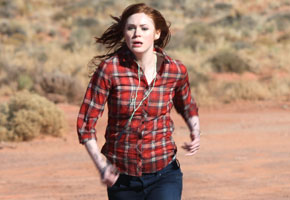 An episode of Doctor Who so big that only Utah's vast Monument Valley could contain it? That's what writer/exec producer Steven Moffat imagined when he set his new two-part season opener in the U.S.
Executive producer Beth Willis reveals, "We really wanted to come back with Series 6 with a bang. Steven came to Piers [Wenger] and I and asked, 'Could we shoot this in America?'"
Thankfully, Beth and Piers gave Steven the go-ahead, shooting the long-running British show on-location in the States for the very first time. Not only are the rocky vistas in the premiere incredible, but Moffat really embraced the U.S. as a mythic land of Stetsons, pistols, all-night diners, and sody-pop. He chats about it in the latest installment of the Doctor Who Insider.
Moffat says, "I wanted to take all that tremendous Britishness of Amy, Rory, and the Doctor and really frame them with Americana."
Toby Haynes, who directed the two-part episode, says, "This is America. This is the home of John Ford. This is the West, we're doing Westerns. It's fantastic, it's epic, the scale is like nothing else Doctor Who has ever seen."
Stars Matt Smith, Arthur Darvill, and Karen Gillan also chime in about Doctor Who in America. Guess which iconic Oscar-winning film was filmed in the same location in Utah?
Read More
Filed Under: