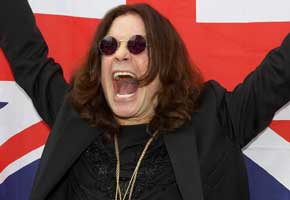 Gah! There are just too many X Factor rumors swirling around right now. It's enough to drive a super fan completely nuts.
With Cheryl Cole still hotly-tipped to join the U.S. version and Simon Cowell's recent departure, there's obviously some spots to be filled. And the latest name that's been tossed into the ring: Ozzy Osbourne
According to The Sun, the 62-year-old English rocker is reportedly "set to replace Cheryl Cole," while producers are supposedly in discussion over the venture. Um, this is a guy who famously blamed the hit reality TV competition for "killing music" when his wife, Sharon, was still a judge on the show, mind you. He also said it was "turning music into WWF." Haha!
"Ozzy would be a controversial choice but he can really bring something different to the show," said a source. "Sharon was a big hit and we think Ozzy can do well too."
While I'm still holding out for Boy George to get an invite, I think Ozzy would be absolute riot on The X Factor. On top of his 40-plus years in the music biz, I think he'd be far more entertaining than former Spice Girl Melanie Brown. Miss Sporty Spice recently teased that she might be appearing on the show next year.
Would you like to see Ozzy Osbourne join the judge's panel on the UK X Factor? Tell us here.
Read More
Filed Under: