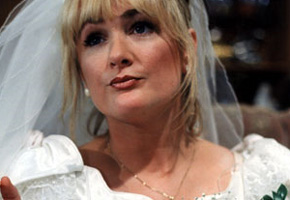 Fans of the cult BBC comedy The Royle Family will be delighted to hear that Caroline Aherne, the show's co-creator and the face, body and voice of Denise Royle, is working on a new sit-com for ITV. It's her first comedy creation for over 10 years, having recently worked with writer Jeff Pope on a one-off drama called The Fattest Man in Britain, which starred veteran actor Timothy Spall.
Jeff is back to co-write Caroline's new venture, which called The Security Guards. It's set in a shopping centre in Manchester, and stars comedians Bobby Ball and Paddy McGuinness (Phoenix Nights) alongside Mrs Brown's Boys star Brendan O'Carroll, and Dean Andrews from Ashes To Ashes. They play four slack-off security guards, who work the night shift.
An hour-long pilot has already been filmed, with the rest of the show's four episodes to be completed over the summer. Sadly, Caroline has reportedly not written a role for herself this time.
Elaine Bedell, ITV's head of comedy, told the Sun: "We're absolutely delighted to be working with Caroline and Jeff – two writers at the top of their game.
"I believe together they have created some of the best comedy scripts for television. Combined with the talent and wit of our cast, The Security Men is a very fresh and exciting project for ITV."
And then, hopefully, for the rest of the world?
Anyone want to take a shot at explaining who Bobby Ball is? Tell us here.
Read More
Filed Under: