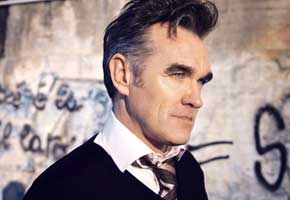 Whenever Morrissey has something to say, I pretty much always listen. Blame the fangirl in me. Anyhow, in a recent chat with BBC Radio 4 Front Row host John Wilson, Moz brought much to the table to discuss — his solo career, British Prime Minister David Cameron and whether or not he'd live in Britain again. And yep, he talked about The Smiths with much delight. But no, dear fans, a reunion will never happen.
"I'm very happy with the Smiths legacy," he said. "It's a great name still. It doesn't sound like a silly name from the '80s. It still speaks for now. The music still speaks for now."
And of his 20-plus years as a solo artist, Morrissey explained that while "it hasn't been the easiest journey," singing has always been his main focus. "I only ever wanted to sing. To me, that was the ultimate power and the ultimate form of expression and that's all I wanted to do."
Last December, Morrissey stepped up in support of his former bandmate Johnny Marr and his objection of David Cameron being a Smiths fan. And in case you forgot, Britain's House of Commons even got in on some of the fun. Morrissey went on to say that he still stands firm on this particular issue.
"David Cameron is a hunter and he kills stag and so forth. And that's everything that the Smiths were against. But then once you release something and it's out there in the world you can really trap people into either listening or not listening. You can't really insist that people listen or don't listen, so it's very difficult. Sometimes you see people whom you would least expect to be interested and they have a lifestyle, which is everything that you oppose and yet they're very influenced by something you've done. And you think, 'Where's the connection?'"
And would the Moz ever live in Britain again? He says he very well could, but there are a few things that bug him at the moment. "It's become like America in the sense that you have to be very aware of what you must avoid. And you musn't really watch the television and you musn't really watch the news and we all love royalty. I find that very very insulting."
Morrissey also revealed that he's finally finished his long-awaited autobiography. Hooray! We've been waiting over three years for Morrissey's official written word. He's apparently at "the re-drafting, trimming stage" and the final product could be out within a year. If Marr stays true to his previous tweets about penning his life story, Smiths fans will be all set.
"I just wonder if 660 pages are too much for people to bear," Morrissey said. "And then I sit down and think, well, are six pages too much for people to bear? I really don't know."
If the passionate fan reactions featured in the "That's How People Grow Up" video are of any indication, I think a 660-page autobiography will suit Mozzer loyalists just fine.
Read More
Filed Under: