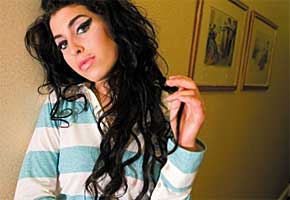 So, Amy Winehouse then. If we had to sum up what we know about her from the press, it would go something like this: she's a bit of a mess, she goes out with unsuitable men, her lifestyle is making her very unwell and she's wasting her talent.
Well, according to her goddaughter, Dionne Bromfield, none of the above is even remotely true, not any more.
Dionne, who has worked with Amy on her debut album, and can confirm that there's a third Winehouse album on the way, says the very first thing Amy does when you go around to her house is start cooking up… and before those eyebrows rise, she's talking about FOOD.
She told BANG Showbiz (via Yahoo!): "[Amy's] always saying, 'Are you hungry?' She loves to feed you, that's all she wants to do – feed you. She makes spaghetti and meatballs. I'm not even joking, you'd end up fat coming out of her house!
"She's very homely, motherly-like. She also cooks salmon stuff – that's probably the Jewish side of her coming out – and she does amazing chicken soup."
OK, OK, so she's a regular Martha Stewart. But what about her health? Surely that's still a concern?
Nu-uh: "Amy's always on a treadmill, working out, she loves working out, she has a little gym in her house, and watching Dave Chappell, she loves watching his programme. She's always cracking jokes. She's just a funny person."
Funny ha-ha or funny peculiar?
Looking forward to a less dark "Back To Black"? Tell us here.
Read More
Filed Under: