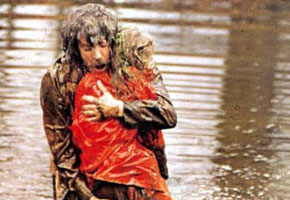 Another year, another list of the 100 greatest British films. Not content to give the British Film Institute the last word on the matter, TimeOutLondon and "150 film industry experts" — including Thandie Newton, Sally Hawkins, David Morrissey, Sam Mendes, Mike Leigh, and Wes Anderson — have weighed in with their picks. They've selected Don't Look Now, a highly regarded 1973 horror film starring Donald Sutherland and Julie Christie, as the Citizen Kane of British cinema, the very best of them all.
Adapted from a Daphne du Maurier short story and directed by Nicolas Roeg, Don't Look Now tells the tale of a couple (Sutherland and Christie) who take refuge in Venice after the accidental drowning of their young daughter. But their holiday soon devolves into a horror show, as their daughter's death looms over them in increasingly disturbing ways.
TimeOut London writes: "We can speculate on the roots of its popularity: that it satisfies the genre and arthouse crowds; that it uses framing, sound, editing and camera movement to unreel a transfixing tale and flesh out excruciatingly authentic characters; that it dares to coax out the ghosts lurking in every watery passageway in Venice, Europe's most ornate and singular city; that it contains arguably the greatest sex scene on film. Or, we can just accept it as a movie whose every glorious frame is bursting with meaning, emotion and mystery, and which stands as the crowning achievement of one of Britain's true iconoclasts and masters of cinema."
http://www.youtube.com/watch?v=TYICwstBwnM
The Third Man would have been my own personal choice, and BFI feted it as their all-time favorite as well. The classic 1949 thriller — directed by Sir Carol Reed and starring Joseph Cotten and a cunning Orson Welles — came in second on TimeOut London's list.
Here's the full list. Andrea Arnold's 2009 film Fish Tank is the newest movie on the list, while Piccadilly, Blackmail, and A Cottage from Dartmoor, all from 1929, are the oldest entries. Notably absent: Far From the Madding Crowd, The Lavender Hill Mob, Alfie, The Italian Job, My Beautiful Laundrette, and A Hard Day's Night.
1. Don't Look Now (1973)
2. The Third Man (1949)
3. Distant Voices, Still Lives (1988)
4. Kes (1970)
5. The Red Shoes (1948)
6. A Matter of Life and Death (1946)
7. Performance (1970)
8. Kind Hearts and Coronets (1949)
9. If… (1968)
10. Trainspotting (1996)
11. Naked (1993)
12. Brief Encounter (1945)
13. The 39 Steps (1935)
14. The Life and Death of Colonel Blimp (1943)
15. Withnail & I (1987)
16. Black Narcissus (1947)
17. A Canterbury Tale (1944)
18. The Innocents (1961)
19. Barry Lyndon (1975)
20. Monty Python's Life of Brian (1979)
21. Nil by Mouth (1997)
22. Saturday Night and Sunday Morning (1960)
23. Lawrence of Arabia (1962)
24. Brazil (1985)
25. Great Expectations (1946)
26. I Know Where I'm Going! (1945)
27. The Bill Douglas Trilogy (1972-1978)
28. The Wicker Man (1973)
29. Peeping Tom (1960)
30. The Ladykillers (1955)
31. The Lady Vanishes (1938)
32. Get Carter (1971)
33. Secrets & Lies (1996)
34. A Clockwork Orange (1971)
35. The Servant (1963)
36. The Loneliness of the Long Distance Runner (1962)
37. It Always Rains on Sunday (1947)
38. Went the Day Well? (1942)
39. London (1994)
40. Ratcatcher (1999)
41. Witchfinder General (1968)
42. Listen to Britain (1942)
43. Fires Were Started (1943)
44. Sabotage (1936)
45. Repulsion (1965)
46. The Fallen Idol (1948)
47. Blow-Up (1966)
48. Hunger (2008)
49. Gallivant (1997)
50. Culloden (1964)
51. Local Hero (1983)
52. Robinson in Space (1997)
53. This Sporting Life (1963)
54. Monty Python and The Holy Grail (1974)
55. Radio On (1980)
56. Caravaggio (1986)
57. 2001: A Space Odyssey (1968)
58. Gregory's Girl (1981)
59. Blackmail (1929)
60. The Long Good Friday (1980)
61. Walkabout (1971)
62. Deep End (1970)
63. Nuts in May (1976)
64. Topsy-Turvy (1999)
65. Dracula (1958)
66. Wonderland (1999)
67. Whisky Galore! (1949)
68. Dead of Night (1945)
69. Oliver! (1968)
70. Bad Timing (1980)
71. Edvard Munch (1974)
72. The Long Day Closes (1992)
73. The Man in the White Suit (1951)
74. Four Weddings and a Funeral (1994)
75. A Room for Romeo Brass (1999)
76. Penda's Fen (1974)
77. Piccadilly (1929)
78. Billy Liar (1963)
79. The Offence (1972)
80. Under the Skin (1997)
81. Dr No (1962)
82. Orlando (1993)
83. A Cottage on Dartmoor (1929)
84. Fish Tank (2009)
85. I'm All Right Jack (1959)
86. The Bridge on the River Kwai (1957)
87. Night and the City (1950)
88. This Is England (2006)
89. The Go-Between (1970)
90. Blue (1993)
91. Land and Freedom (1995)
92. Dead Man's Shoes (2004)
93. Zulu (1964)
94. 24 Hour Party People (2002)
95. London to Brighton (2006)
96. Theatre of Blood (1973)
97. 28 Weeks Later (2007)
98. School for Scoundrels (1960)
99. The Railway Children (1970)
100. In This World (2002)
Read More
Filed Under: