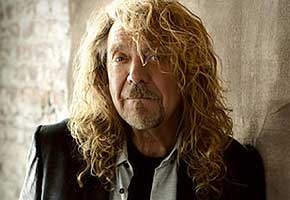 To the Led Zeppelin fans out there who are still holding out hope for a reunion, cool it already. Robert Plant isn't interested.
In the new issue of Rolling Stone, the 62-year-old English singer/songwriter reveals that he quite enjoyed performing with Jimmy Page and John Paul Jones during a tribute show honoring the late music mogul Ahmet Ertegün just over three years ago. But at this point, he's sort of over it.
"It was an amazing evening," Plant says. "The preparations for it were fraught and intense, but the last rehearsal was really, really good, for all that it represented and all that we were trying to capture. But I've gone so far somewhere else that I almost can't relate to it…It's a bit of a pain in the pisser to be honest. Who cares? I know people care, but think about it from my angle – soon, I'm going to need help crossing the street."
Plant, who issued Band of Joy last September, also admits to being totally stunned by former British Prime Minister Tony Blair's decision to become a member of the Catholic Church in 2007. Such a move thwarted Plant's songwriting routine so much he hasn't "lifted a pen" since.
"We were supposedly going into the Gulf, determined to sort the world out in the name of tyranny," Plant states. "Then, once he had to leave the throne, he became a Roman Catholic and became a peace envoy in the Middle East. That's when I knew the world was completely upside down."
Chin up, Robert. It's a New Year! Things are bound to look up at some point.
Read More
Filed Under: