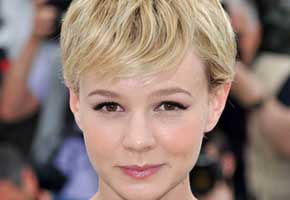 Carey Mulligan is heading back to the stage! The Associated Press reports that the 25-year-old Oscar-nominated film actress will portray "an intense young woman harrowed by psychiatric illness" in an off-Broadway adaptation of Ingmar Bergman's 1961 family drama, Through a Glass Darkly.
"It's an incredible descent into insanity. It's horribly scary and I have no idea what I'm going to do," Mulligan said.
She added, laughing: "Everyone wants to play someone with a problem."
The British-born Mulligan had a fantastic 2010 with roles in Never Let Me Go and Wall Street: Money Never Sleeps, but she further divulged that theater is a place where she feels the most comfortable with her craft.
"I'm more consumed by theater than I am by film," said Mulligan, whose Broadway debut came in 2008's The Seagull. "I never set out really to be a film actress. I love it and I'm incredibly lucky, but I find it easier to throw myself into a play than film. I'm always much more self-aware and self-conscious when I'm doing film because cameras really freak me out."
Previews for Through a Glass Darkly are slated to begin May 13.
Read More
Filed Under: