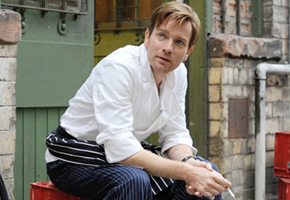 Big names from the world of cinema are en route to this year's Sundance Film Festival — one of the world's premier showcases for independent film.  With some 20 British movies in the lineup there's a strong UK presence: Ewan McGregor (Perfect Sense), Hugh Dancy (Martha Marcy May Marlene), Felicity Jones and Alex Kingston (Like Crazy), and Freddie Highmore (Homework) are among the British actors in festival films.
British directors are making an impact too. Kevin Macdonald, who directed The Last King of Scotland, has masterminded Life in a Day, one of the most ambitious and eagerly awaited Sundance films.  It's a global cinematic project, supported by YouTube, in which a feature film has been built from user-generated content drawn from 80,000 people. All the images seen in the film were shot on a single day, July 24, 2010.
Another British director, James Marsh, has also been the subject of pre-festival talk with his documentary Project Nim. Marsh, who won an Oscar in 2009 for his film Man On Wire, explores an experiment which aimed to prove that a chimpanzee – if raised like a human baby – could communicate through sign-language.
There's also interest in Becoming Chaz, co-produced by British filmmaker Fenton Bailey. The documentary chronicles Cher's daughter Chastity and her transition, through gender reassignment, to becoming a man.
Sundance has many cheerleaders, but these are still extremely tough times for independent cinema. The recession has hit the industry hard, there is still no solid business model that independent filmmakers can embrace, and the vast majority of films being screened at Sundance will leave the festival without a distribution deal.
However, Sundance nearly always yields winners. It's helped to launch the careers of some of the biggest names in cinema, from directors like Steven Soderbergh and Quentin Tarantino to actresses like Britain's Carey Mulligan, who appeared in her first big film role in An Education at Sundance in 2009.
Read More
Filed Under: