The topic of hair always seems to get people talking. This year, some Britain's biggest stars put some of their tresses to the test as paparazzi photographers anxiously awaited to capture a refreshed (or dreadful) new look. Here's Anglophenia's quick look back at who stole the show.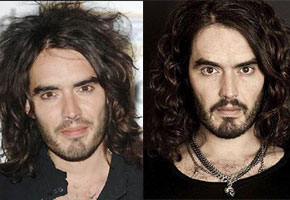 5. Russell Brand
When it comes to questionable hair, I think it's safe to say that Russell Brand has remained at the top of the UK list since making his loud-mouthed introduction as host of the 2008 MTV Video Music Awards. In time, the British comic has seemingly toned done his behavior and his crazy ratted poof since falling for and marrying American pop starlet Katy Perry. His famous disheveled mane now appears much more shiny and together. Perhaps taking on Arthur had something to do with it, too, wink wink.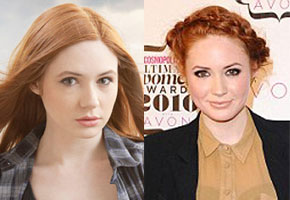 4. Karen Gillan
Whovians are used to Karen Gillan's — a.k.a. Doctor Who's fellow assistant Amy Pond — rich, flowing red hair. She definitely has that Jhirmack bounce-back beautiful hair, doesn't she? When attending Cosmopolitan magazine's Ultimate Women of the Year Awards earlier this fall, the 22-year-old actress went all "Heidi" on us with a bunch of braids tied around her head. A girl's gotta experiment, right? I think she pulls this look off quite well, but perhaps it's a bit stiff for the TARDIS?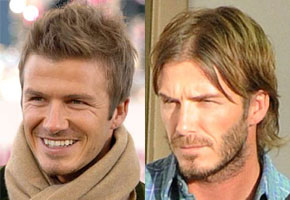 3. David Beckham
We've lost count how many times David Beckham has changed up his hairstyle over the last decade. We've seen it buzzed, blonde, long, and mohawked. And this year, the celebrated English footballer did not disappoint. The gorgeous L.A. Galaxy midfielder and father of three sported a short ponytail during a match against FC Dallas in November. But in just a few short weeks, Beckham looks to be growing his hair out. Or maybe he hasn't been to the barber in a while? Meh, not into the greasy look, love.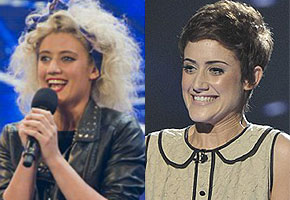 2. Katie Waissel
The raspy-voiced X Factor contestant first charmed Simon Cowell & Co. with her shoulder-length blonde 'do à la Madonna in Desperately Seeking Susan. But in November, during week seven of the reality TV competition, the tabloid-friendly diva opted to go back to her roots, so to speak. Of her ultra-short sleek brown cut, Waissel revealed that "the mask is being removed." "I don't have to try to be anybody else to make a good impression," she said during week eight. Louis Walsh raved about her new look, too, adding, "This is the real Katie, honest Katie." Throughout her time on the show, Waissel endured much scrutiny for botching her audition and received countless death threats. Plus, her grandmother was outed as a prostitute! Bold move from a bold girl. Love it!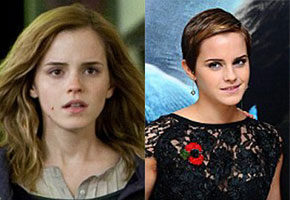 1. Emma Watson
The 20-year-old actress chopped off her signature dark blonde locks for a Twiggy-like pixie once she wrapped up work on the seventh and final Harry Potter film, Harry Potter and the Deathly Hallows, earlier this fall. Talk about dramatic! "I didn't get to experiment with dyeing and chopping off my hair like most teenagers," she told The Metro. "I also felt, right, I'm 20, I'm not a little girl any more. I'd been on 'Harry Potter' for ten years so I needed to mark the end of it in some way. I needed a drastic change and that's what the crop was all about." Unfortunately for Watson, she might have to don a wig or something when she and her fellow co-stars Daniel Radcliffe and Rupert Grint re-shoot some scenes for Part 2 of Deathly Hallows during the upcoming holiday. D'oh!
What UK personality had the best or worst hairstyle in 2010?
Read More
Filed Under: