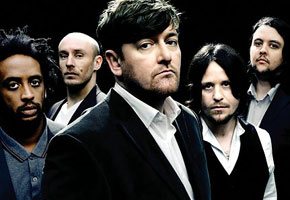 Sire the horns, everyone! Elbow have finally announced plans to follow up their 2008 Mercury Prize-winning effort, The Seldom Seen Kid.
According to NME, the English alt-rock outfit's fifth studio LP will be called Build a Rocket Boys! and keyboardist Craig Potter will oversee its production. The album was recorded at Blueprint Studios — where The Seldom Seen Kid and the brilliant Leaders of the Free World came to life — and is slated for a March 7 release in the UK.
In a recent interview with BBC Radio 6, frontman Guy Garvey revealed that they've all been inspired by the birth of bassist Pete Turner's little girl and Build a Rocket Boys! will reflect some of that.
"The fact that Pete Turner is now a dad and the fact that Martha May Turner is now in the world will definitely shape the final stages of the record 'cause she's a little cracker."
When getting into the album's greater details, Garvey explained that it's "impossible not to consider" playing to an arena-sized audience when writing new material. "…It's been that way for a long time. We very arrogantly assumed we were going to be playing arenas very early on."
And apparently a very special guest may lend his talents to Build a Rocket Boys!. Garvey added: "There's a strong chance that one of our most treasured actors may be appearing on the album and may be playing some dates with us live." Hmmmmm. Who could it be?
Here's a little "Grounds for Divorce" from The Seldom Seen Kid for your Wednesday morning.
Read More
Filed Under: