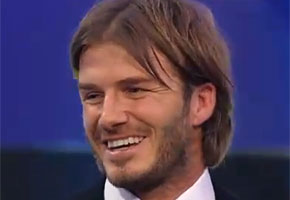 On Sunday evening (December 19), David Beckham was seemingly overwhelmed when receiving the Lifetime Achievement Award at BBC's Sports Personality of the Year ceremony. The BBC reports that the 35-year-old star footballer is "England's most capped outfield player". Patrons in attendance also cheered him on with a lengthy standing ovation lasting well over two minutes.
"I'm humbled to receive an award for something I love doing and continue to love doing, [I am] very humbled," Beckham, said.
He added: "Football's a team game. Without the teams and players' support I've had over the years, players like Ryan [Giggs] and the other greats, I wouldn't be here without the support and skill of them.
The London-born Beckham left his native England in 2007 to play midfield for the L.A. Galaxy. Despite relocating to the States, he's maintained in previous interviews that he's still a "proud Englishman". Representing his homeland is something that's very dear to his heart.
"Playing for England is one of the biggest things of my career, and I've always been able to play for some of the best coaches throughout my career."
Lastly, Beckham paid tribute to his wife, former Spice Girl Victoria Beckham and their three sons, Brooklyn, Romeo and Cruz, for their unwavering support. Posh, too, got a little emotional when her dapper husband praised her for being an "inspiration".
"Of course, I want to thank my wife and my children," he said. "Not only has she given me three amazing boys but the support she's given me and she is truly and inspiration for me every single day. So Victoria, Brooklyn, Romeo and Cruz – thank you."
Check out The Daily Mail's coverage for some stunning photos of Posh and more.
http://www.youtube.com/watch?v=aUr7Pz1amQA&feature=player_embedded
Read More
Filed Under: