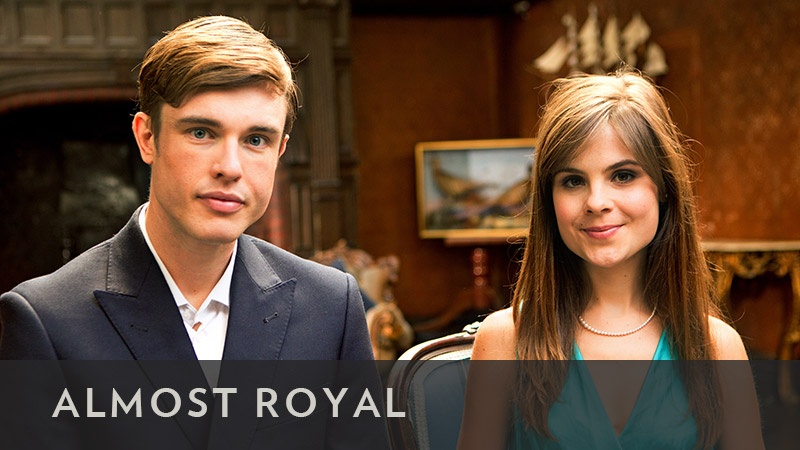 British aristocrats Georgie and Poppy Carlton make their triumphant and highly-anticipated return to the United States to more closely examine the subjects that define American life today. An all-new, eight-episode season of BBC America's original comedy series, Almost Royal, returns with back-to-back premiere episodes Monday, January 18, 10/9c.
Georgie (Ed Gamble) and Poppy (Amy Hoggart) made their first trip to America, granting their father's dying wish that his children visit the country he loved so dearly (an exploration which they happily agreed to have filmed by a trailing camera crew). The unofficial royal tour thrust the sheltered siblings out into the world and they began to spread their wings. But Poppy and Georgie still have much to learn, as the greatest country on Earth is vast, with hundreds (maybe even thousands!) of real-life non-castle-dwelling Americans to meet, learn from and hopefully exploit for fame. The Carlton siblings are leaving their ancestral home and hitting the road as investigative journalists (and hopeful YouTube stars), documenting every step of their intrepid journey across the country via Poppy's YouTube channel, Poppy Culture. With the help of some celebrity experts, including TV host Mario Lopez, fashion designer Whitney Port, basketball legend Dennis Rodman and restaurateur (and reigning queen …of the Real Housewives) Lisa Vanderpump, Georgie and Poppy explore the long-standing traditions and some more modern customs of the American people – showing the world what America looks like from the point of view of British (almost) Royalty.
Almost Royal is a BBC America original series produced by Burning Bright Productions and distributed by BBC Worldwide.