This week's On the Beat travels all the way to Australia, and right back to Victorian times. But don't worry, it also features plenty of super-modern U.S. and U.K. entertainment nuggets to sink your teeth into. Without further ado, let's get started..
1. WHAT TO TRY IF YOU'RE STILL MISSING THE HOUR
Written and created by the brilliant Abi Morgan (The Hour, The Iron Lady), this new British drama series is a warm and witty treat. Premiering Wednesday on SundanceTV, who co-produced with the BBC, The Split revolves around a family of highly successful London divorce lawyers. When matriarch Ruth (Cranford's Deborah Findlay) refuses to pass on the family business as promised, her eldest daughter Hannah (Last Tango in Halifax's Nicola Walker) is understandably incensed and sets up her own rival firm. But the legal tussles are only part of the puzzle; The Split ricochets between a range of professional, romantic and family relationships with gripping precision.
2. WHAT TO WATCH TO EASE YOUR POST-ROYAL WEDDING COMEDOWN
Though the Royal Wedding dominated the media in the build-up to Saturday's ceremony, we actually don't know that much about how this epic production came together. Airing Wednesday on National Geographic, this documentary promises to reveal the "behind the scenes" story of the elegantly lavish event and introduce us to the "unsung heroes" who helped to make it happen. The British Royal Family are infamous sticklers for protocol, so Operation Royal Wedding should offer a fascinating glimpse into how they get things done on such a grand scale.
3. WHAT TO STREAM FOR ENIGMA AND SUSPENSE
This miniseries launching Friday on Amazon Prime has a lot to live up to; Joan Lindsay's enduringly popular novel Picnic at Hanging Rock was previously adapted into a 1975 Australian film widely revered as a masterpiece. The plot centers on a group of early 20th century schoolgirls who mysteriously disappear on a trip to Hanging Rock, a stunning former volcano located 70km north of Melbourne. With a strong cast led by Natalie Dormer, The Babysitter's Samara Weaving and Orange is the New Black's Yael Stone, this six-parter should reel you in whether you're familiar with the story or not.
4. WHAT TO READ IF YOU LIKE ZINGERS THAT REALLY STING
Since winning RuPaul's Drag Race in 2014, Bianca Del Rio's career has really blossomed — she sells out stand-up shows globally and stars in her own independent movies. Her success is largely predicated on her searing wit: Del Rio is really a terrific, Joan Rivers-style insult comic inhabiting the glamorous garb of a world-class drag queen. Published Tuesday, this book is an infectious mix of biting life advice, pithy commentaries on everyday pet peeves, and glitzy pictures of Del Rio in action. Expect to gasp and laugh, often at the same time.
5. WHAT TO WATCH FOR A SLICE OF HIGH FASHION THIS WEEKEND
André Leon Talley is a fashion industry legend known for his work with Vogue, W, and Women's Wear Daily. This feature-length doc tells his remarkable life story from humble beginnings in Jim Crow-era North Carolina, where he was raised by his grandmother, to scaling the ranks of the NYC fashion scene via a stint at Andy Warhol's Factory. Director Kate Novack doesn't probe Talley too hard about his private life, but there's no doubt she allows his fabulous and flamboyant personality to shine through. Opening in select theaters Friday, and featuring contributions from Anna Wintour, Marc Jacobs, and Tom Ford, The Gospel According to André is a must-watch for fashion buffs.
6. WHAT TO LISTEN TO FOR ELECTRO-POP HEAVEN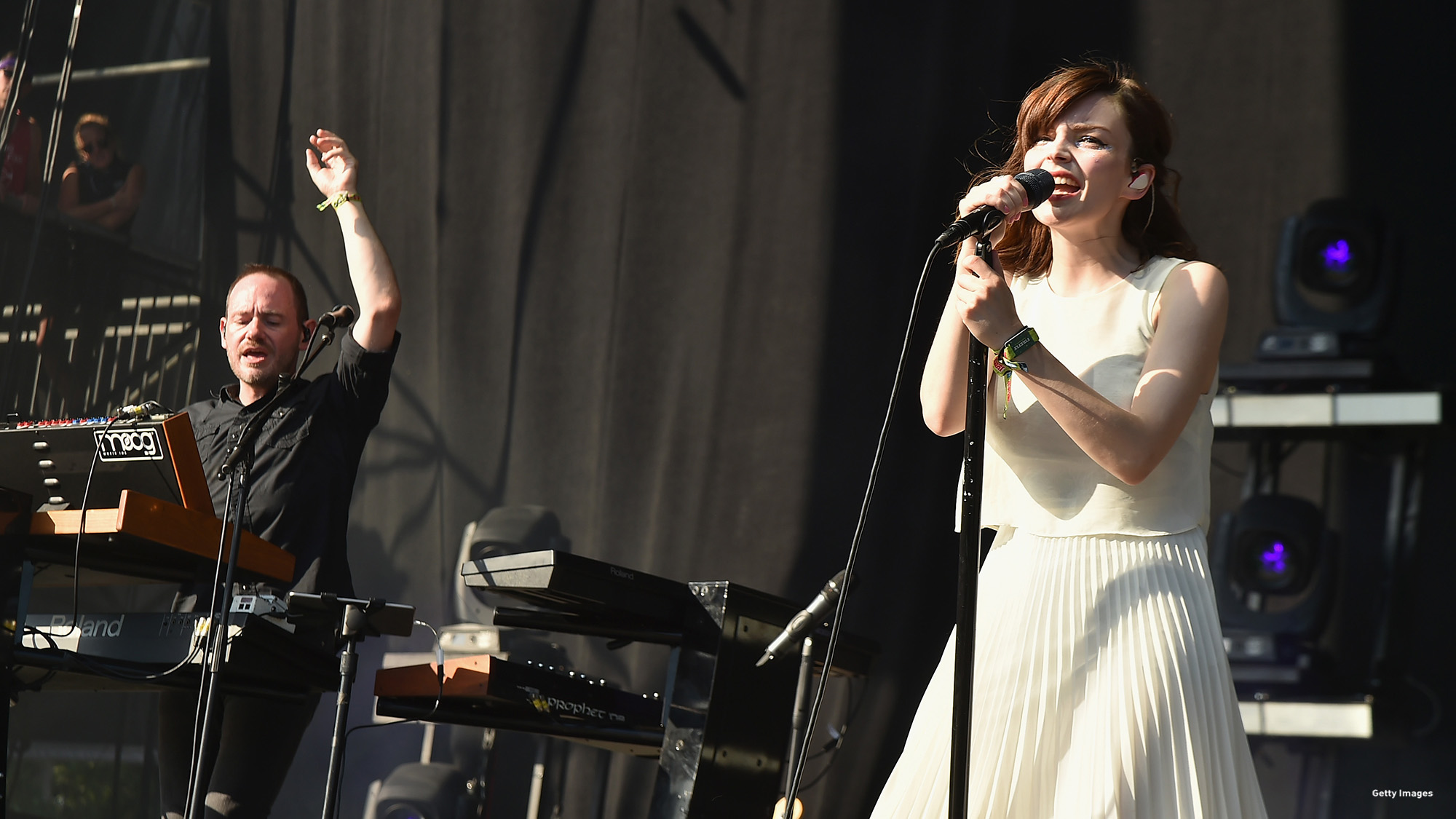 This Scottish synth trio (whose unusual looking band name is simply pronounced "Churches") have always written catchy tunes. But now they've recruited A-list producer Greg Kurstin (Adele, Kelly Clarkson, Pink) for this brilliant third album, their pop hooks are sharper than ever. Dropping Friday, Love is Dead is filled with electro music that's glossy but not glib — "Never Say Die" and "Forever" are perfectly poignant; "Really Gone" could be their most vulnerable yet. Overall, it's a stellar effort that deserves to expand their fan base.
7. WHAT TO GO SEE IF YOU'RE IN THE MOOD FOR A SOLID COSTUME DRAMA
Mary Shelley was just 18-years-old when she began writing her classic horror novel Frankenstein; this film opening in theaters Friday dramatizes the romantic relationship which helped to inspire her. Elle Fanning portrays the young author as she embarks on a then-unconventional love affair with Percy Bysshe Shelley (Romeo & Juliet's Douglas Booth), a talented poet who becomes her de facto book editor. Director Haifaa al-Mansour's approach to some intriguing source material sometimes feels a little cautious, but this is still a handsome and very watchable biopic. Downton Abbey's Joanne Froggatt, Game of Thrones favorite Maisie Williams, and rising star Bel Powley round out a stacked cast.
8. WHAT TO WATCH IF YOU ENJOY FOLLOWING THE DAILY NEWS CYCLE
If you've enjoyed recent movies about journalism like Spotlight and The Post, Showtime's new documentary series debuting Sunday will hold considerable appeal. Oscar-nominated filmmaker Liz Garbus (What Happened, Miss Simone?, Killing in the Name) goes behind the scenes at The New York Times to track how this super-influential newspaper is covering a tumultuous period in U.S. history. With access to the buzzing newsroom and the home lives of some key Times journalists, The Fourth Estate promises to be a fascinating and insightful watch.
9. WHAT TO READ IF YOU'VE EVER WONDERED WHAT IT FEELS LIKE TO BE "TROLLED"
After Franchesca Ramsey's YouTube video "Sh*t White Girls Say… to Black Girls" went viral, she became an online sensation and — in her own words — an "accidental activist." Her career blossomed with a correspondent role on The Nightly Show and her own MTV series Decoded, but she also became a target for relentless online trolls. Published Tuesday, her first book is a collection of personal essays in which Ramsey shares her highs, lows, and coping strategies. It's a funny and entertaining read, but also offers an insight into the best and worst of internet culture in 2018.
10. WHAT TO CONSIDER WATCHING ONCE YOU'VE READ UP ON THE SUBJECT MATTER
Though it features another incredible performance from the resurgent Laura Dern, this harrowing film premiering Friday on HBO should be approached with caution. Based on writer-director Jennifer Cox's own experience of childhood sexual abuse, it's a complex and intense exploration of one woman's gradual realization that she was molested as a young teenager. At times, Cox's filmmaking choices are deliberately shocking and will definitely distress some viewers. Still, this is an uncommonly brave and distinctive film featuring deft performances from a cast that also includes Ellen Burstyn, Elizabeth Debicki and Jason Ritter.
What are your plans for this week? 
Read More