Instead of poring over Forbes' latest list of highest-paid celebrities (spoiler: they all earn a lot), here are 10 rather more nourishing pop culture items to investigate this week.
1. WHAT TO WATCH WITH A GLASS OF BOLLY (OR SPARKLING WATER IF YOU'RE ON A DETOX)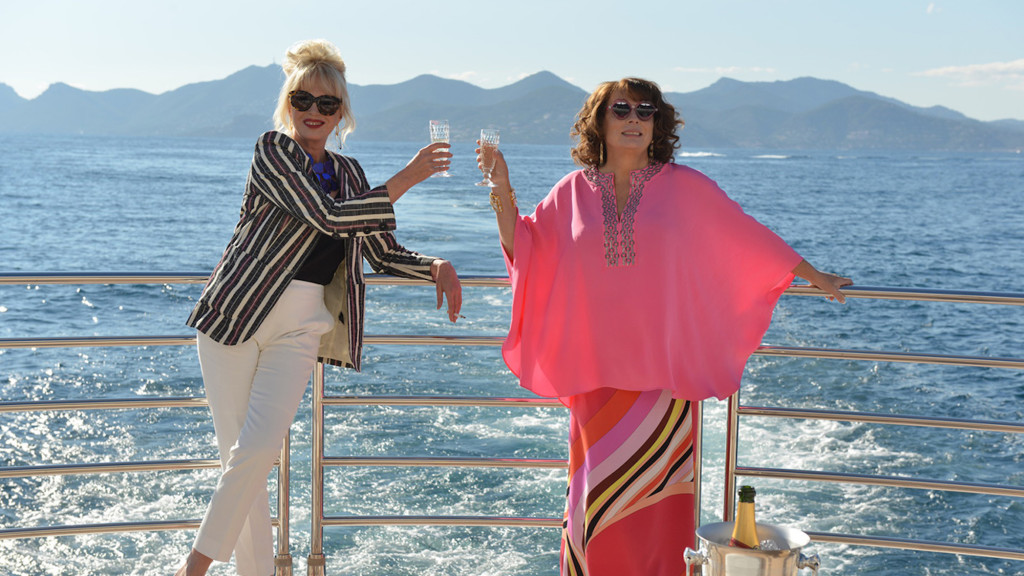 Already a box office hit in the U.K., the film version of the classic BBC sitcom is a booze-fueled romp that sees desperate PR exec Edina Monsoon and her hanger-on, fashion editor Patsy Stone fleeing to France because they think they've killed Kate Moss. The gags hit more often than they miss, and keep an eye out for a bewildering array of celebrity cameos from the likes of Rebel Wilson, Jon Hamm, Joan Collins and Dame Edna Everage.
2. WHAT TO WATCH WITH A CARTON OF POPCORN
Though JJ Abrams didn't direct the new Star Trek movie because he was too busy with Star Wars: The Force Awakens, there are plenty of reasons to be cautiously optimistic. Scotty portrayer and longtime fan Simon Pegg co-wrote the script; the always charismatic Idris Elba plays the main baddie; and the franchise is boldly (or more like finally) going where few other summer blockbusters have gone before by placing John Cho's character, Sulu, in a same-sex relationship.
3. WHAT TO ADD TO YOUR PLAYLIST SO YOU CAN PLAY SPOT THE CELEBRITY CAMEO
The Welsh singer-songwriter whose real name is Rod Thomas specializes in infectious and effervescent electro-pop. His new album is worth investigating for its strong songwriting, but guest appearances from Scissor Sisters' Jake Shears and Ana Matronic, The Good Wife actor Alan Cumming, and (ahem) a little-known singer-pianist by the name of Elton John definitely contribute to the fun.
4. WHICH NEW GIRL SQUAD TO GET KIND OF OBSESSED WITH
Forget Taylor Swift and her mates—the super-cool TV ad for Stella McCartney's POP fragrance unites cult pop artist Grimes, actress/activist Amandla Stenberg, rising star model Kenya Kinski Jones, and Madonna's daughter, Lourdes Leon. Just imagine what the wrap party must have been like.
5. WHAT TO GET, LIKE, TOTALLY NOSTALGIC ABOUT, DUDE!
Released 25 years ago this week, Bogus Journey is the slightly less well-received sequel to 1989's slacker classic Bill & Ted's Excellent Adventure. Why not give it another watch so you can decide whether a third movie—mooted for years by original stars Keanu Reeves and Alex Winter—is really such a good idea?
6. WHO TO FOLLOW ON TWITTER BECAUSE YOU NEVER KNOW WHAT HE MIGHT TWEET
On July 10, legendary British actor Sir Michael Caine tweeted for the first time this year. The fact that his tweet consisted of a single word, "You," suggests he hasn't quite mastered the form yet, but he's probably worth adding to your feed just to see what happens next.
7. WHO TO FOLLOW ON TWITTER BECAUSE THEY REALLY DO THEIR HOMEWORK
Kanye West is one of today's most thrillingly unpredictable performers, but following his Twitter handle only reveals a portion of his enigmatic self-expression. This fan-run Twitter account tracks his movements—and statements—with military precision. If Yeezy's said it or done it, and it's somehow found its way online, @TeamKanyeDaily will probably have it first.
8. WHICH POTENTIAL POP COMEBACK TO DISCUSS AND DISSECT
The '90s idol is a big draw in Las Vegas, where she's had a residency show since 2013, but many feel her days as a chart-topper are behind her. She's just shared a teaser clip for an upcoming single called "Private Show," and rumors suggest a hip-hop-inspired album is on its way. It's all very intriguing, at the very least, but is she ripe for (another) comeback?
9. WHAT TO COMPLETELY GEEK OUT ABOUT OVER THE WEEKEND
The world's leading celebration of all things culty runs Thursday through Sunday. These days, its panels are covered thoroughly online, so look out for plot teasers and preview footage from forthcoming movies like Suicide Squad, Doctor Strange, and Guardians of the Galaxy Vol. 2, as well as your favorite TV shows like Sherlock. BBC AMERICA's Orphan Black will give its swan song (sob!) at this year's SDCC ahead of its fifth and final season, while the network's new Dirk Gently's Holistic Detective Agency will be introduced in a panel with writer Max Landis and cast including Samuel Barnett and Elijah Wood. Follow BBC AMERICA's Comic Con page and Anglophenia blog for updates during the convention.
10. WHO TO GET HIP TO RIGHT NOW, BEFORE YOUR FRIENDS ALL DISCOVER HER
You'd be forgiven for thinking this is a whole band, but Christine and the Queens is actually the stage name of one Héloïse Letissier, a French singer-songwriter whose off-kilter pop songs sound like nothing else around. Her debut album has recently cracked the U.K. Top Ten, but it's still bubbling under in the U.S., so you still have time to get ahead of the curve. Her brilliant signature tune "Tilted" is the place to start.
Read More