Where to Look for Phoebe Waller-Bridge: From 'Killing Eve' to DryWrite Theater Company
(Photo: Getty Images)
Phoebe Waller-Bridge is at it again — being ever impressive that is —  having just signed up to executive produce and star in the forthcoming TV adaptation of the spy comedy Mr. and Mrs. Smith. It hasn't been announced what role she will playing, but we're leaning toward the lead.
She seems to always be working on something, so it's hard to keep up with her.
Let's do a little backtracking with this run-down of her latest projects:
1. Killing Eve
We're assuming at this point, but surely you're across BBC America's Killing Eve (being the best show in the world, according to us). And, while Waller-Bridge doesn't appear on-screen, she kicked it all off as the series creator, season one writer and showrunner. We can see a lot of her in the script and performances. We wouldn't have the amazing Eve and Villanelle cat-and-mouse chases without her.
2. Solo: A Star Wars Story 
And, where does one go from KE? In 2018, Waller-Bridge joined the Star Wars franchise, starring as L3-37 in Solo: A Star Wars Story. She is a self-made piloting android, who is a companion to Lando Calrissian (Donald Glover). The story follows Calrissian and his meeting up with Han Solo (Alden Ehrenreich) before joining the Rebellion.
3. Fleabag 
Waller-Bridge made a splash in 2013 with her one-woman stage show Fleabag. The character she created is a Londoner in her 30s, looking for love and trying to stave off the loss of her best friend. The stage production was made into a TV series in 2016, with Waller-Bridge returning for a second season in 2019. And, enter... Hot Priest, played by the one and only Andrew Scott. 
4. No Time to Die 
Also in 2019, Waller-Bridge signed on for No Time to Die, the next James Bond installment. Not as a Bond girl or anything, which we feel would have given 007 a run for his money, but as a writer. Waller-Bridge was invited to rework some of the scenes.
Daniel Craig, who plays Bond, talks about her additions in an interview with The Times, saying, "I had my eye on her ever since the first Fleabag, and then I saw Killing Eve and what she did with that and just wanted her voice. It is so unique — we are very privileged to have her on board." Yeah, you are! 
5. Run 
In 2020, Waller-Bridge produced and starred in the romantic-thriller series Run as a woman named Laurel Haliday. That name alone just does it for us. The story follows a married American woman (Merritt Weaver), who reunites with a former lover (Domhnall Gleeson). The two meet up to run away together, at least for a week, crossing paths with Haliday during their travels. 
6. His Dark Materials
Philip Pullman's His Dark Materials book series was made into a TV series in 2019. The story is set in an alternate universe, where a young girl (Dafne Keen) searches for her missing friend (Ben Walker). Waller-Bridge starred in 2020's season two,  providing her voice for the dæmon Sayan Kötör.
It was a bit of a reunion for Waller-Bridge and Fleabag co-star Scott, who portrays Shaman Jopari.
7. Staged
And, what's one to do in quarantine? Waller-Bridge made a guest appearance in season two of David Tennant and Michael Sheen's Staged, where they play exaggerated versions of themselves. And, according to The Telegraph, she upstaged the Staged actors with her being "the monologue woman." We don't put it past her, she definitely commands a room.
The guys can probably use the stimulation, as they've been self-isolating for months.
8. Screenshot
[caption id="attachment_472218" align="alignnone" width="1920"]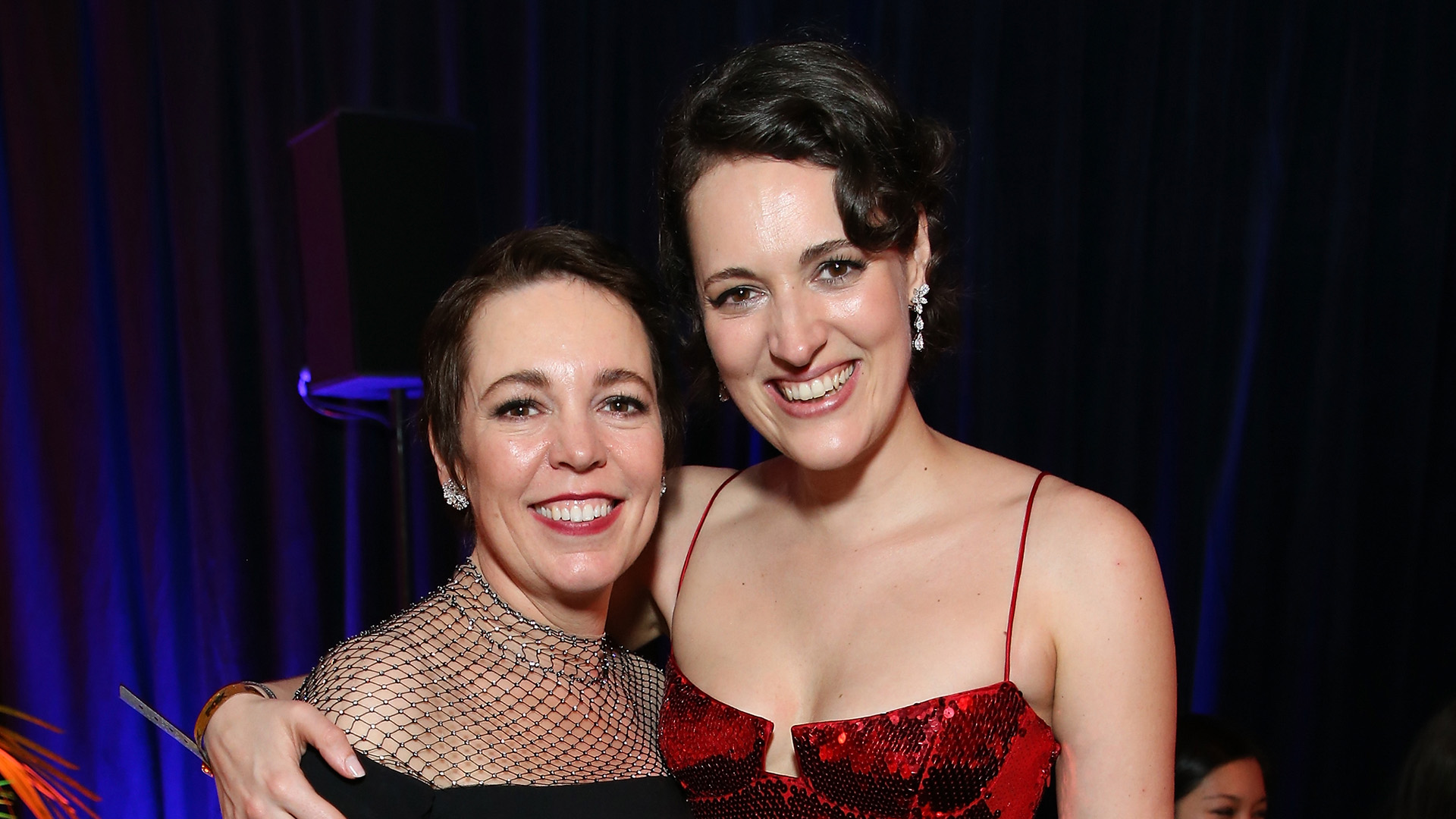 (Photo: Getty Images)[/caption]
Waller-Bridge will be teaming up with Fleabag co-star Olivia Colman for... a game show! The series is in pre-production, with a start date yet to be announced. But, even so, it sounds like a fun. The competition series is in search of finding the next batch of comedy writer-performers for TV. Colman is a co-creator with Ed Sinclair (Look Around You).
It's not clear what Waller-Bridge's on-screen involvement will be, but she doesn't seem judge-y, so maybe more of a mentor type?
9. Mr. and Mrs. Smith 
And, as mentioned above, Waller-Bridge is working on the forthcoming Mr. and Mrs. Smith reimagining (notice, not reboot). She will be reuniting with her Solo co-star Donald Glover. The story follows a happily married couple, who are both secret spies, working for opposite sides. Waller-Bridge is set to executive produce and star.
Once it's started/finished, we can look for the series over at Amazon. 
10. DryWrite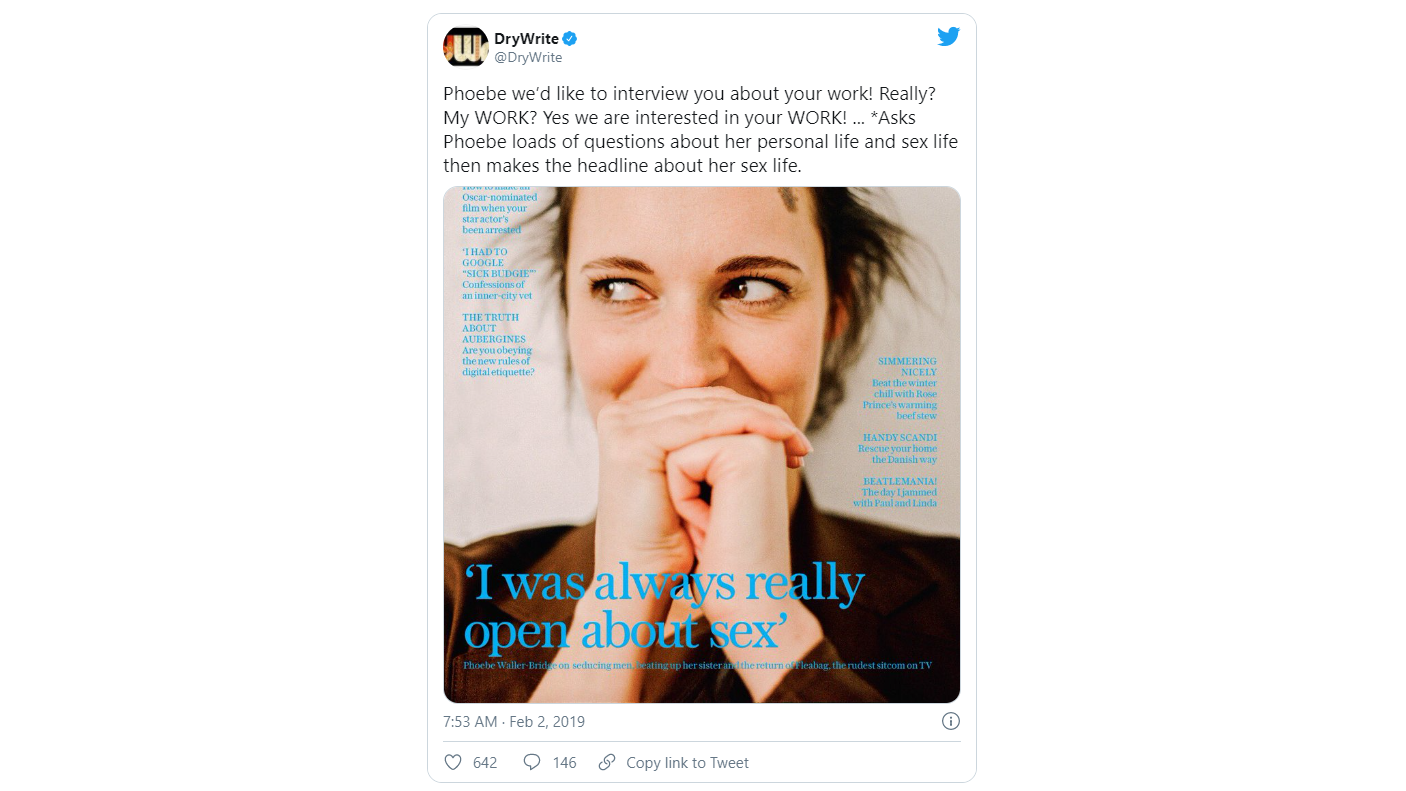 While Waller-Bridge is not on social media, she does pop up and here and there on DryWrite's Twitter page, which is her writing theater company, co-run with Vicky Jones. The page offers updates on what they're working on and provides some great media recommendations, like, "I May Destroy You is the most electrifying, layered, complex, eviscerating piece of work out there. No-one is doing it like @MichaelaCoel." Now, that's a testimonial. 
And, there you have it. Is that enough PWB in one place for you!?