Ten Films Revolving Around Seniors and What Life Brings: From 'The Best Exotic Marigold Hotel' to 'The Duke'
(Photos: Getty Images)
Some of our favorite actors are in their 60s and 70s (and climbing). They've not only lived a lot of life, and produced a lot of work, they also portray characters depicting what it's like for someone to reach their senior years.
Like, in The Duke, starring Jim Broadbent and Helen Mirren as pensioners, which comes out on September 17.
Based on a true story, Broadbent portrays a retired taxi driver who isn't okay with how retirees are being treated. As a form of protest, he steals a famous painting from The National Gallery, a portrait of the Duke of Wellington, holds it hostage and politely demands rights for senior citizens. Mirren portrays his devoted, yet concerned, wife, wishing she knew what he had been up to.
We'd like to tip our hat to those who not only talk the talk, but walk the walk, starring in movies about getting older:
1. The Best Exotic Marigold Hotel
In 2011, we saw a gaggle of Anglo favorites get together for The Best Exotic Marigold Hotel. The story revolves around British senior citizens who relocate to India with the promise of a community that will help with the transition into retirement. Of course, as we get older, things don't necessarily change all that much, like groups breaking off into cliques and the ongoing search for love, as seen in the film.
The all-star cast is made-up of Dames Judi Dench and Maggie Smith, Bill Nighy, Tom Wilkinson and Penelope Wilton.
2. Youth 
Based on the name of this 2015 film, it may seem like it doesn't belong on this list, but... it does. Set in the Swiss Alps, Michael Caine portrays a composer contemplating retirement. His character and the people around him know he still has a lot of life and music in him. His traveling companion (Harvey Keitel) is a screenwriter, but he's not quite done creating, working on what will most likely be his final film.
When asked about playing older, Caine replied, "The only alternative to playing old people is playing dead people. I'll pick elderly people."
3. The Lady in the Van 
We saw Maggie Smith in the title role of The Lady in the Van, also out in 2015. Based on a true story, it's a good reminder of how life can take a turn for the worse. It's also a good reminder of how the kindness of strangers can change another person's life. Smith portrays Miss Shepherd, who lives in her van. A neighborly man says she can set-up camp for a short time in his driveway, which turns into 15 years.
The script is written by Alan Bennet, based on his play of the same name, based on his own real-life story of being the kind stranger.
4. Mr. Holmes 
We know the story of Sherlock Holmes, but what happens in his later years? That's where Ian McKellen comes in, starring in 2015's Mr. Holmes. McKellen portrays the semi-retired detective winding down to enjoy a quiet life, until a cold case reopens. While still sharp, Mr. Holmes isn't as spry as he once was, and he finds himself relying on the aid of his housekeeper's 10-year-old son (Milo Parker).
McKellen spoke to The Guardian about playing older parts, saying, "As you get older, inside, you're ageless." We like that and will embrace it.
5. Victoria & Abdul
As seen in 2017's Victoria & Abdul, even royals get the blues. Not just any royal, Queen Victoria to be exact. Judi Dench takes on the role of Victoria, who we meet later in life. At this point in time, Victoria has lost her husband, Prince Albert. She no longer has the zest for life that she once had, as she's alone and lonely. She then befriends a clerk (Ali Fazal) who is visiting, which gives her back that pep in her step.
We also saw Dench as Queen Victoria in 1995's Mrs. Brown, opposite Billy Connolly, with her playing the same role twenty years apart.
6. Logan 
Even superheroes struggle with getting older, as seen in 2017's Logan, which is a spinoff movie for X-Men's Wolverine. Hugh Jackman, who takes on the title role, isn't in his golden years, but our focus is on Patrick Stewart as Professor X. We've seen Professor X in different iterations, played by both Stewart and James McAvoy, but this time around, he is only but the wiser, coming to Logan's aid.
In an interview with RadioTimes, Stewart talks about saying goodbye to this character and how it brought a tear to his eye.
7. The Good Liar
In 2019, we saw Helen Mirren and Ian McKellen on-screen together for the first time in The Good Liar. The two play seniors looking for love online. They agree to meetup for dinner. But, it turns out, McKellen's character, Roy, may be looking for something that goes beyond romance... a payout. He's a career criminal and Mirren's character, Rose, is his latest mark. But, she is no damsel in distress.
Mirren talked to Entertainment Weekly about the plot, saying it's nice to do a film about "old people" that doesn't revolve around illness.
8. The Father 
We saw Anthony Hopkins and Olivia Colman portray father and daughter in 2020's The Father. Hopkins plays a man in his 80s, who lives an independent lifestyle but finds himself confused at times. His daughter wants to help him as he ages, which he refuses, leaving her just as confused. When he starts to forget who his daughter is, and thinks she's plotting against him, that's when things get serious.
In an interview with NPR, Hopkins talks about the role, saying, "I knew how to do it because I'm that old now."
9. Supernova 
Colin Firth may not come straight to mind as a senior, but he is 60, so he fits on the list. He and Stanley Tucci, also 60, star in 2020's Supernova. The two portray a couple in love, who have been partners for 20 years. Tucci's character, Tusker, is diagnosed with early onset dementia. With the end nearing, both Tusker's life and their relationship, they go on a road trip to visit with friends and family.
Playing a man who is dying made Tucci think about dying in a different way, which he talks about with The Independent.
10. Sniff
[caption id="attachment_478545" align="alignnone" width="1920"]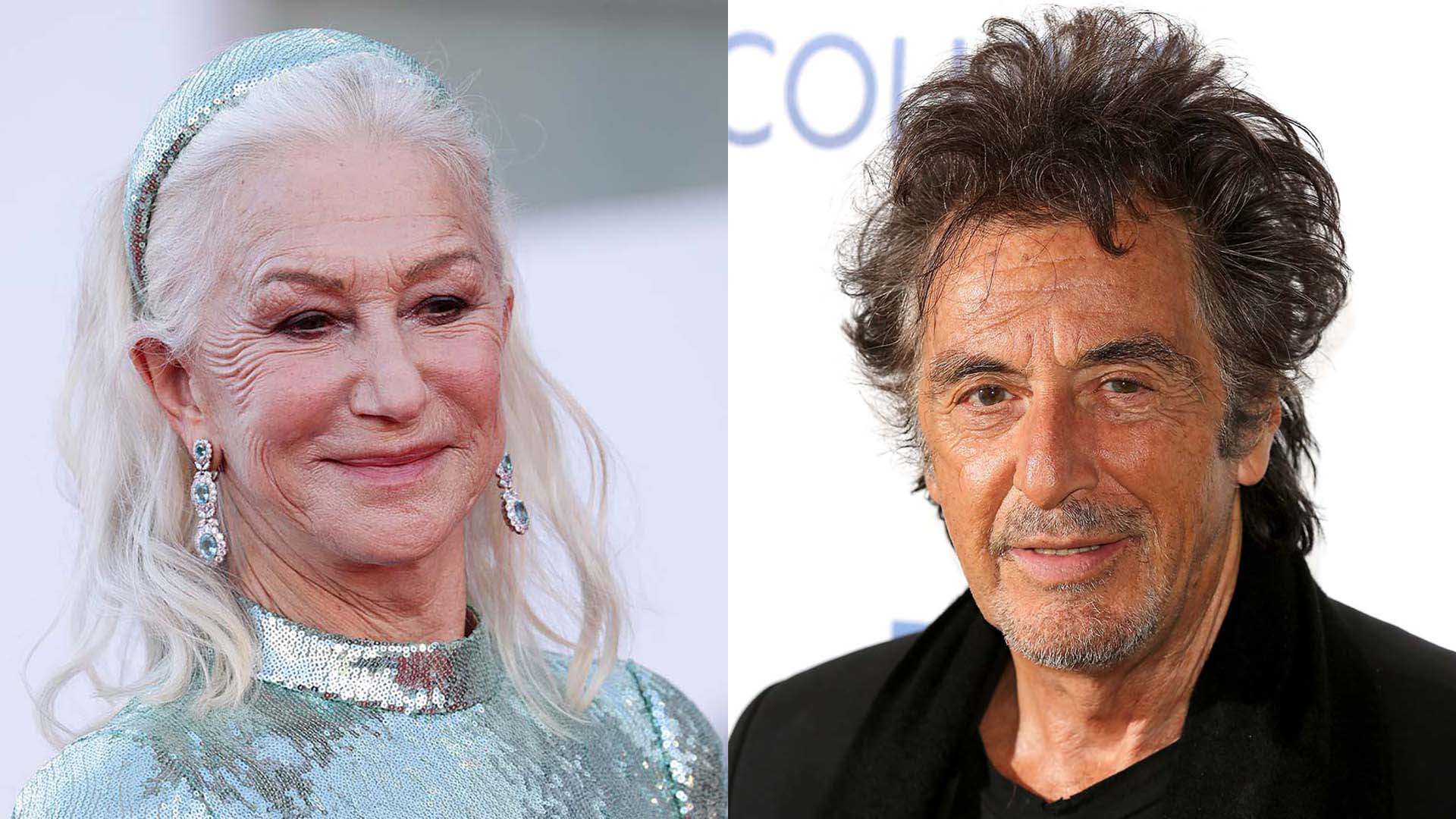 (Photos: Getty Images)[/caption]
Earlier we mentioned Helen Mirren starring in The Duke, which comes out this month. But, she's also signed on for another role, set in a retirement community, called Sniff. It's yet to start filming, but it definitely has our attention. The retirement community is not only a place to provide comfortable living, but it's also a cover for a kingpin (Al Pacino) and his femme fatale enforcer, The Spider (Mirren).
In an interview with Harper's Bazaar, Mirren said, "I don't want to age gracefully, I want to age disgracefully."
That's a good way to sum it all up — there's no one way to age.
We love a movie with a mission, do any of these speak to you?