Steve Martin's 'Only Murders in the Building' Is Getting a Second Season
If mystery-thriller is one of your go-to genres, then Only Murders in the Building may already be on your watch list. The series, co-created by and starring Steve Martin, premiered this past August. Of course, with Martin on board, there's a lot of comedy to help tell the story.
The folks over at Hulu turned to Twitter to announce that a second season is happening: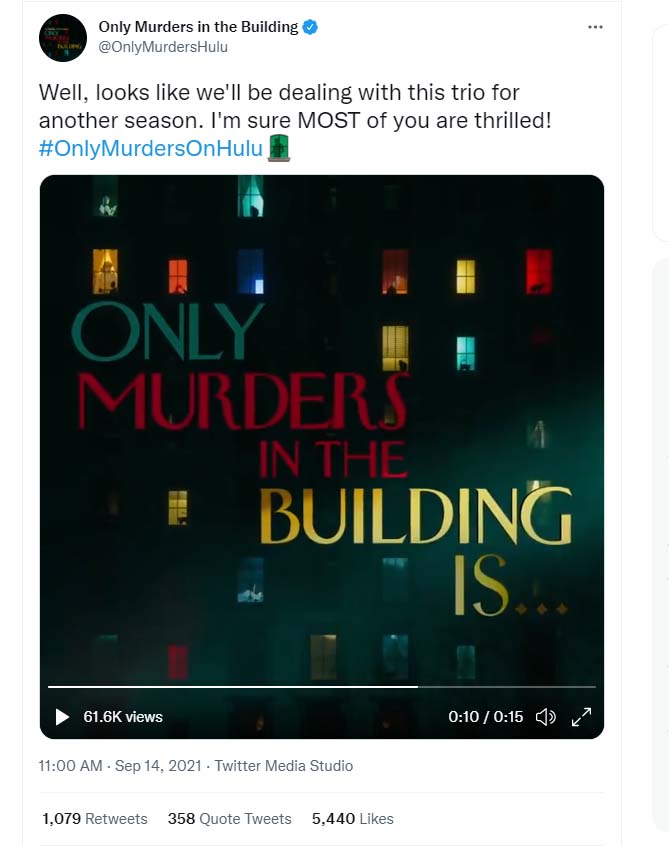 (Photo: Twitter)
In addition to Martin, the series stars Martin Short and Selena Gomez. From the above announcement, it sounds like we can look for all three in the follow-up season.
The story revolves around an apartment building in NYC, where one of its residents is found dead from a gunshot wound to the head. Three of the other tenants (Martin, Short, Gomez), who are hooked on a true crime podcast, believe the death to be suspicious. They take it upon themselves to dig a little further, going beyond the police investigation. Literally digging, like going through the dead man's garbage for clues.
From there, that's where the title of the series comes from, as the three amateur sleuths come up with the idea of sharing their findings in their very own podcast, but it can only revolve around murders that happen in the building.
Only Murders in the Building is co-created and co-written by Steve Martin and John Hoffman (Grace & Frankie).
There's no start date for the second season just yet, but in the meantime, you can take a peek at our 2021 fall preview roundup.
Are you excited to learn there's more Only Murders in the Building to come?