Graeme Manson: Welcome to the Final Trip
Greetings, #CloneClub, and welcome to our Final Trip.  I'll save the tears for the love letter I'm sure I'll write you when we get to the finale, but until then, we've got a roller-coaster of a season to enjoy together.
Your humble scribes and story editors this year were Alex Levine, Jenn Engels, Greg Nelson, Renee St. Cyr, Jeremy Boxen, David Bezmozgis, Aisha Porter-Christie, Natalia Guled, and of course, "chief scientist/philosopher" Cosima Herter.  I'm proud to say that two young writers (Renee and Aisha) got their first screen credits! As usual, John, Kerry Appleyard, and Mackenzie Donaldson were in there with both hands stirring our brains with insightful notes. Our execs were Nena Rodrigue and Gina Mingachi and  at BBC America, and Gosia Kamela and Corrie Coe at Space Channel. Matt Wakefield served as both John's and my assistant.
[caption id="attachment_401651" align="aligncenter" width="1920"]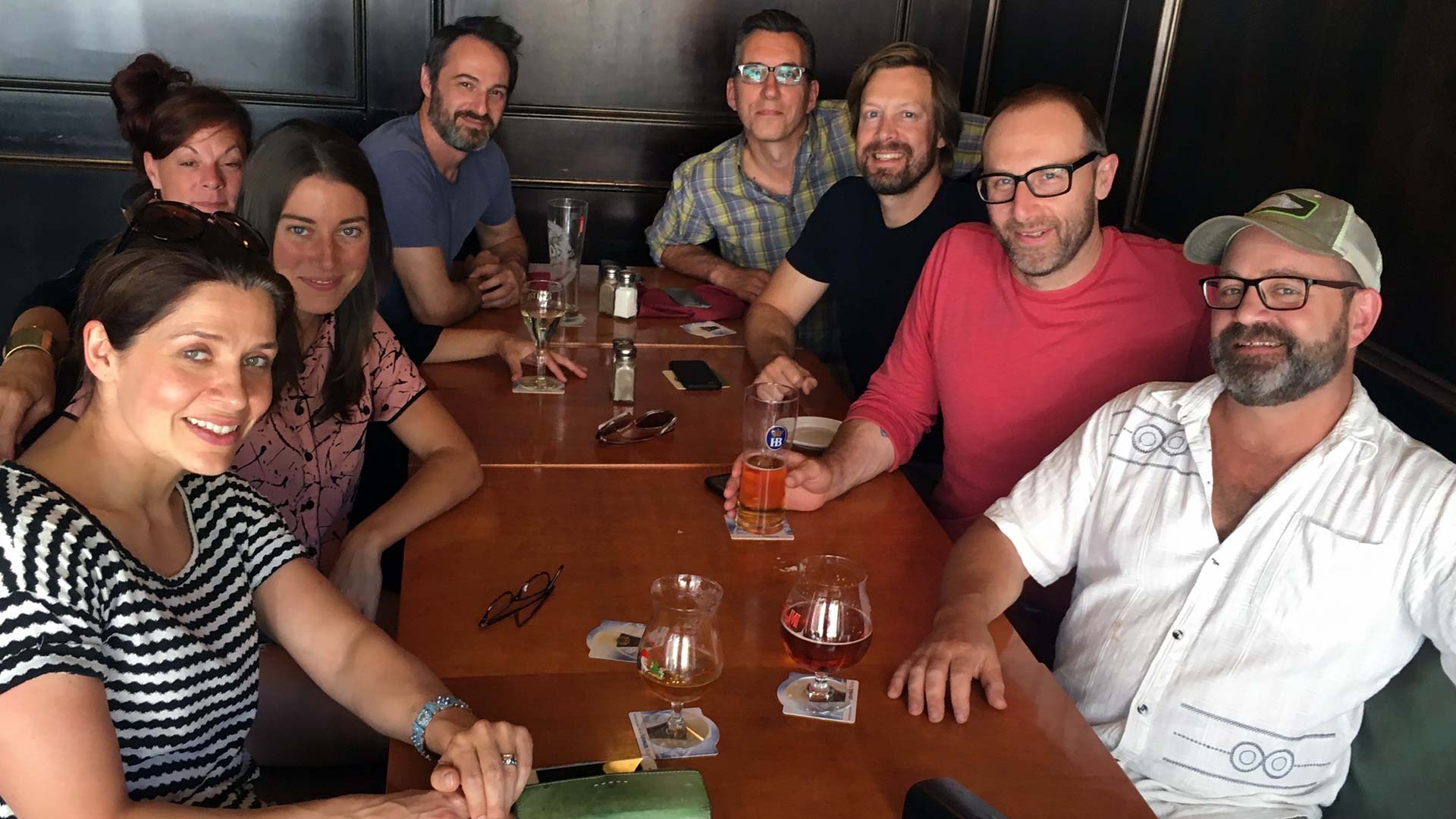 Friday pub lunch!  A tradition before prep swallows us whole. Left to right: Jenn Engels, Renee St. Cyr, Cosima Herter, Jeremy Boxen, Greg Nelson, Alex Levine, David Bezmozgis, yours truly. (Missing: Aisha Porter-Christy, Natalia Guled)[/caption]
We began the writers' room by setting up shop in a temporary space in Toronto's Chinatown in early June 2016, a good two months before the start of prep.  This year felt a little different than seasons past because we were working to an end point! Usually, we spend two or three weeks talking about where the series is going after the season we're about to break. So it felt like those extra two weeks gave us just a little wiggle room, like we were half a story ahead. (Of course, that leeway was gobbled up by the end, and the last few eps were the usual ball of stress and mayhem.) The end of the series was something John and I had already discussed a lot; we knew generally where we wanted to go, so we were able to "plant some flags" on the map of the final season quite early in the game.
[caption id="attachment_401637" align="aligncenter" width="1920"]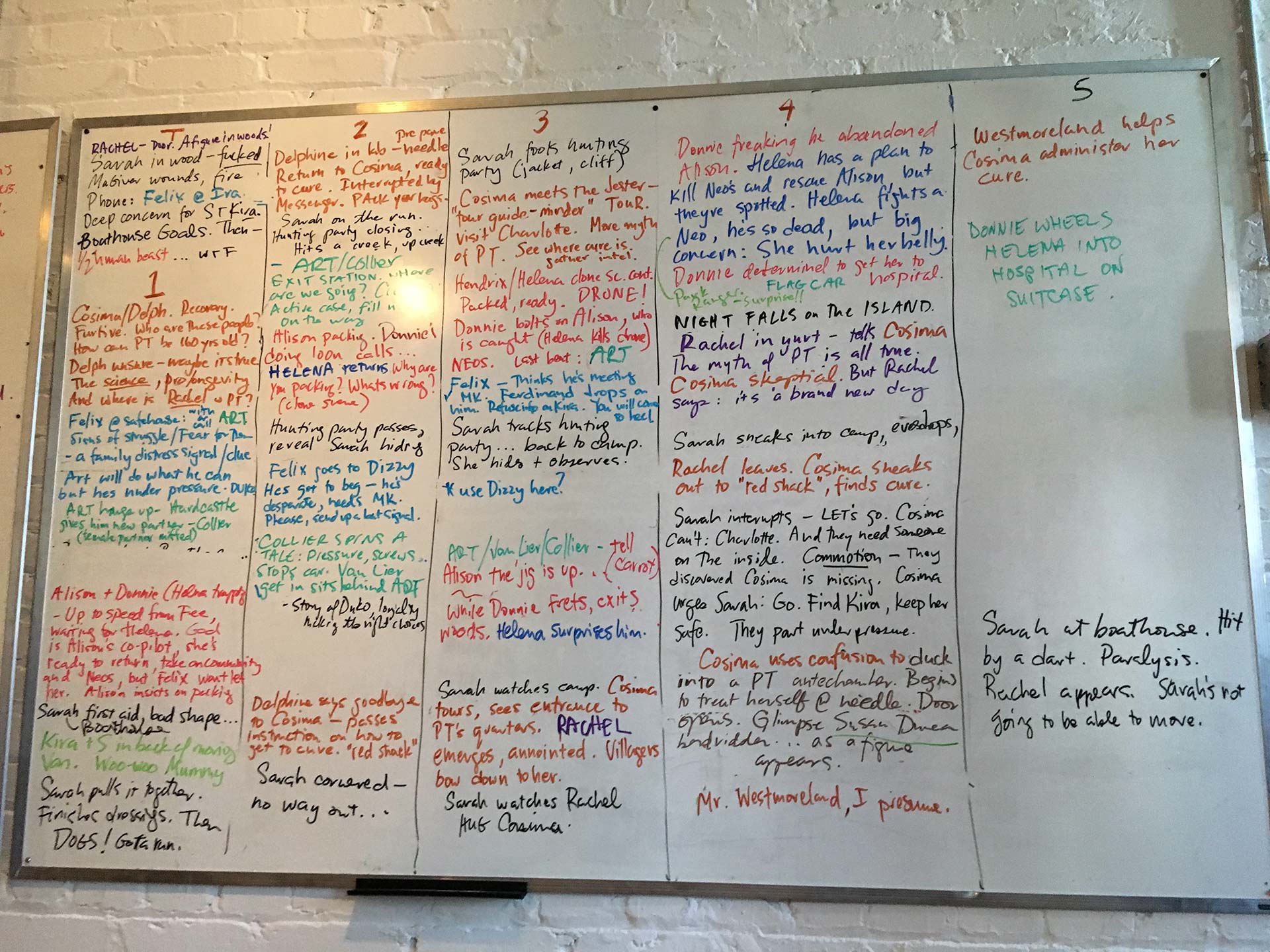 Episode 1 as it evolves before going to outline. We use whiteboards and sometimes file cards to work out the plot together. You can see the differences from here to screen. For instance, back then we thought P.T. Westmoreland would be the one to administer Cosima's cure. We decided at outline that it was better storytelling to save PT for Episode 2 (stay tuned!) and that it would be super-powerful and make a great clone scene if Rachel was the one to give Cosima the cure. (Right?!)[/caption]
[bbca_video_embed media_id="964668483531" video_id="fp4FzABRA1Pl"]
We've always shot the first two episodes as a block with John directing. This allows us to "buy a day" for later, ie: save time by scheduling both episodes together as one shoot. We had hoped to do the same with Episodes 3 and 4 this year, though schedules conspired against us. But during our early writers' room days, we broke the stories that way, trying to work on Episodes 1 and 2, and 3 and 4, as discrete chunks of story. Our Temple Street producers and network execs like to keep up to speed on what the writers are doing locked up going insane together, so several times a season we gather the troops, pitch the big picture, and a few detailed episodes to make sure the whole team is on the same page. The networks really need an early view so they can start planning their publicity campaigns.
[caption id="attachment_401649" align="aligncenter" width="1920"]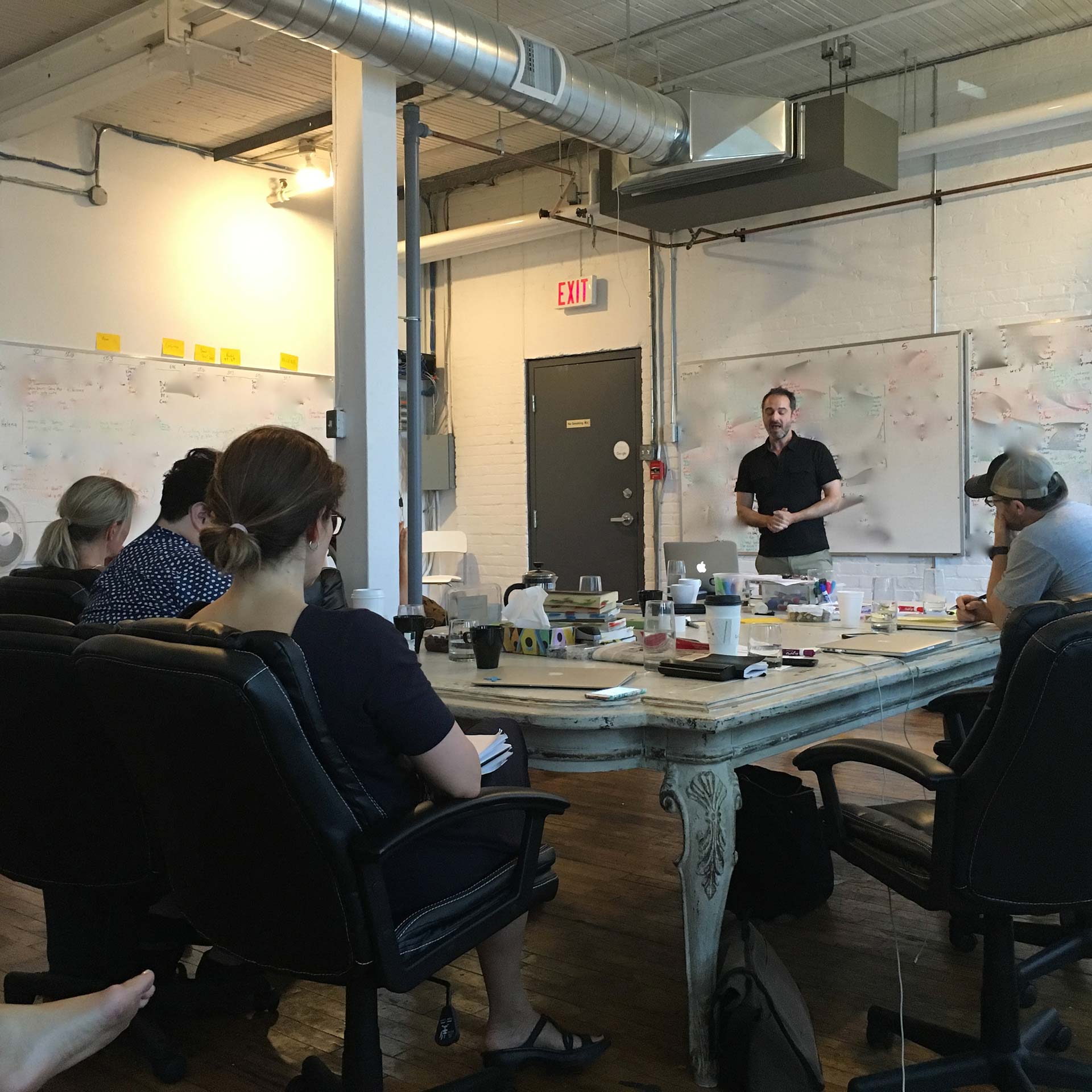 Jeremy Boxen pitches the shit out of Episode 2 to Temple St. producer Kerry Appleyard and Gosia Kamela from Space Channel. Gina and Nena from BBC America are on speaker phone, which makes for some hilarious misunderstandings sometimes.[/caption]
[bbca_video_embed media_id="964044355857" video_id="XGr2nH1wQn5t"]
Sorting out Helena's forest skills. This is what writers do in the room all day. With Jenn Engels, Alex Levine, Greg Nelson, Aisha Porter-Christie, David Bezmozgis, Natalia Guled, and Renee St. Cyr behind the camera.
Once prep hits, the gloves are off. We move into our office space on the lot of Revival Studios. John and I get hit with a hailstorm of meetings. We need to start casting, finding locations, building sets, so it's essential for the writers to be a few episodes ahead. This year we were looking for our most ambitious location to date — "Revival," P.T. Westmoreland's island hideaway. We wanted to build a multi-set outdoor location and leave it there to return to over the course of the season, a logistical nightmare for sure. John took the lead working with production designer John Donderman and locations king Bryn Garrison. We didn't want "the village" (as it was known to the crew) to be the high tech hideaway you might expect. We felt Susan had that covered last year, and that PT's lair should reflect a cult-like madness, and have a throwback feel for a 170-year-old Eugenecist. We referenced Heart of Darkness and Apocalypse Now a lot, only set in the Canadian North.
Of course, we couldn't go very far North to find this. About 30 minutes North to be exact, to "Valleyhalla" a trippy old estate on the grounds of the Toronto Zoo. One wee problem: we'd already used the location as the home of "The Birdwatchers" in Season 2.  It came down to our crazy talented art department and construction crew to dress it up so we wouldn't recognize it.
[caption id="attachment_401648" align="aligncenter" width="1920"]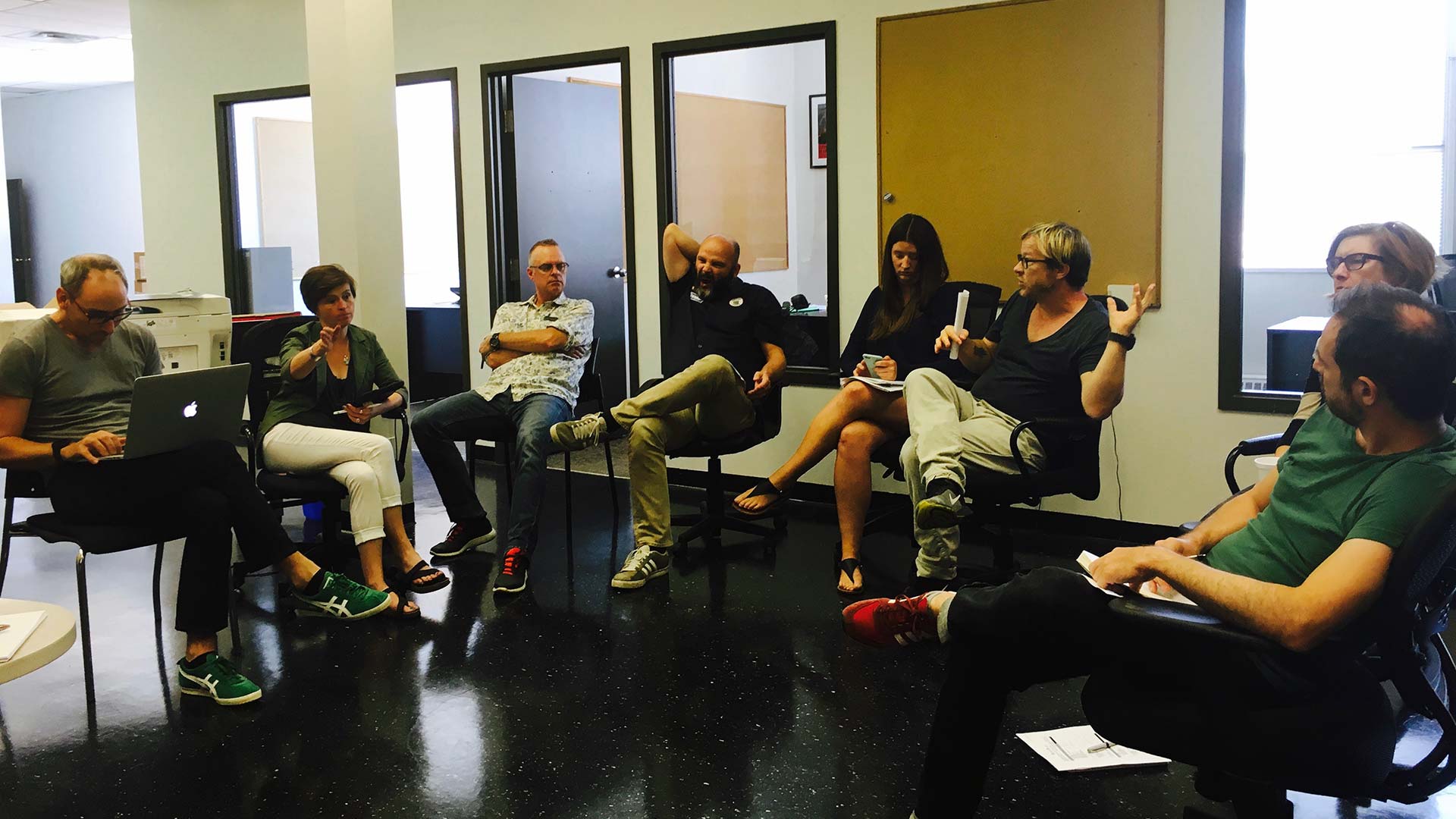 Early prep meeting. So early we don't have a table yet! We're wrapping our heads around an excess of ambition. Left to right: Bryn Garrison, Locations; Joanna Moore, First A.D.; John Donderman, Production Designer; James Crouch, Production Manager; MacKenzie Donaldson, Producer; John, director guy; Claire Welland, Producer and all around lifesaver; Jeremy Boxen, writer of Ep 2.[/caption]
[caption id="attachment_401650" align="aligncenter" width="1920"]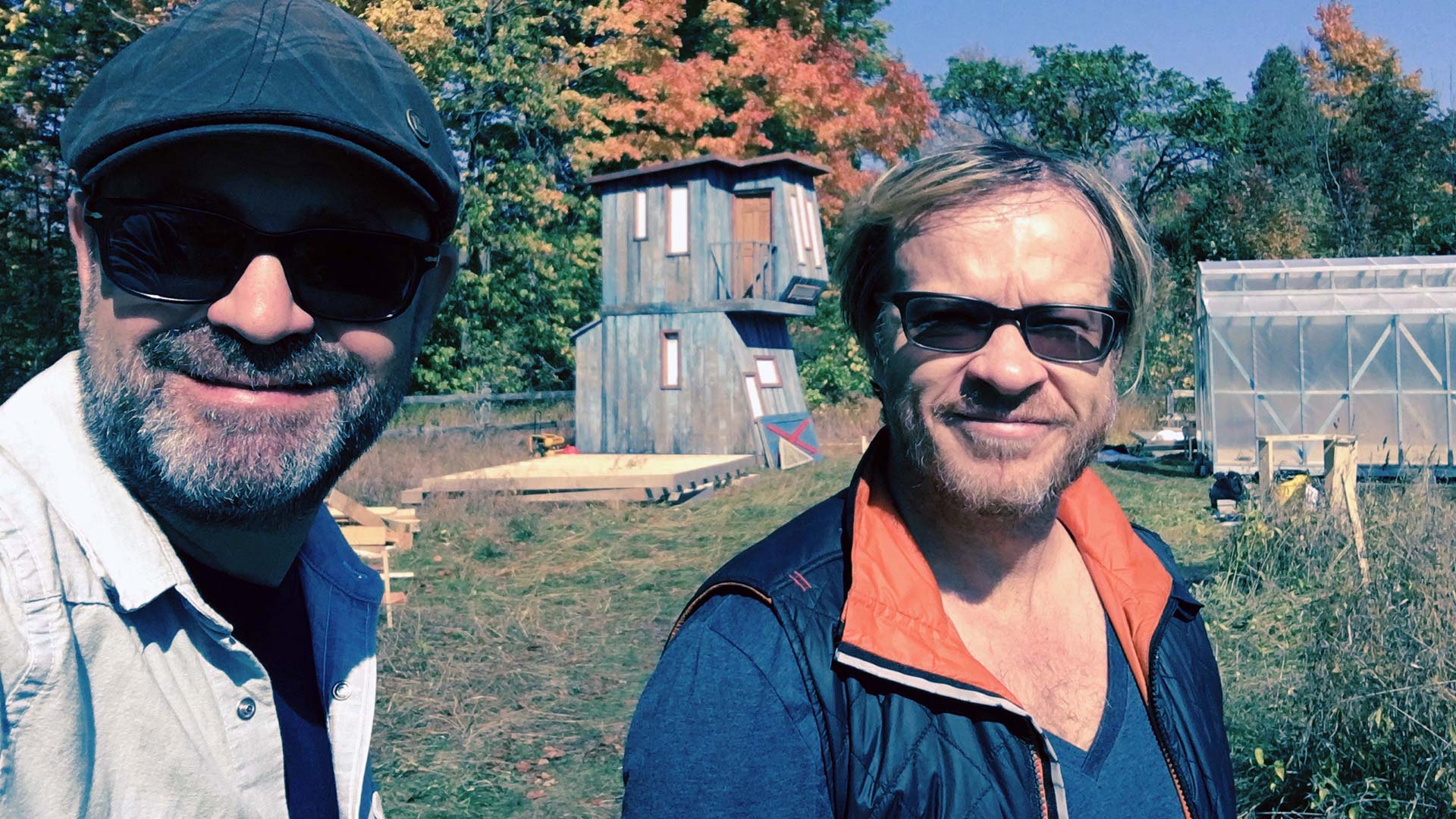 Co creators take a fall field trip to look over the "Revival" construction sight[/caption]
Let's talk story, shall we? I'll leave some of the themes we're running with this season to Cosima, who's also posting a blog here, and just throw out some story teasers cuz we can't give it away, ya know. So all through prep, I was furiously writing the season opener, with the other writers chewing at my heels with their own scripts. As is usually the case, we ended Season 4 with about 37 cliffhangers. Now we have to pick up all those threads on the fly and find the balance between them. Sarah's been stabbed in the leg and escaped into the wilderness of the island. Mrs. S and Kira have been kidnapped by Ferdinand. Cosima has fallen into the arms of Delphine in a strange new location. Rachel, the bloody psycho, has knifed Susan and been tapped by the hand of "God," who's apparently at the door. Now what?
We decided to pick Sarah up almost on the heels of Season 4. We loved seeing her resourcefulness, forced to survive with nothing but the things in her pockets. She's got a clue to Cosima's whereabouts, and she's not about to leave without her, but… this is our Island of Dr. Moreau. So WTF was that thing that attacked her in the woods? That question is the kind of hook we love to set early in the season, because we're going to spend a long time answering it.
We set a mysterious hook with Cosima too: what the hell is this place? Is weirdo Mud to be taken seriously? And Delphine … oh Delphine … pretty sure we can trust her now, I mean like, relatively sure, to a degree — she saved the cure after all. But can Cosima believe her take on P.T. Westmoreland and his "prolongevity study"? Delphine seems to have no choice but to play along, and she begs Cosima to do the same. But we all know Cosima is too damn cheeky and smart to play stupid, so this is gonna be a trip, man.
Felix is doing his best to find Kira and S, and help Sarah, but it seems like the Neolution noose is tightening around them all. Art's finally been brought to heel too, saddled with a new Neo partner who knows all about his exploits last year. He's only as valuable as he is useful now. And how about Helena, hiding out with the Hendrixes in her wigwam? Donnie, you douche — did you just take off on your wife? Did he have a choice? Good thing Helena's there to save his ass from a final Neo, but now they've got a serious problem too, don't they? Impaled by stick in her pregnant belly is no laughing matter until you watch the video below.)
Then there's Rachel. WTF up with you, girl? You're all beatific and deified and almost being nice. You cured Cosima? What's in it for you? Is this really a new day, is P.T. really going to end this war between Neolution and the sestras? Either way, looks like Sarah can't MacGyver her way out of this one, and she'll have her answer pretty soon.
So while the writers were spinning all of this into gold, we had a couple of welcome interruptions. First interruption: Comic-Con! The cast's favorite time to hang together and hang with fans. It's crazy that we feel like Comic-Con veterans now.  Going to Comic-Con in Year One was basically our goal for creating the whole show in the first place!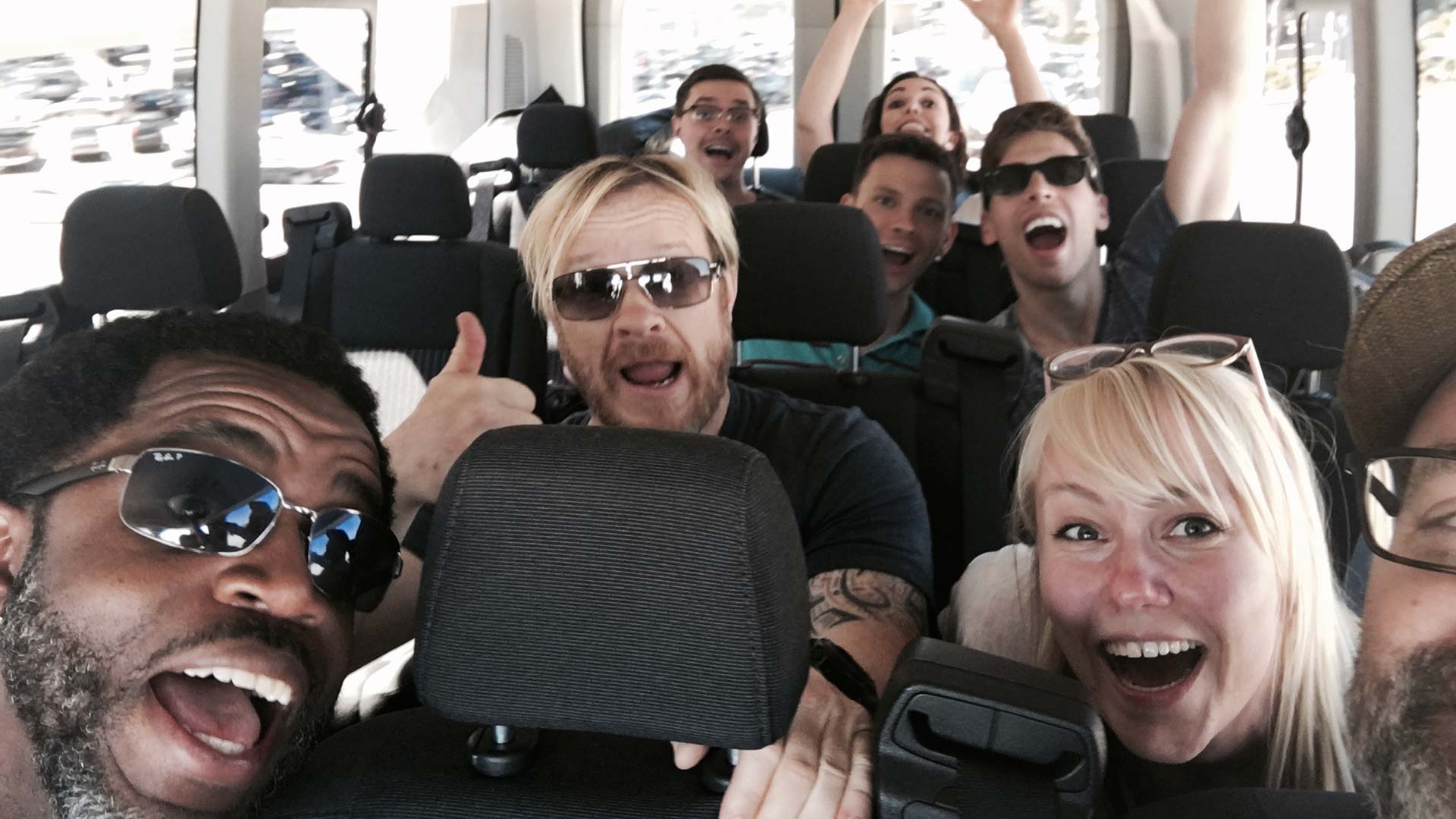 [caption id="attachment_401640" align="aligncenter" width="1920"]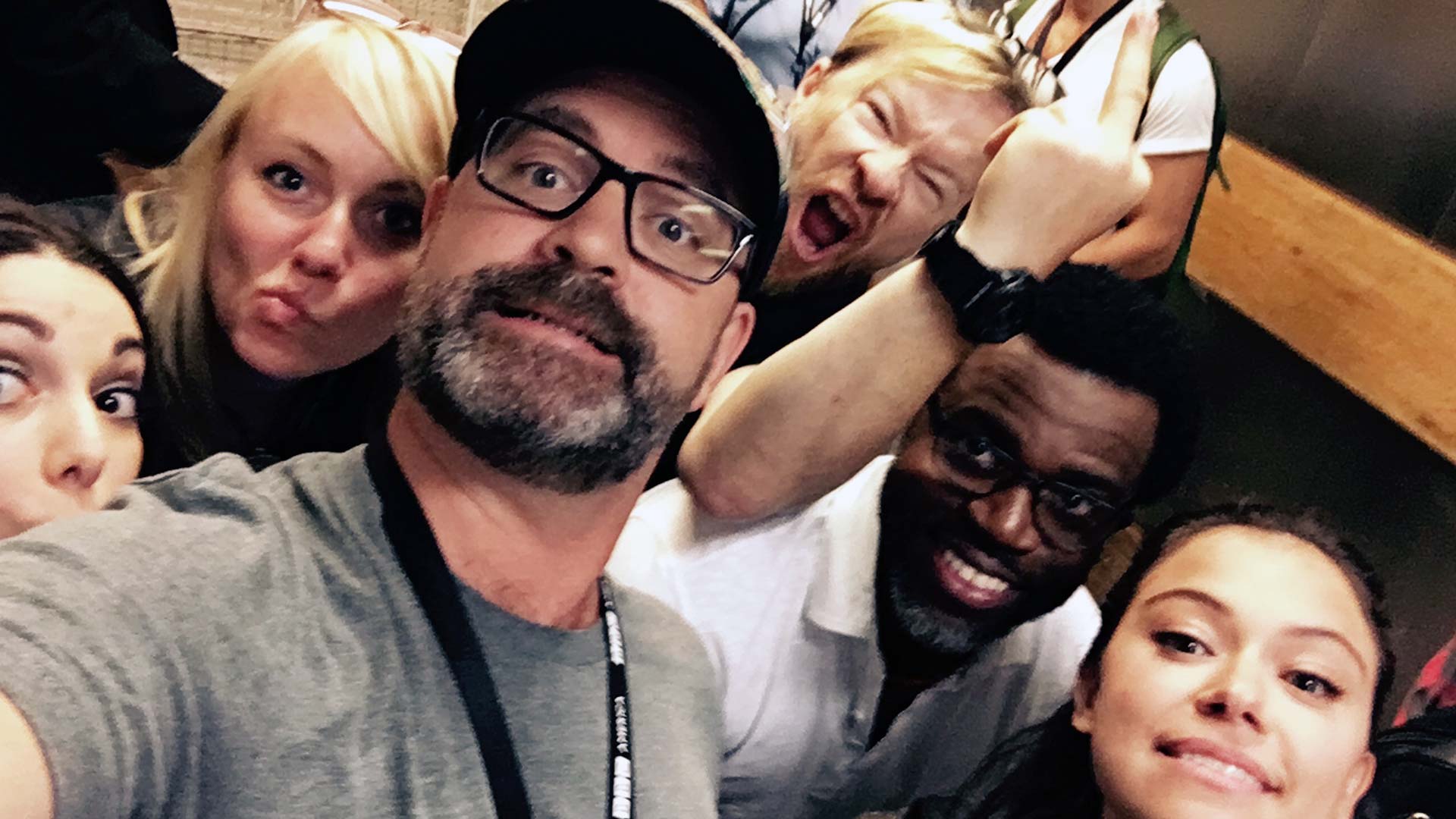 The gang is back in San Diego! (Heli Kennedy, OB comic writer, is the stoked blond woman in both photos.)[/caption]
[caption id="attachment_401646" align="aligncenter" width="1920"]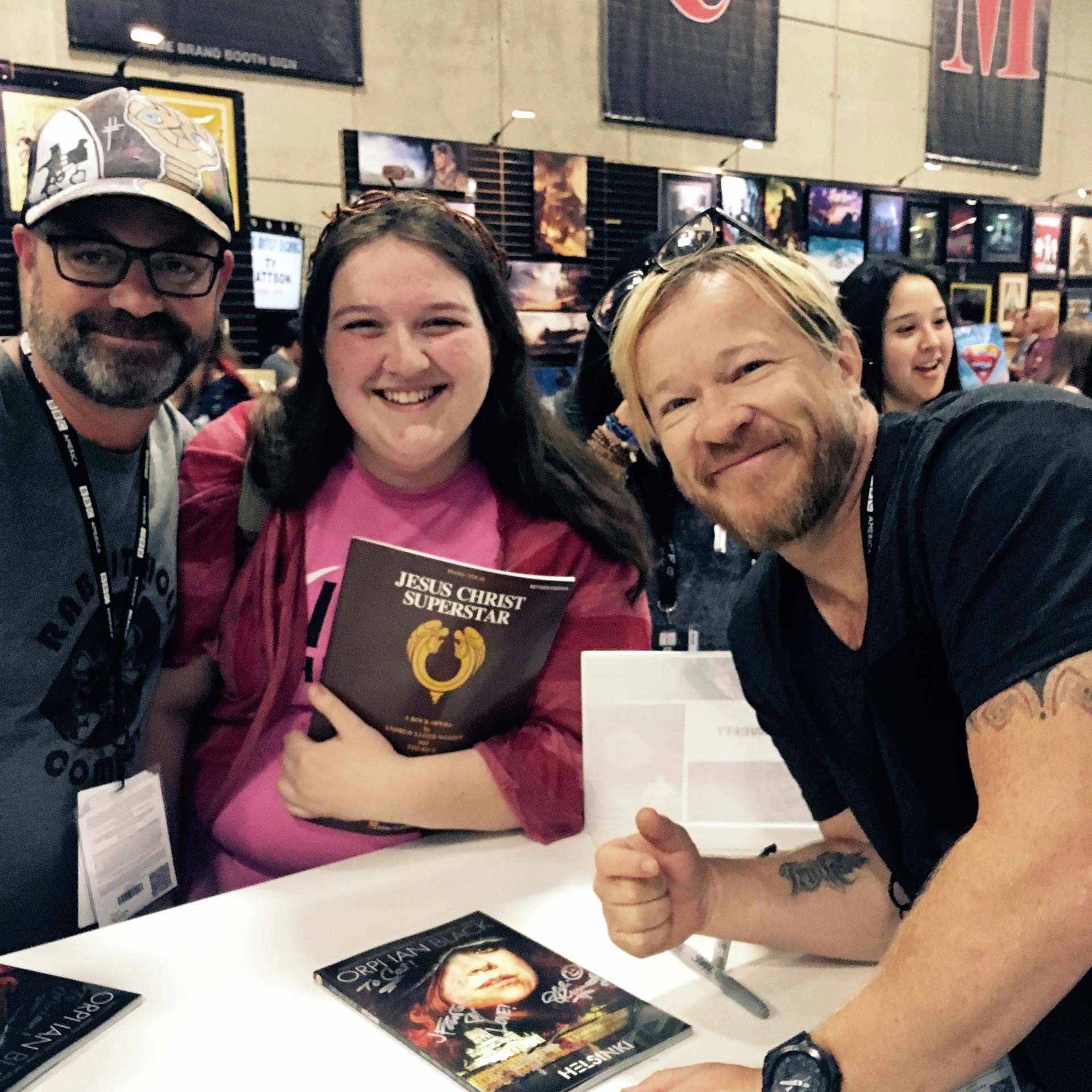 Signing comics written by Heli Kennedy for an Alison cosplayer[/caption]
[caption id="attachment_401639" align="aligncenter" width="1920"]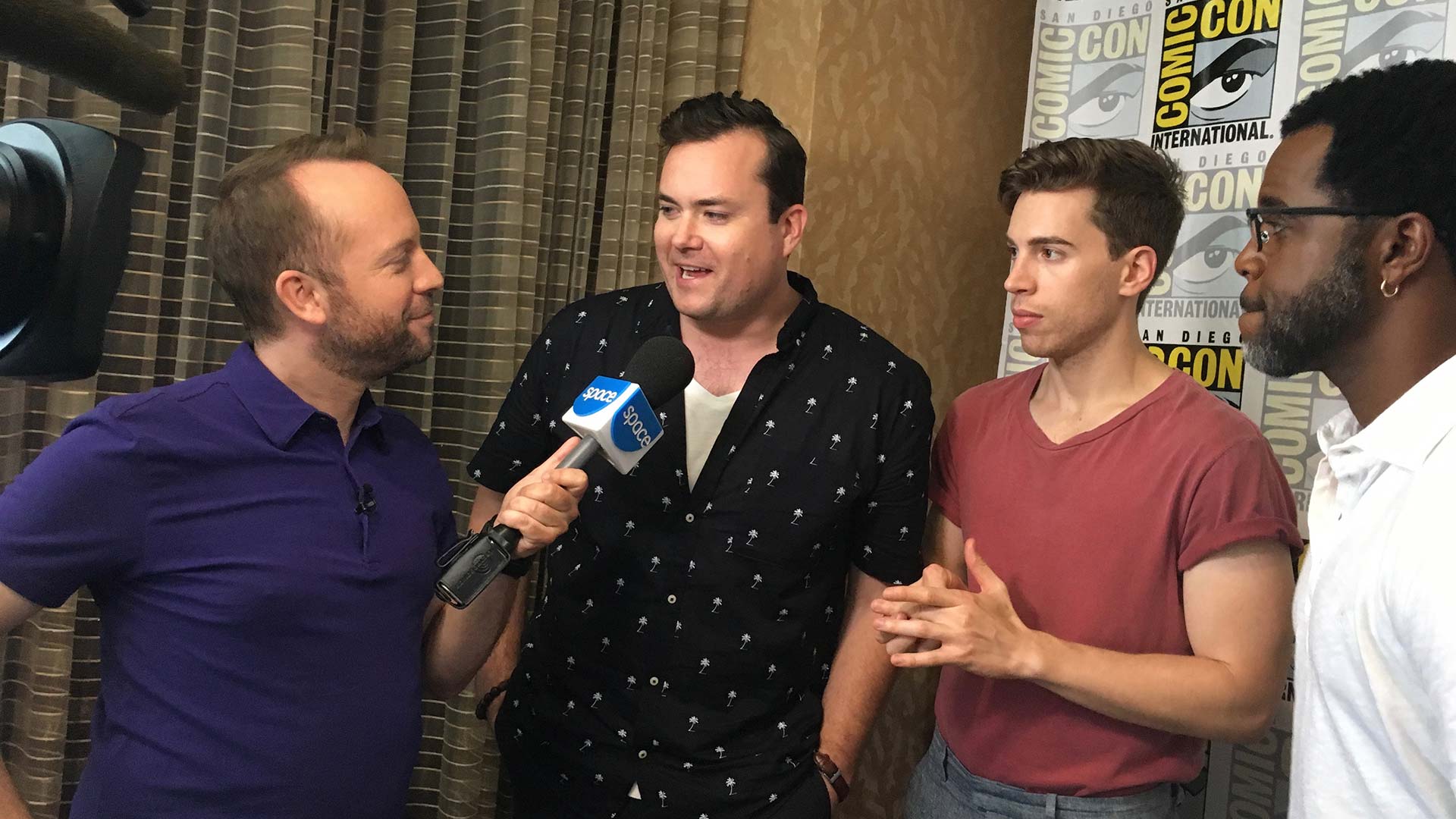 Kristian, Jordan and Kevin interviewed by our friend and fellow Canuck Teddy for Innerspace[/caption]
[caption id="attachment_401638" align="aligncenter" width="1920"]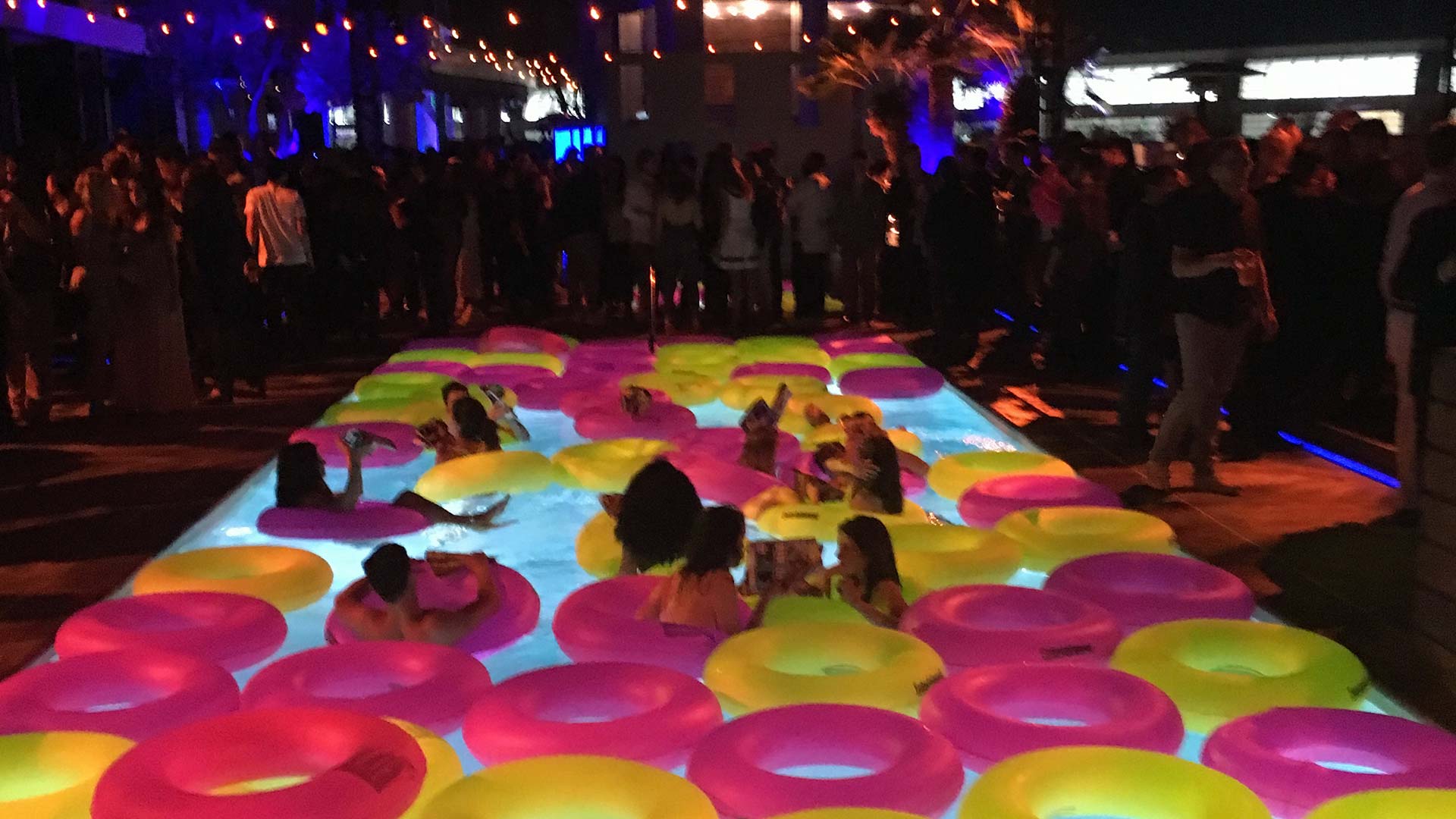 Comic-Con comes with swanky parties! (No Orphan Black cast removed any clothing to go swimming, not even Kristian… this time anyway.)[/caption]
And the second interruption? Well, this picture says it all …
[caption id="attachment_401645" align="aligncenter" width="1920"]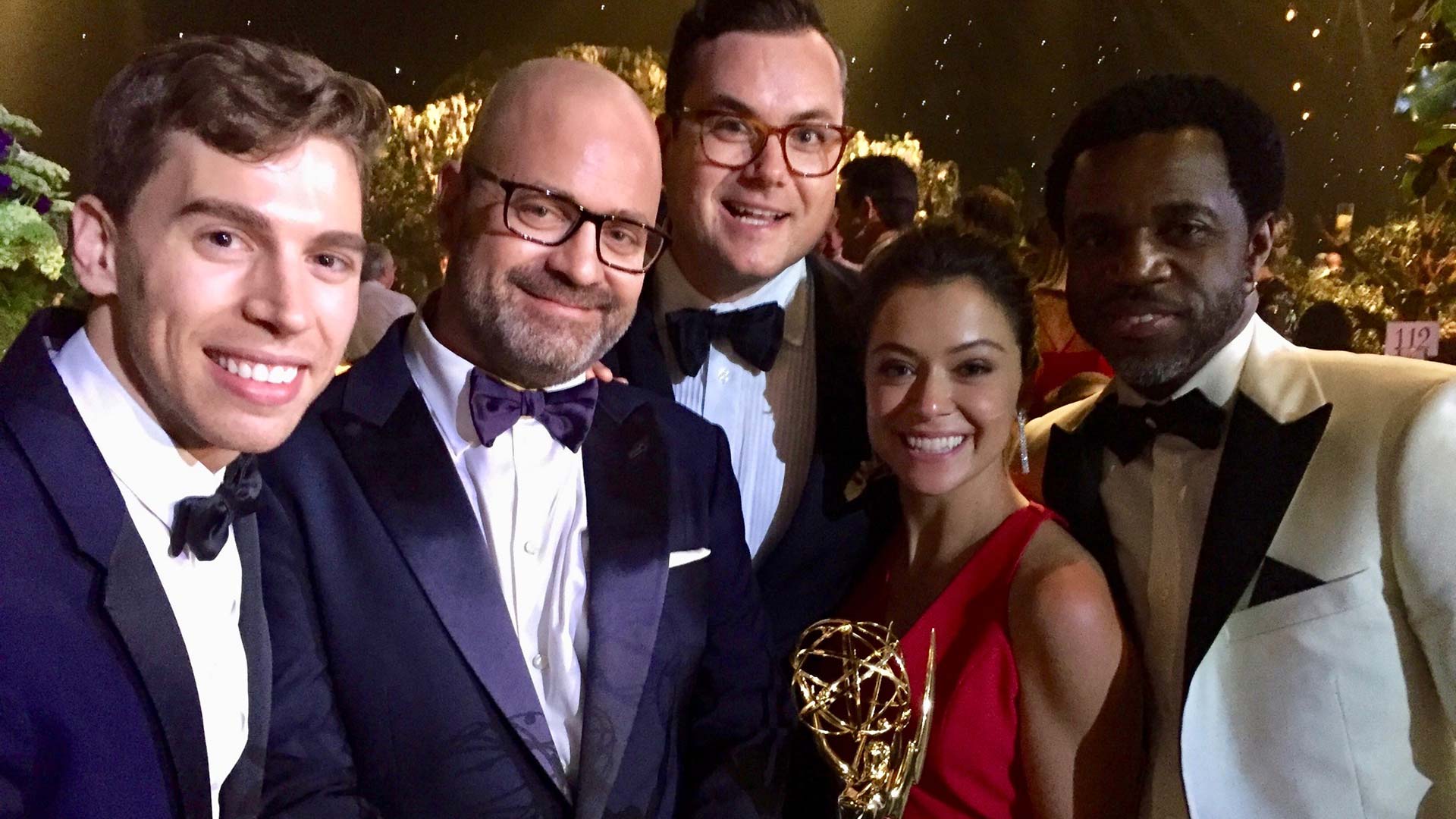 #EmmyforMaslany[/caption]
Yup, she did that. It was, and still is, utterly amazing for everyone on Our Little Show. Tat's win lifted the whole Orphan Black crew. We are so proud of her. (Sadly, John couldn't be there — he was building his village. Ditto for MacKenzie, writers, Claire Welland, Kerry Appleyard, and the other Temple St. peeps.) Thank you #CloneClub, for campaigning so hard for Tatiana!
Then after a few deeps breaths and a lot of champagne, we were right back into it, shooting Episodes 1 and 2. Honestly, it's a blur from here on in. But our Emmy winner took it all so very seriously, almost as seriously as her director, choreographing a fight scene with blinders on behind her. (I think this may be my favorite thing ever, mostly cause John.)
[bbca_video_embed media_id="964044355858" video_id="zhmCU1W3W52Q"]
Well, there you have it, blog post no. 1. The other writers will be chiming in here on their episodes, so come back and check on us again. It's the Final Trip, dudes, and we're looking forward to taking it with you… and thanks for all the fish!
[caption id="attachment_401644" align="alignnone" width="1920"]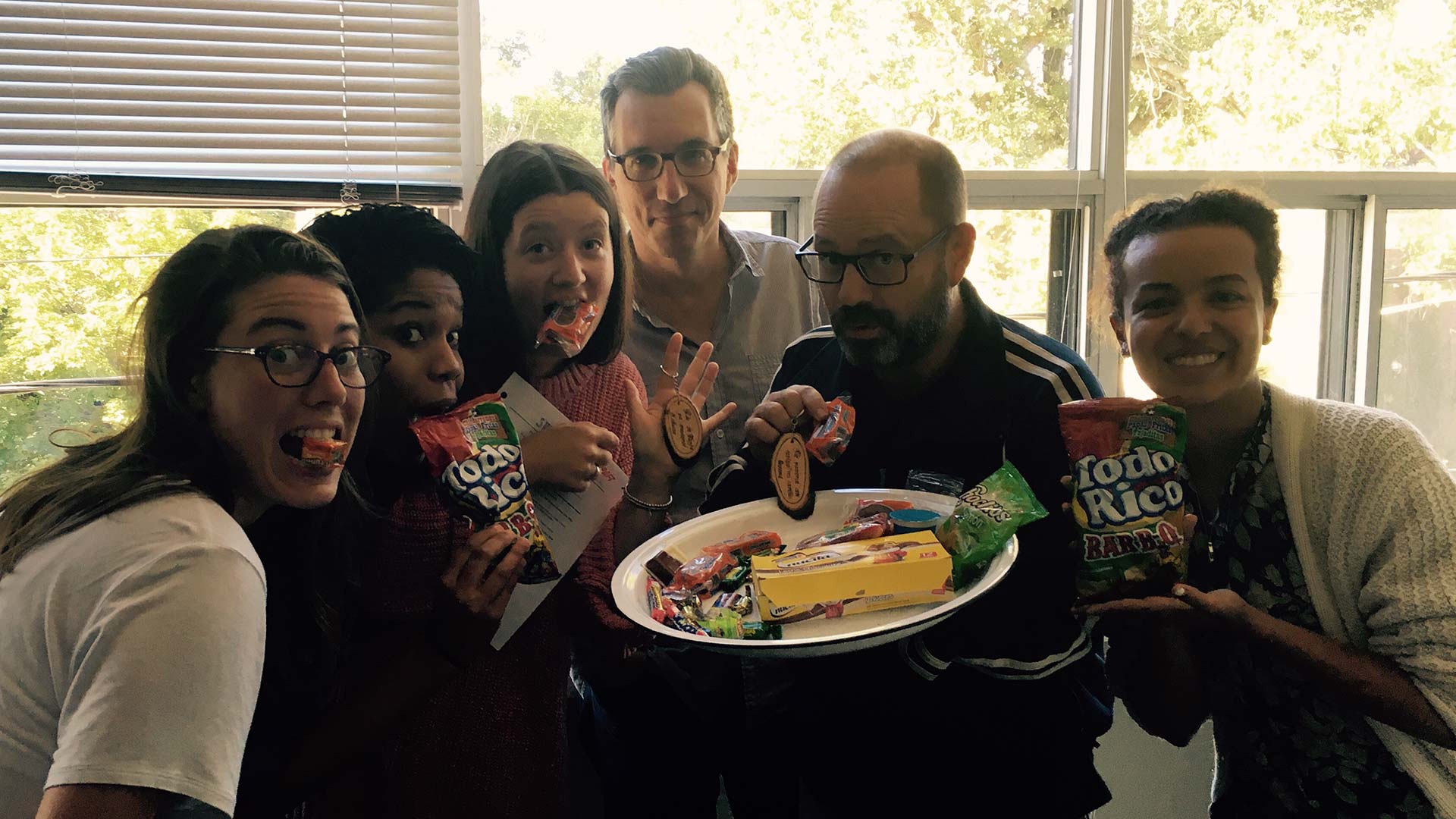 And snack fish en español like this![/caption]