Episode 4: What You Didn't Know About "From Instinct to Rational Control"
Here are behind-the-scenes secrets from our very own Orphan Black production team! 
THE COLLECTION
It took a long time to find the perfect song to use over the "collection room" scene with Donnie. Everything from Frank Sinatra to '90s R&B were tried, but nothing beat the classic "Funiculi, Funicula." Once the song was chosen we had our music supervisor and his team create a perfect cover of the song to match our cut.
LEEKIE'S HEAD: PART 2
Chris Bridges created the majority of our prosthetics this season, and he was tasked with creating both Leekie's decomposing head and the glow-in-the-dark maggot bot tumors. He worked with writer Alex Levine, our science consultant Cosima Herter, and our director Peter Stebbings to come up with the perfect bot-tumor design. We were worried he wouldn't be able to pull off the glow-in-the-dark aspect that was needed for the story, but we were proven wrong. All of the glowing elements you see in the tumors were done practically on set with a little UV paint and by turning the lights on and off. Chris shares his process HERE.
M.K., M.K., M.K.
Our props department was tasked with finding and recreating M.K.'s laptop from pre-Helsinki days—2001. We needed a laptop that would have been sold before September 2001, and that worked. Not a small ask, but they pulled it off. We then worked with our clearance team, graphic designers, and the comic book illustrators to make sure the laptop looked consistent across all story mediums: matching the stickers in the comic and in the show.
Fun Fact: If you look closely you'll see a sticker for the band Garbage that is featured in both the comic and the show. John Fawcett went to see Garbage live in the fall of 2015, right around when we were developing this episode, and he felt that it was a great band to reference for our new clone M.K. And the band gave us permission to use their sticker!
HELSINKI
We needed pictures of the 17-year-old Leda clones that died in Helsinki for this episode, and instead of creating them ourselves, we asked Tatiana and her family to send us pictures from her teenage years and used those pictures instead of creating our own. The only pictures that we created are of M.K. and Niki because their looks were so specifically established in the comics and in the show, that Tatiana's own photos wouldn't match.
Fun Fact: We then took those pictures to our comic book illustrator to base those characters off of Tatiana's own personal pictures.
TATTED UP
Most of the tattoos you see on the actor who plays Dizzy are his own.
Fun Fact: We added three dots right under his eye to give him a bit more mystery and darkness.
[caption id="attachment_363712" align="aligncenter" width="540"]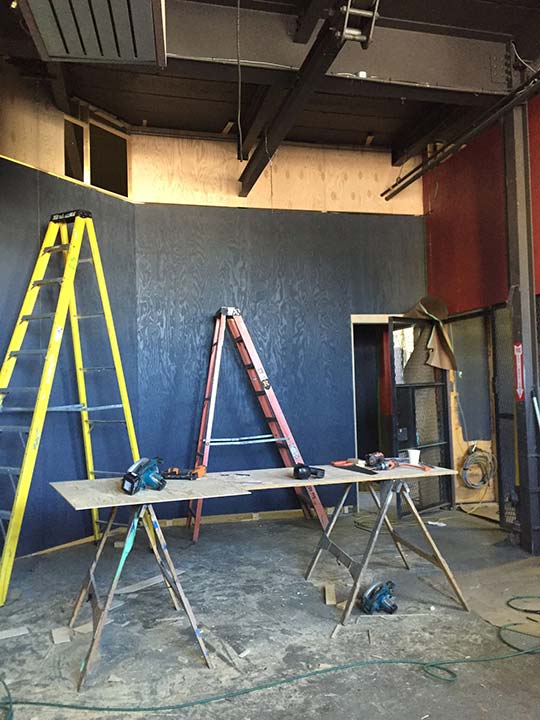 Dizzy's apartment in-process[/caption]
Fun Fact: Dizzy's apartment was built in a small building on our studio's lot. Instead of building walls for the set, we used the building as his apartment proper.
HELLO, FERDINAND
James Frain, who plays Ferdinand, had to sit soaking wet through half of the clone scene (six plus hours) because M.K. dumps gasoline (aka water) all over him. Obviously, not a very comfortable scene for him to shoot. And because Ferdinand's wardrobe costs more than almost any other character on the show, our wardrobe team had to match a very expensive-looking dress shirt for one that they could get many multiples of in order to make him dry when we needed him dry and wet when we needed him wet.
COMICS & TV
Alex Levine and the rest of The Hive developed this episode for a long time as we began diving into the story during the summer as we were developing the comics that were going to give our audience M.K.'s backstory. It was a complicated process to get both stories right, but Alex Levine and Peter Stebbings pulled it off.
Fun Fact: M.K. is actually Veera, the main character in the second issue of Orphan Black comics. You can read about Helsinki and a whole new set of clones including Veera aka M.K. aka Mika.
Fun Fact: Other than Episode 405, 404 had the most time from beginning of development until production.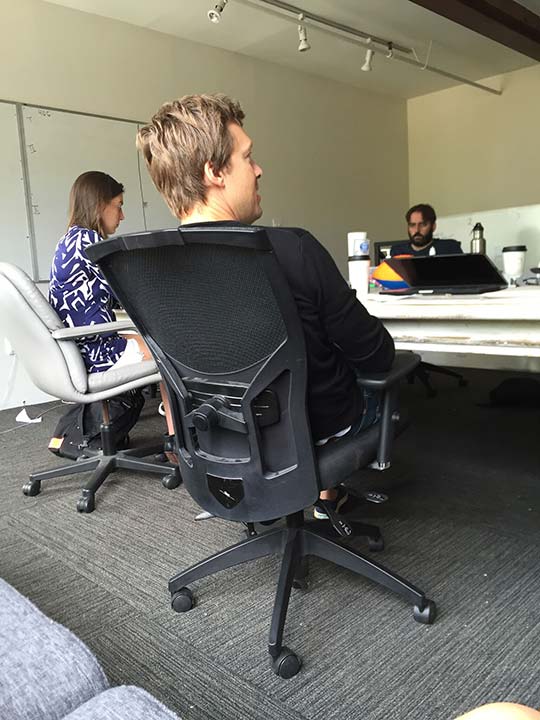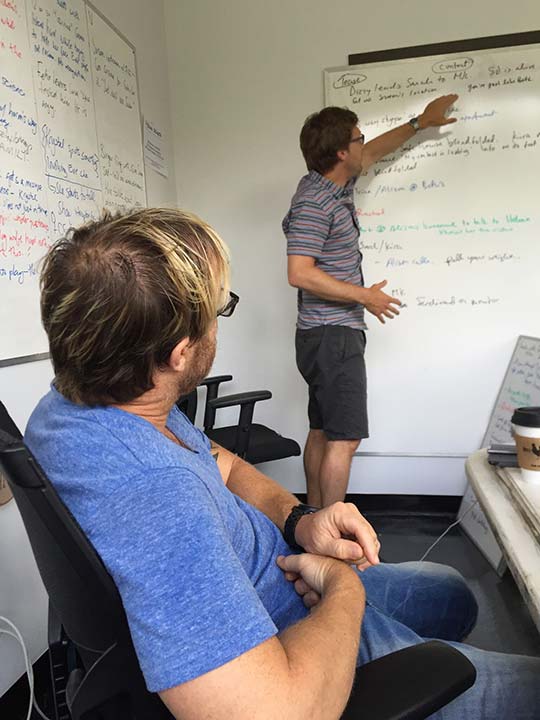 HALLOWEEN
Fun Fact: It was Halloween on set when we shot this episode and our crew takes it seriously. Every year it's a blast to see how everyone will show up on set!
[caption id="attachment_363707" align="aligncenter" width="540"]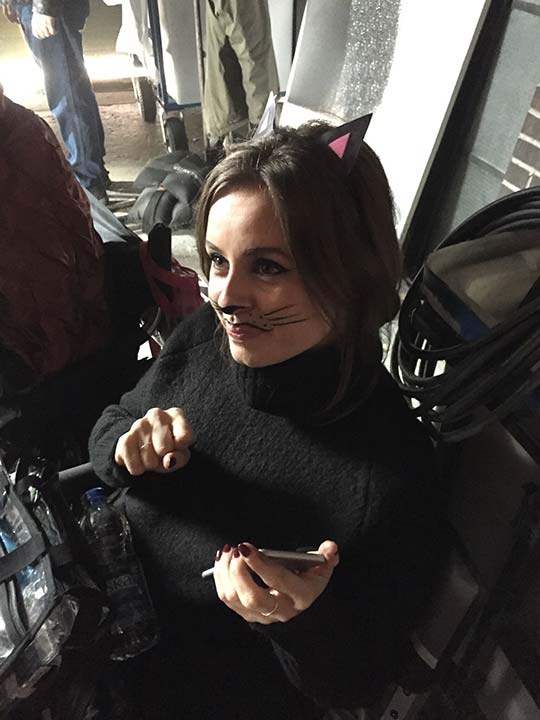 Kristin Wayne, Assistant Makeup[/caption]
[caption id="attachment_363706" align="aligncenter" width="540"]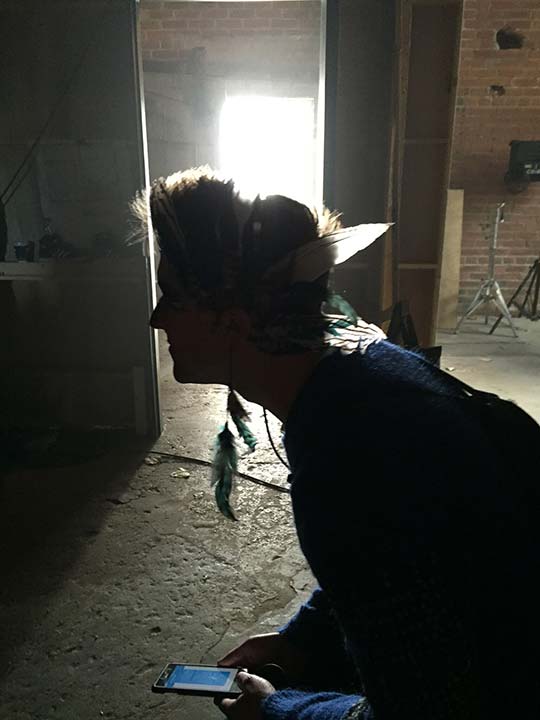 Peter Webster, on-set dresser as a blue jay[/caption]
[caption id="attachment_363709" align="aligncenter" width="1280"]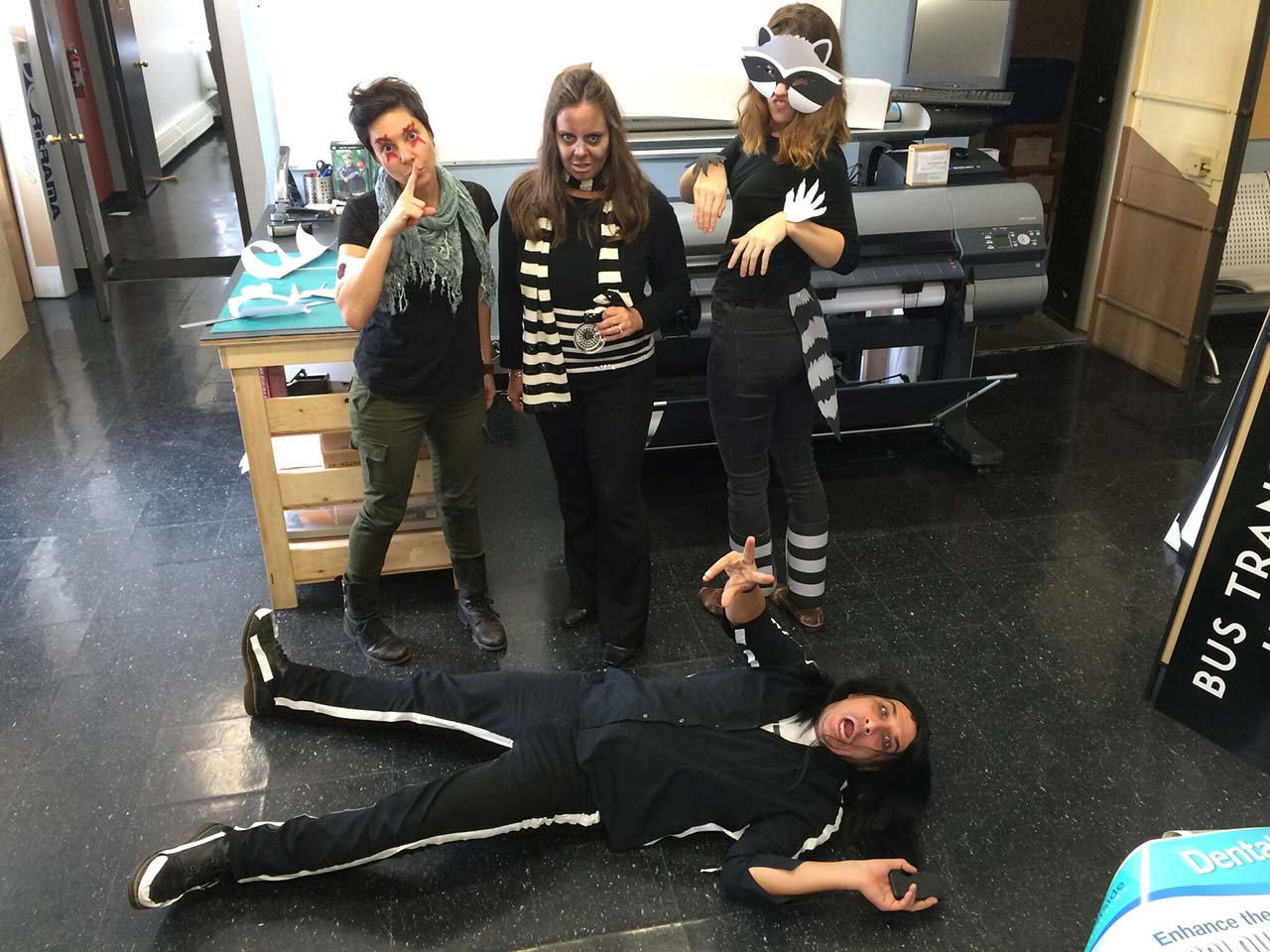 Art Department as Orphan Black[/caption]
[caption id="attachment_363708" align="aligncenter" width="540"]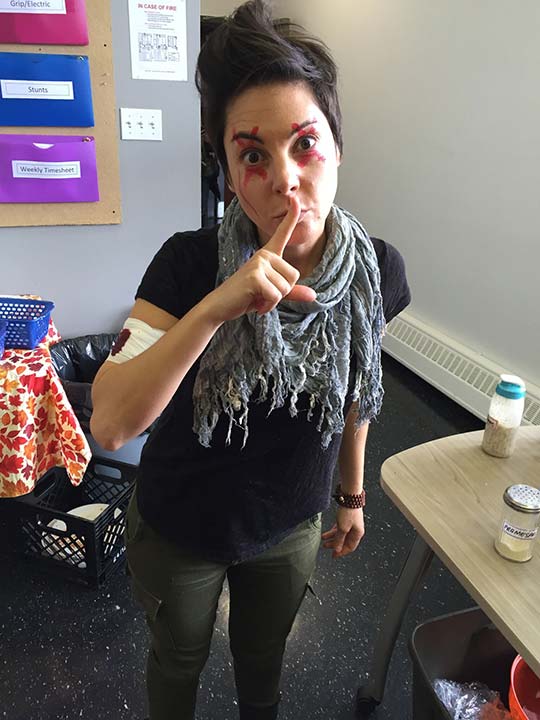 Joelle Craven, Graphics as Rudy[/caption]
FACTS, FACTS, FACTS
This episode's plot unfolds in a lot of clues and computer screens. Our Art Department and The Hive worked endlessly together to make sure all of the computers, clues, and props were perfect.
Fun Fact: We made this amazing web, M.K.'s DYAD web, that sadly you only see one portion of in the show. But it really is a detailed history of our show.
[caption id="attachment_363710" align="aligncenter" width="540"]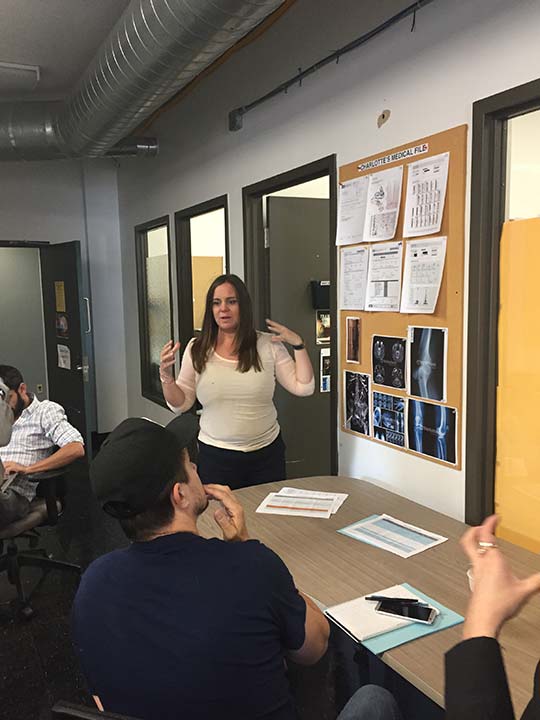 Jody, our art designer, talking to director Peter Stebbings[/caption]
BOMBS & FAST PULL-AWAYS
Director Peter Stebbings is a car fanatic and was the perfect guy to help us find Dizzy's car and direct Sarah speeding off. Between the car and the bomb-making, Peter really got an action-packed episode.
[caption id="attachment_363711" align="aligncenter" width="1280"]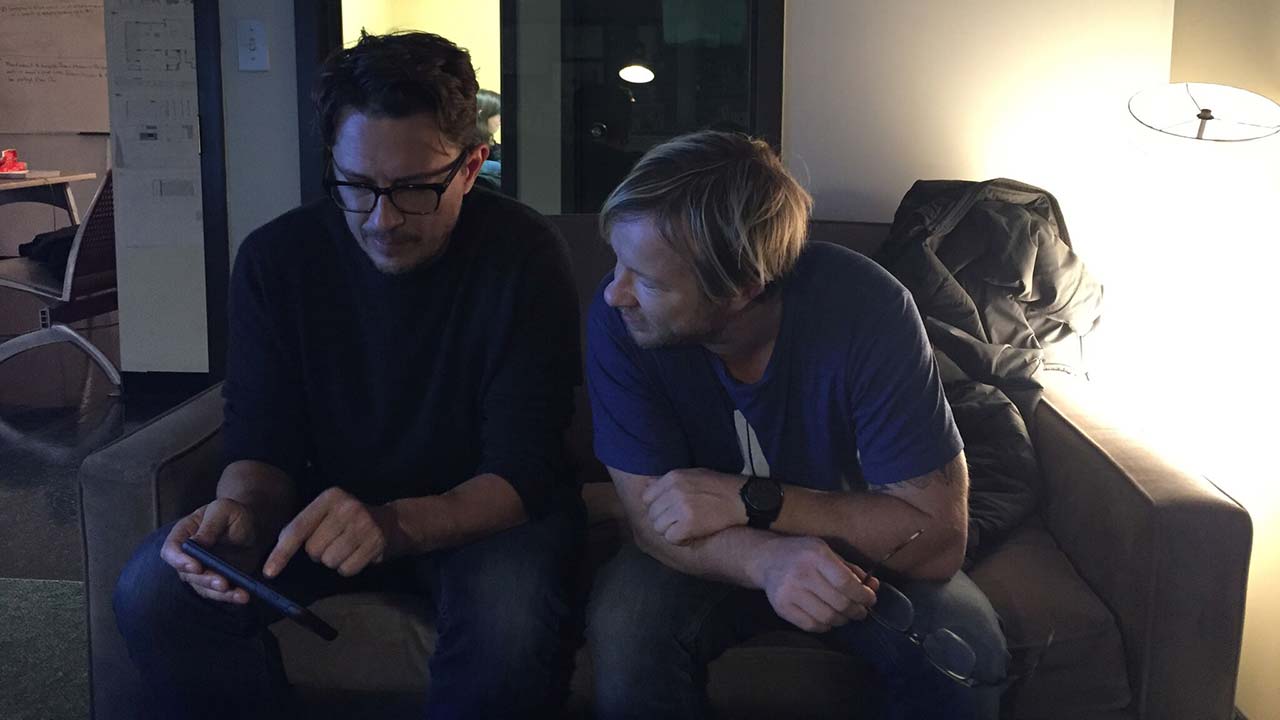 Peter Stebbings with John Fawcett[/caption]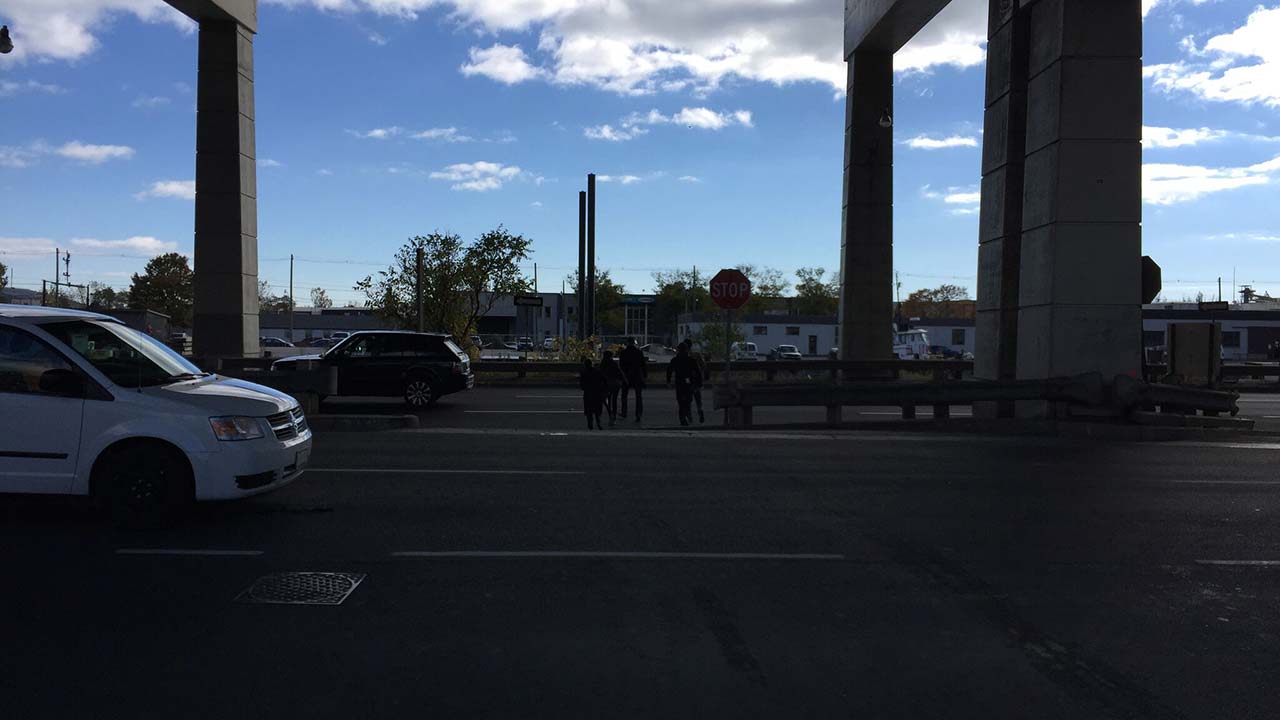 Peter Stebbings scouts the highway
[caption id="attachment_363705" align="aligncenter" width="540"]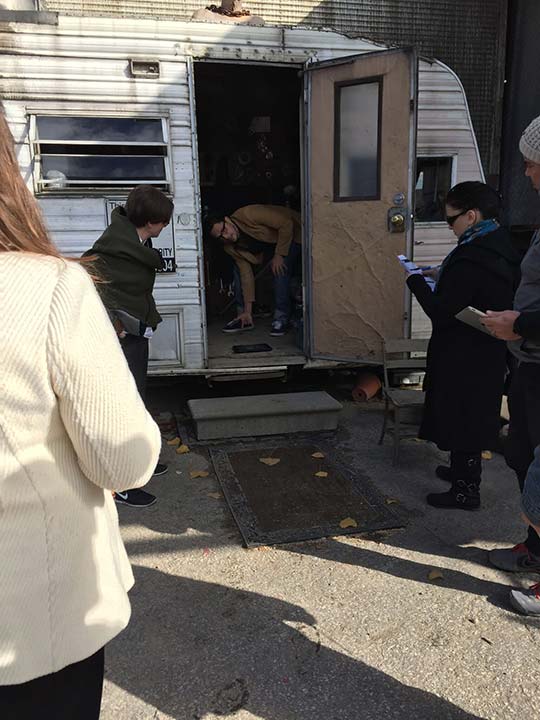 M.K.'s trailer[/caption]
Fun Fact: Peter Stebbings is a very accomplished actor in his own right and gets amazing performances out of the actors he directs. He actually played opposite Tatiana years ago in an episode of Flashpoint.
[caption id="attachment_363703" align="aligncenter" width="1280"]
Peter Stebbings at read-through[/caption]