Episode 2: What You Didn't Know About 'Clutch of Greed'
Here are behind-the-scenes secrets from our very own Orphan Black production team!
ONE ACTRESS + ONE SHOT = CRAZIEST CLONE SWITCHEROO TO DATE
For at least two seasons, John Fawcett had talked about doing a huge clone scene single shot scene, and although we tried to find the right time in Season 4 for the scene, we just couldn't squeeze it in. Cut to Season 5, our final season... there was no way this wasn't going to make it into the season. And it did, in a beautiful and emotional farewell to one of our favorite clones  — M.K. This is actually two shots stitched together bringing Sarah in from her car, up the stairs, and into Felix's hallway, and then into his loft where she switches clothes with M.K. before leaving her to face off with Ferdinand.
Fun Fact: Originally John planned to follow Sarah up the stairs, across an exterior patio, and into the hallway; but because the building that we use as the exterior location for Felix's loft isn't the safest or most well-kept building, we couldn't risk taking Tatiana across the rooftop patio with the camera following. So, Geoff Scott and John Fawcett came up with a happy medium.
SPOT THE VFX TEACUP
Every fan of the show since Season 2 loves a good face-off between Rachel and Sarah, right? And here in Episode 502, we have a pretty epic scene with the "new enlightened" Rachel. But did you notice anything funny about the teacup? No? Good! That means we did our jobs well. In fact, that teacup is actually a VFX from the moment Rachel picks it up, carries it over to Sarah, and hands it off. The smash on the ground was real, but the cup in Tatiana's hand was created completely in post.
[bbca_video_embed media_id="970187843699" video_id="U2cVs6gZrRoP"]
Fun Fact: This is the first time we are back at Dyad in Season 5. This year we took Leekie's office set —that had been turned into Delphine's office — redressed it into an enlightened Rachel look. This meant lots more white, taking out the lab elements, and replacing them with a meditation room and small elements of Neolution lore hidden around the space.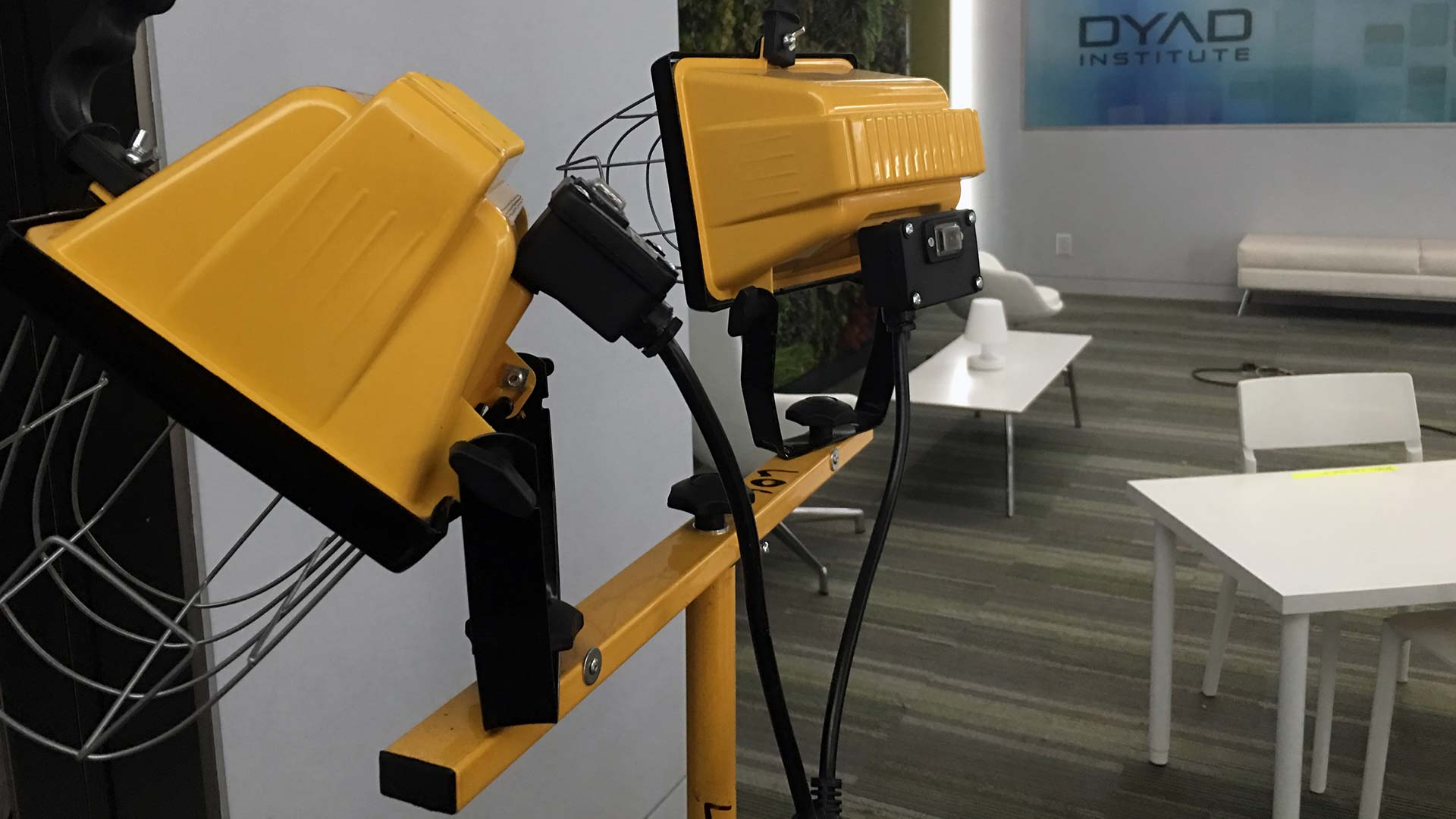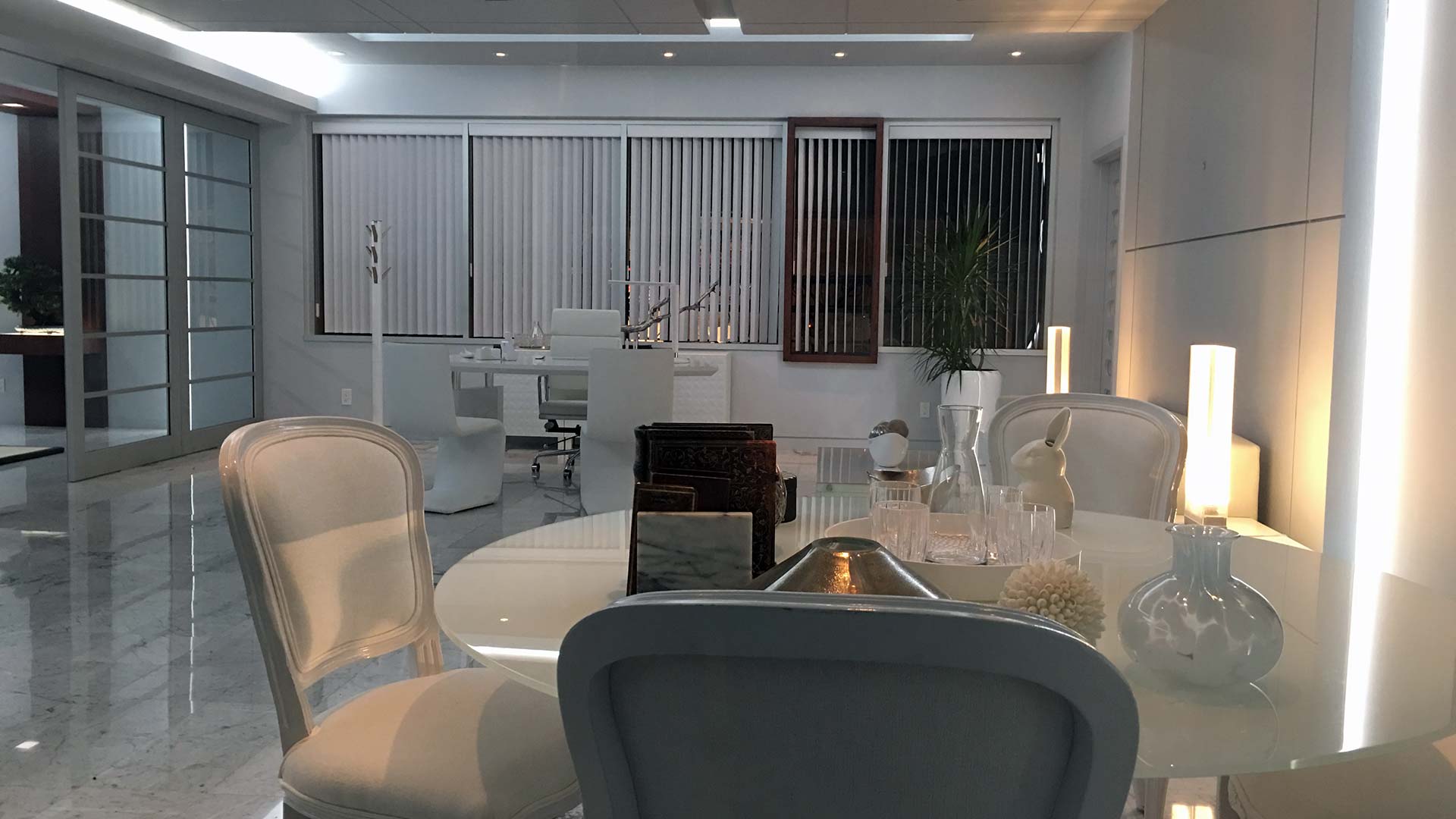 PTW IN THE FLESH
This is the episode where fans finally meet the man behind the experiment — P.T. Westmoreland. The search for the right actor took many casting sessions. In fact, we had about 6-8 sessions, three rounds of callbacks, and didn't end up casting any of those actors in the role! Instead, Sharon Forrest, our casting director, had the idea to stunt cast Stephen McHattie in the roll at the last minute. And with about five days left before he was needed on set, we finally found our PTW.
Fun Fact: That picture of Darwin's tortoise is a picture of one of his tortoises — only we removed the head of one of his servants and replaced it with our actor's first head shot from the '70s!
Fun Fact: The room in which Cosima meets PTW for the first time is what we called The Cabinet of Curiosities. This room is full of tons of stuff from stuffed monkeys to antique books to an old gramophone. This set dressing was probably one of the biggest jobs our production design team had ahead of them this season, not least of which because they also needed to make sure the room didn't look the same as it did in Season 2 when we used that location as the Birdwatchers' dining room.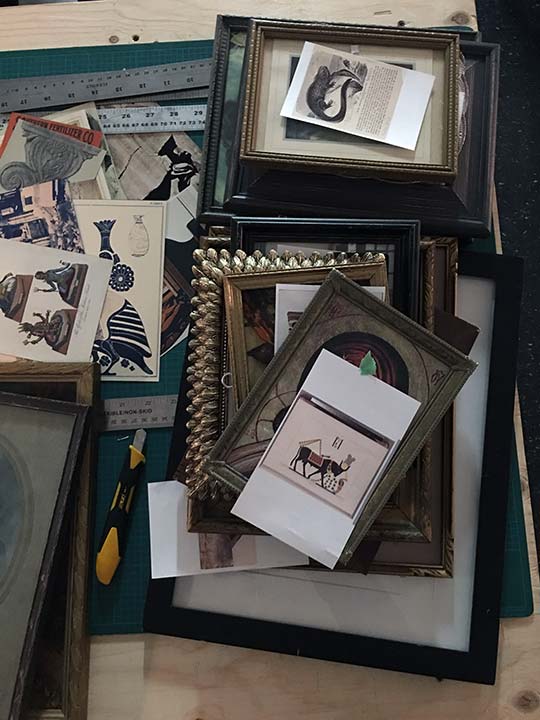 HOW TO SCHEDULE THIS BEAST
We usually shoot Episodes 1 and 2 of each season together in what we call a block shoot. John traditionally directs both episodes while Joanna Moore ADs them. Scheduling two episodes back to back in one block is one of the hardest schedules an AD on Orphan Black will create in the season, but Joanna is always up for it. Check out the chart she made to track our days. She was definitely channeling Alison when she created this.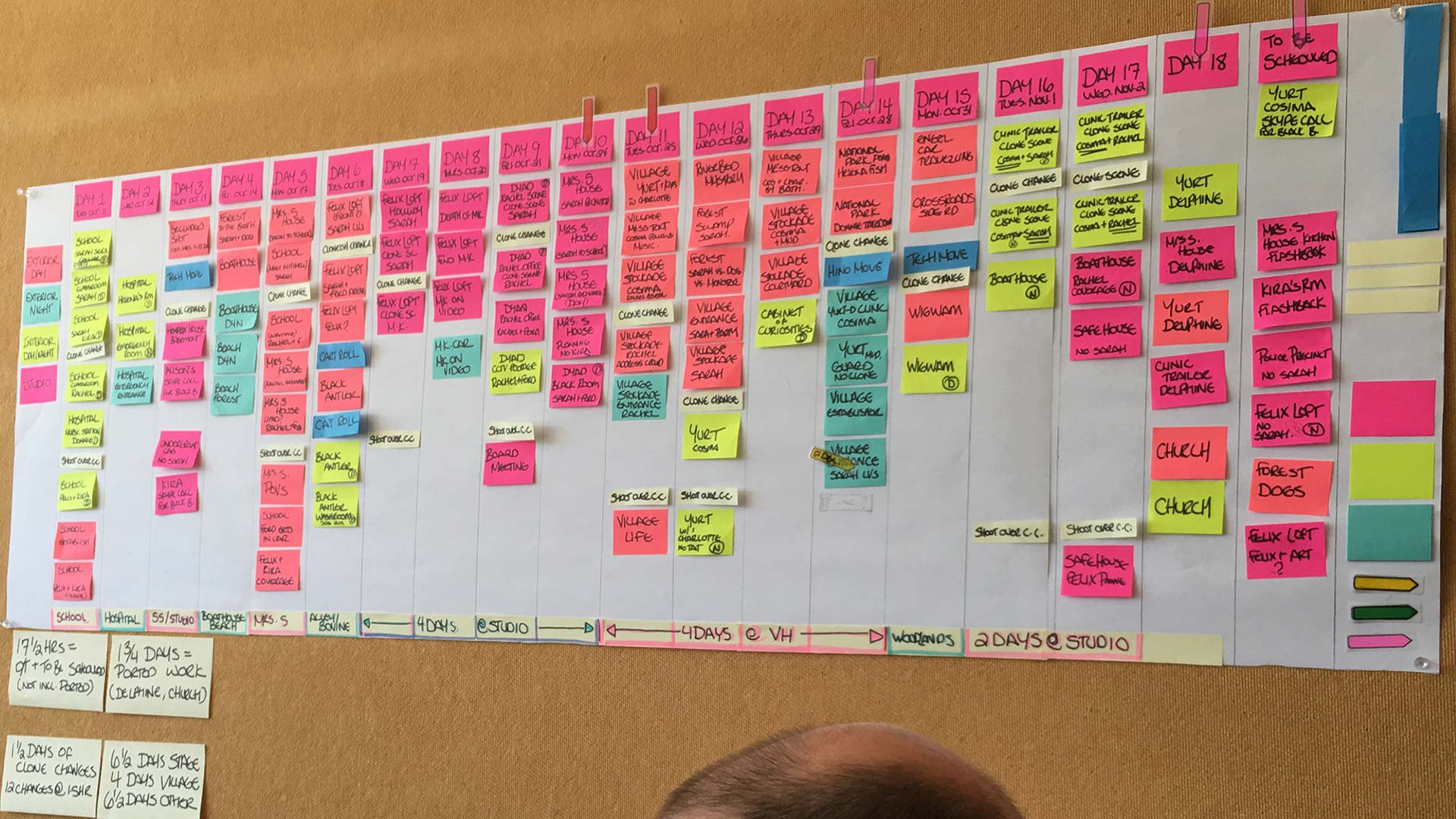 Fun Fact: When you do a block shoot, it means each department has twice as much to prep. Here you can see our props master Craig presenting a four-hour show-and-tell meeting to John and the production team where we decide on all the important key props for both episodes 501 and 502.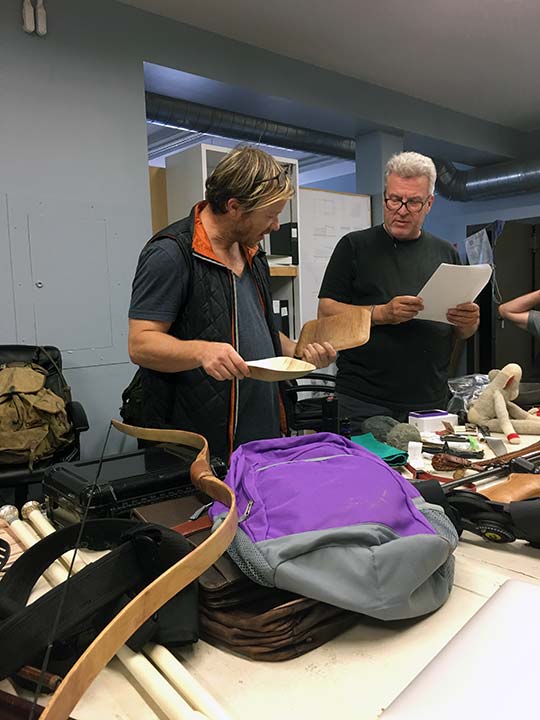 SECURITY ANGLES
Sometimes we need to fake angles or shots in order to make sure we get everything we need for an episode. Often we do this because we don't have the time on the day on a location shoot to get every aspect that we need to create a scene. For instance, in Episode 502 we need security images of Rachel and Ferdinand leaving the Dyad building in order for Sarah to be able to see what Rachel was wearing and to dress up as her. Because we weren't shooting anything at the exterior location for Dyad in this block we had to fake it at the studio. So, John and our DP Aaron found an angle that would work and look like a parking lot security camera's angle. And it was from the main entrance of our production office.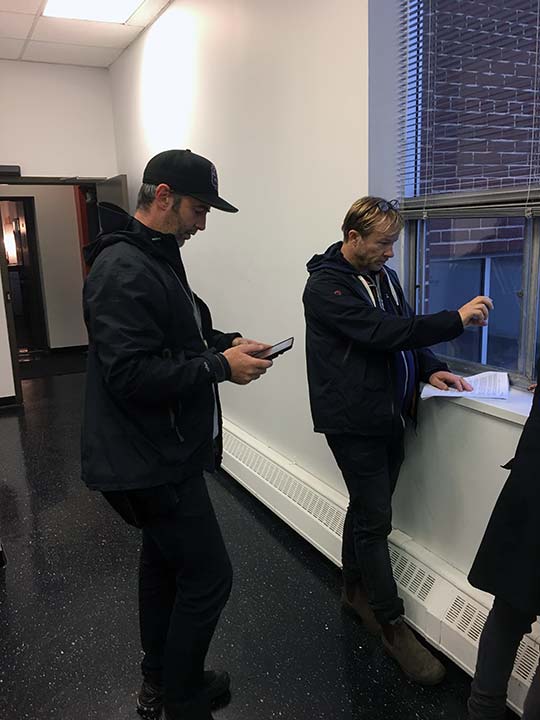 SPOT THE ASSISTANT
We needed a driver for the final scene where Sarah and Kira are about to disappear, but for some reason we forgot to book one. Lucky for us, John and Graeme's assistant was up for the job. So, the guy with the beard and glasses at the end of the episode with the luggage isn't an actor, but is Matt Wakefield!
Fun Fact: Matt was perfect for the roll and didn't even need a costume. He wore his own clothes!
Fun Fact: Tatiana and Skyler (Kira) improvised a lot of the fight at the end of the episode. There were three or four scripted lines between them, but not enough to fill up the dramatic beats. So, taking a cue from her TV mother — who is a great improvise — Skyler stepped up to the plate and performed one of her most dramatic scenes in the series history making it up along the way.