Chris Roberts: Tatiana Comes Apart
Editor's Note: The Hive is Orphan Black's weekly Writers' Room blog. Each week, someone intimately involved with that week's production will take you behind the scenes. This week is Episode 6 scribe Chris Roberts.
The phrase I kept hearing when we were breaking Episode 406 was "That's a tall order." Like every mid-season climax, this episode had to tie a lot of threads together and launch us into the back half. Unlike previous seasons, 406 also had to carry Season 4's flashback narrative, which brought us back all the way to Beth, and the very first episode of Orphan Black.
I was lucky enough to be one of the writers who had been with the show since the first episode, when I was Season 1's Story Coordinator. I think that kind of continuity helped to shape Beth's struggle. I remembered conversations about where we wanted to go with her on the very first day we all met, the original Orphan Hive, and how much we wanted to dig into her past. Was her suicide really Paul's fault, or was there something more to it? Ultimately, four years later, we got our answer.
Telling Beth's story meant a lot to all of us, but 406 had another "tall order," handling the death of Kendall Malone, our beloved Original. It's not the first time I've been slated to "kill" a recurring character (Mark was to die in my first episode, 206, before Ari blew us all away on-screen), but this was different — not a villain, but a woman our characters — and our fans — cared for deeply. I wanted to give Siobhan's mother her due, and that meant exploring the bond with her daughter, while forging a link between Sarah and the sister she never knew, Beth.
Breaking 406 was a long journey with a few false starts. We knew the basic shape, but the press of production meant we were tied to footage already shot, and details already expressed on-screen. We had good ideas from all quarters, and it helped immensely to think of this episode as a single story, a thriller where all threads — in both the past and present — built towards the tragic climax.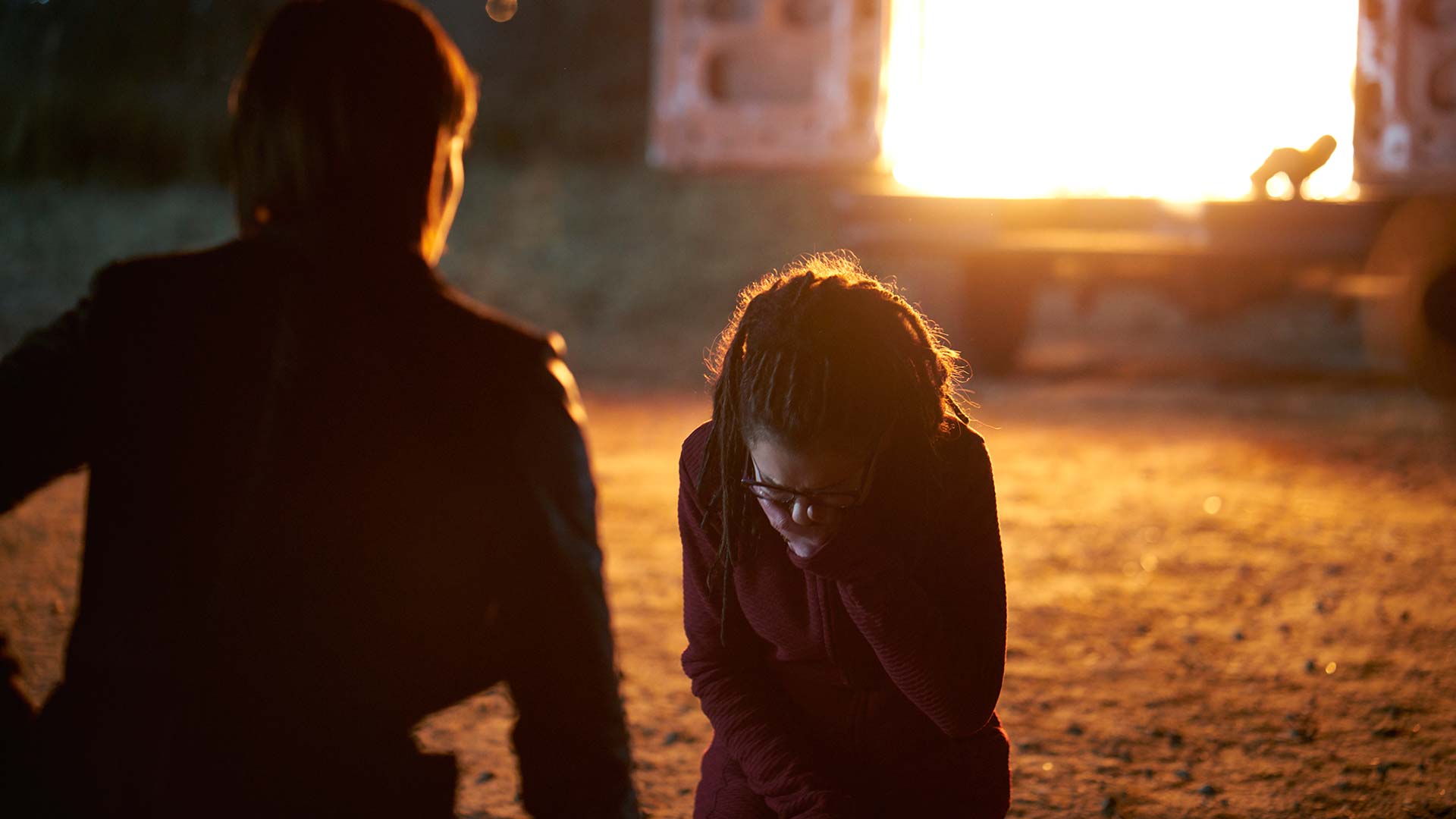 Tat was the key, of course, and I knew I could rely on her to bring every ounce of the drama to the screen. And she nailed it, as Beth, cornered, ready to kill Susan Duncan (the incredible Rosemary Dunsmore); as Cosima, confronted with news about Delphine; and as Sarah, desperately trying to keep family and allies together. All three finally realize they've made terrible mistakes, united by their loss, and divided by their pain.
But we didn't want a march to the gallows. Felix and Krystal are always gold, and I loved bringing them back together again. All credit to Jordan for his amazing physical comedy in this episode, and watching him work with deadpan Art to handle another clone on the brink of self-discovery was a real treat.
But I'll always remember the night we shot the climax: two in the morning in a frigid Toronto December, with a burned-out van in the background, Tat on her knees as Cosima. The moment when Evie tells her Delphine was shot, and Tat just… comes apart. None of us expected it. It was so raw, and real. I was dumbstruck. I actually felt bad for putting her through it.
There was no second take. We didn't need one.