Alex Levine: A Gift of an Episode
Editor's Note: The Hive is Orphan Black's weekly Writers' Room blog. Each week, someone intimately involved with that week's production will take you behind the scenes. This week is one of Episode 9's scribes, Alex Levine
Episode 409 was a bit of a gift because I didn't have to look too hard for a strong story. John and Graeme already had some defined ideas for the finale — and those ideas didn't include Evie Cho's downfall, Helena's return, or Adele's farewell. So when you think about it, 409 is like a finale in itself. And yet, there's so much more to come!
Brainstorming how Evie Cho would be defeated was not easy. Based on Episode 406, we might have conceived a computer-hacky revenge plot, but that's not really Orphan Black's wheelhouse. When we settled on the storyline you saw — effectively "outing" Evie Cho's deeds publicly — there was some hemming and hawing. We've always steered wide clear of any "exposure" story line because it would basically end the series if our clones became public knowledge. But we moved ahead anyway, and I think we've left our foundations unshaken. I was inspired by the brilliant ending of the film Michael Clayton, so 409's climax is a kind of twisted Orphan Black homage to that ending. But the episode really came together once we solved Rachel's double black flip — her alliance, betrayal, and redemption. Here's a behind-the-scenes shot of Evie's final speech. A bit of trivia: the Brightborn office set is actually Beth's townhouse, redesigned and redressed. Our art department gets all the cred. It's unrecognizable.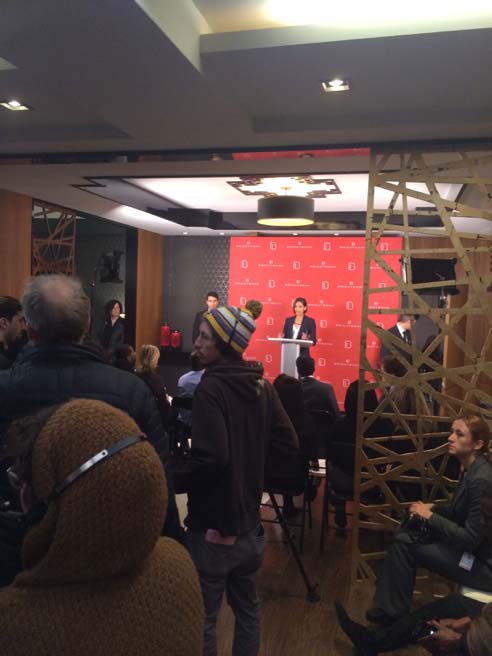 We'd always wanted to shoot a scene of Helena hunting deer. In fact, that scene was intended to be a standalone tease, but we moved it into Act One. The story needed to get moving faster — we had to establish Rachel back in town, her shaky alliance with Sarah, and the missing carriers. Our hopes of having Helena actually shooting the deer in front of the passing family proved too expensive and difficult, but I'm happy with what we got. Here's a shot of Director David Frazee and DOP Aaron Morton planning shots inside Helena's wigwam.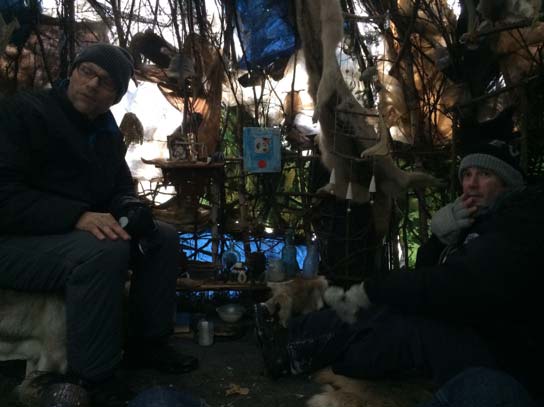 As is always the case this late in the season, we have the winter weather to worry about. But we've never had to worry about the weather inside… until the radiators on the writers' side of our studio offices broke down. Here you can see Graeme, Chris Roberts, and Renee St. Cyr bundled up in the writers' room.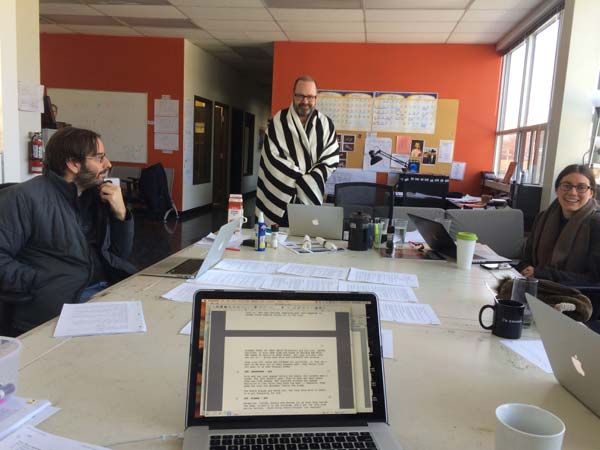 Helena was always our plan for saving Alison and Donnie from the Cheek Choppers in the B plot finale. But it was a struggle to disguise that return. Somewhere in the breaking, we realized Helena and Adele had to square off, and pushing that scene to its limit gave us some amazing character beats: Helena defending her sestra-brother, drunk Adele discovering yet another look-alike, and Felix caught in the middle, protective of both sisters. As cameras were rolling, and Helena stepped up to Adele like Tyson at the weigh in, Tatiana went off book and gave us that great hiss, surprising everybody. It was awesome improv and so very Helena. Here's the pregnant little monster taking a load off in between takes outside Felix's loft.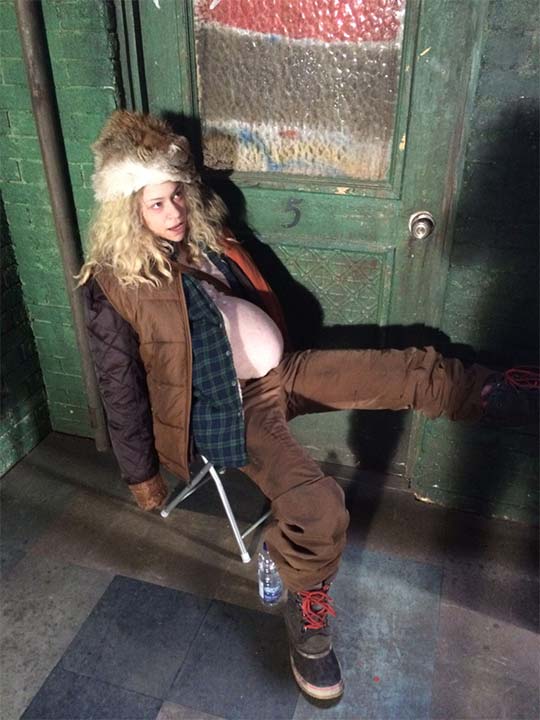 Finally, a shout-out to Evan Moore, our writers' assistant for Season 4. Here he is blending seamlessly into a crowd of Paul Dierden cardboard cutouts. Thanks for everything, Evan!