'Killing Eve's' Villanelle is the Consummate Foodie
Being an assassin sure can make a woman hungry.
Exhibit A.
Exhibit B?
Watching BBC America's Killing Eve, I couldn't help but notice how often we see Villanelle eating, and — like everything we see Villanelle doing— wanting to know what she's eating. It's just one more element that makes her character so... delicious.
I mean, is it any coincidence the first thing Eve does when she finally enters Villanelle's apartment is SEE WHAT'S IN HER REFRIGERATOR?!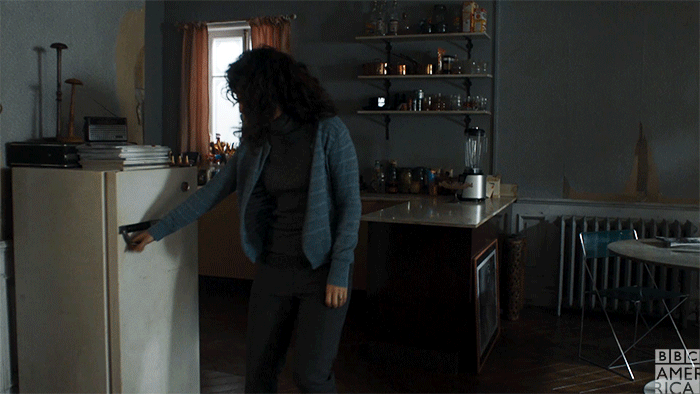 So, to try to understand Villanelle just a little bit more... who she is... as a woman, as a foodie, here is anything and everything the flawlessly flawed assassin ate in Season 1 because at the end of the day, this is all she wants...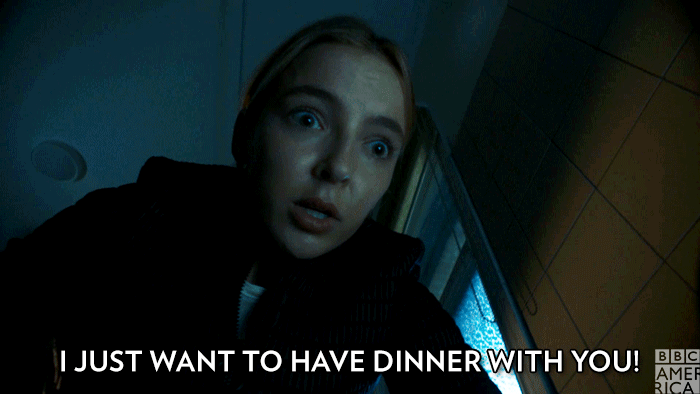 When we first encounter Villanelle, she is eating ice cream...
... and it's not the last time we see her cooling off with a scoop or two.
Villanelle definitely has a sweet tooth.
She even adds a bit of sugar to her metaphors, ahem, I mean sausages...
I do this too, Villanelle! A little maple syrup on my breakfast bacon never hurt anyone (pancakes not required.) Because why just have sweet, when you can have sweet and salty in the same bite?!
Let's also respect the fact that the woman has a proper honey dipper, which means her shopping habit just might just extend to kitchen utensils. (Same, girl, same.) And if I really want to dissect this moment (which I do), that honey is in a small batch container one might find at a farmers' market or specialty food store. She even has a copper pot for even heating!
Seriously, LOOK AT ALL THIS COPPER COOKWARE!
Like any good food snob, Villanelle judges those whose desserts don't live up to her expectations.
This seems like an appropriate time to reiterate: Don't. Heat Up. Cake! (Not that we'd expect anything more from someone related to Frank! Ugh.)
Hot cake won't do for for someone like Villanelle, who obviously only patronizes the finest patisseries... (Can we take a moment and recognize how beautiful this cake is?!)
And while her job often demands that she eat on the go...
She uses her travels as an excuse to savor the best local ingredients.
Killing can wait when you're in Italy. But first, focaccia! Cheese! Fresh tomatoes! Do you think she tried to snag a res at Osteria Francescana too?
Foodies know this kind of gluttony requires a bit of discipline...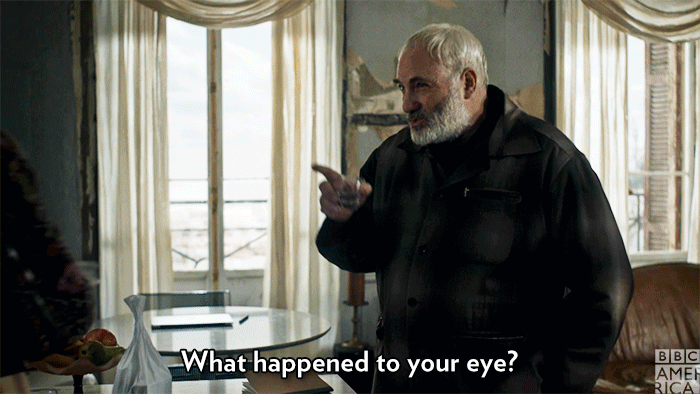 Too much rich food and how will you fit in a suitcase when necessary?!
But at the end of the day, Villanelle wants what every foodie wants:
To share her expertise with others. Whether indulging in fine dining:
Or embracing her guilty pleasures:
Or championing the virtues of a home-cooked meal.