Crew Q&A: Costume Designer (And Keeper of Villanelle's Wardrobe) Charlotte Mitchell
 Editor's Note: We culled your questions from Facebook and Twitter for this week's Q&A with a Killing Eve crew member. This week, it's costume designer, Charlotte Mitchell!
1. @VillanelleN1 via Twitter: Konstantin's clothing style has changed subtly since series 1 (scarves and questionable printed tops) and I was wondering what message this is giving us as the other characters dress style has remained static.
Charlotte Mitchell: It's a big transition to see Konstantin just hanging out at Carolyn's, so he dresses accordingly. However, when he's back as a handler he is in the same pieces as Season 1. Kim (Bodnia), who plays Konstantin, was keen to wear scarves in a more relaxed feel when at Carolyn's since he's off duty, so to speak.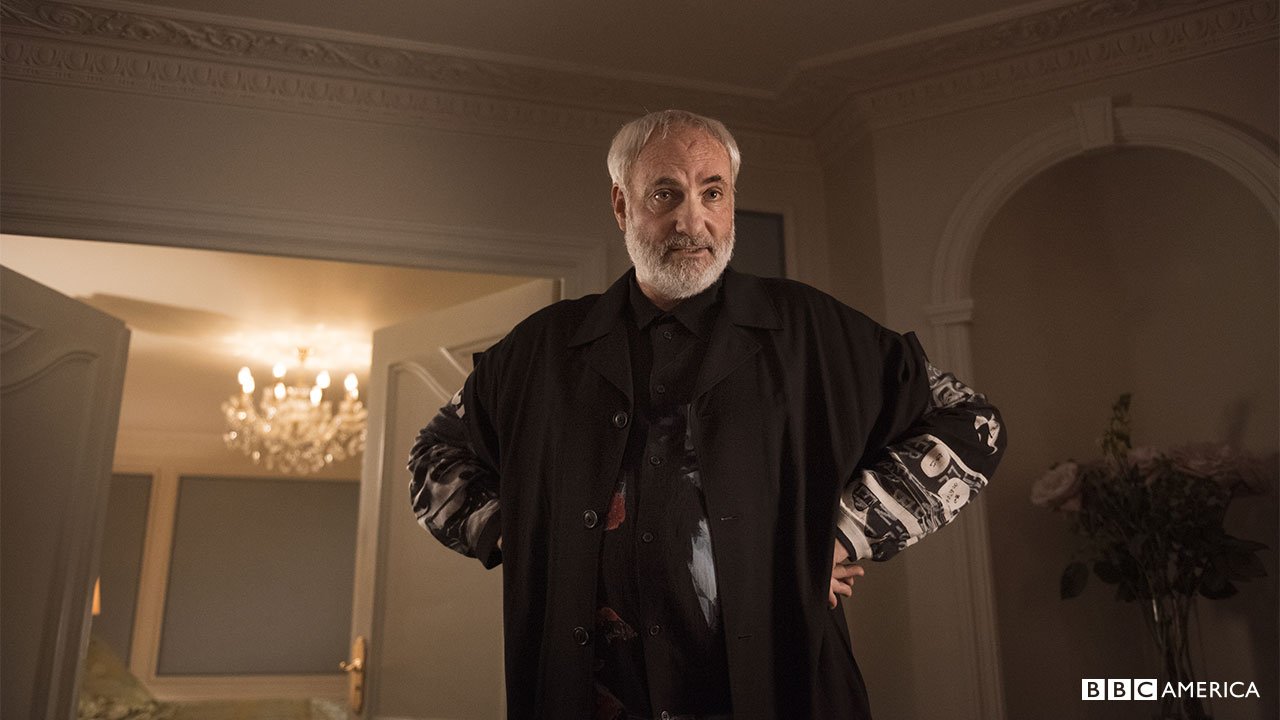 The patterned shirt for Amsterdam was chosen to be more playful than his normal wardrobe, giving a feeling of being on holiday. They are both sightseeing and going to galleries, enjoying their new freelance life before their next kill. Kim and I enjoyed finding this patterned shirt. I love that it is not overly garish but had a bit more personality than his regular attire. It's also a good complement to the deep pink of Villanelle's jacket, as there are flecks of the same color in the pattern of the shirt. This helps bring Konstantin and Villanelle back together both visually as well as reunited in work.
When designing costumes for any character you have to decide whether you want to catch the audience's attention with the costume, to help tell the story. Sometimes it's best to keep quiet with the costume and let there be a continuity from Series 1 to Series 2. However sometimes it's good to move things on and highlight a side of a character which may not have been seen before.
2. @sarnywithcoffe via Twitter: How would you contrast Eve's S1 style and S2 style in terms of Villanelle's influence? I mean, we see Villanelle sending gifts of clothes, perfume etc to her.
CM: It was discussed a lot in prep whether Villanelle would influence Eve's style. However, as the scripts came through, Sandra and I quickly realized this would be too distracting. Yes, I believe Eve is more aware of herself at particular moments — the blue dress, for example.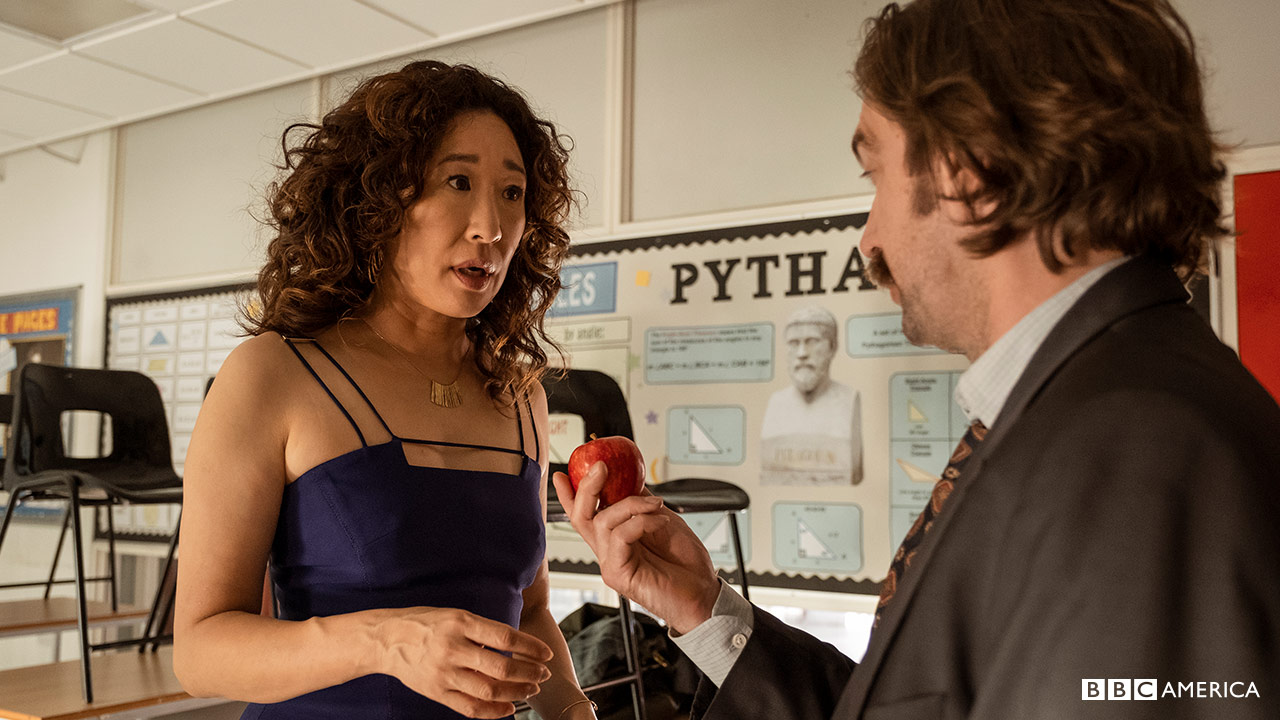 But her work/chase is all-consuming, so it didn't feel right that a character who has an energy about her would all of a sudden take more time in her fashion choices. Due to this, I kept her costumes very similar to Series 1, reusing many items, introducing a bit more linen to highlight a crumpled look. Again, to give a feeling of energy in her work and Villanelle, rather than herself. Eve is always fighting with herself about how much Villanelle occupies her thoughts; the one control she has is to stay true to her own style.
3. @fzzztsimmons via Twitter: what are some fashion icons that Villanelle would admire? And do you have any advice on how to channel Villanelle's style?
CM: Ha! In reality, would Villanelle copy anyone else's style? She has her own flair which she uses depending on her mood.
However, when designing her wardrobe I loved looking at vintage fashion, such as how '80s Yves Saint Laurent suit jackets and blouses were worn — incredibly feminine and powerful — and wondered how this could work for Villanelle. It's such a striking silhouette, almost like a Spanish matador, that this led me to consider women wearing men's suits with a twist. Ideas like this would start my design process.
I loved finding interesting pieces and putting them together in an eclectic way (not particularly matching) which would lead to playful looks, perfect for Villanelle. So if you want to channel Villanelles style: a strong silhouette; be confident; wear interesting pieces; one item which might be bold with a more plain item; and always keep the look grounded with a solid boot.
4. @kayfo9990 via Twitter: How do the costume dept and hair style dept interact? Like how do you both decide what costume and hair style for villanelle ?
CM: If I was designing for Villanelle herself, it would start by reading the script, compiling mood boards, and discussing them with Jodie. Once we had done a fitting I would chat to Lucy the makeup designer and she would come up with the hair and makeup design based on the costume. I loved going to Lucy with a picture of Jodie's fitting in her pink blouse and big earrings which we used in Episode 4. I also showed her a reference of a 1950's Hollywood style picture and explained that due to Villanelle being in a "love bubble" she was playing up being demur. Lucy totally got it and designed Jodie's hair to be in keeping with this tone.
If I was designing the costume for Villanelle playing a character, such as a teacher, Lucy would find the wig first and the costume would work to the style and color of that wig, while also taking into account the story to be told. However, every look would have a slightly different process, but the most important thing is that we were constantly talking and collaborating. We worked alongside each other everyday, so it was not hard to grab a moment to discuss a new idea.
5. @socradele via Twitter: what are the most challenging things in choosing costumes for vilanelle and eve ?
CM: The most challenging things are constantly-changing scripts. This is normal on any TV show but Villanelle's wardrobe added another level of difficulty to this. I'd want to discuss the costume choices with all the characters, but sometimes you would start this process and then the scene you were working towards would be cut or the tone would change. It is how you react to this when you have all agreed with a style you want to portray.
With Eve, it is easier as she has a wardrobe which I pick from and reuse. With Villanelle you are constantly coming up with new choices, and those choices need to portray her mood without being too over-the-top. If the script's tone changes, then Villanelle's whole wardrobe choice could be completely thrown, which would mean another major shopping trip to source incredible pieces which are not always easily available. I bought costumes for Villanelle all over Europe and also high-end vintage boutiques; it takes time to source her clothes.
6.@oceanmyriad via Twitter: what was the most difficult costume to design this season? love villanelle's especially!
CM: The pig mask. We made it from scratch, and it started life as a quick sketch I did, which I showed to the director. Once it had been signed off, it was sent to an amazing fabricator to vacuum-form the shape, which he then flocked. It came back, and unfortunately it was quickly evident Jodie could not breath easily when wearing it. We went through many attempts to reshape it, and finally, keeping it elevated away from her face was the only way. After remolding it and cutting out bigger air holes, we finally did it by attaching an old pair of spectacles behind the mask which held it away from Jodie's mouth.
7. @HarbyMelanie via Twitter: Hippie art teacher Villanelle's glitter and penne necklace is my favorite costume piece ever. Who came up with that? It's just genius. V is such an overgrown child.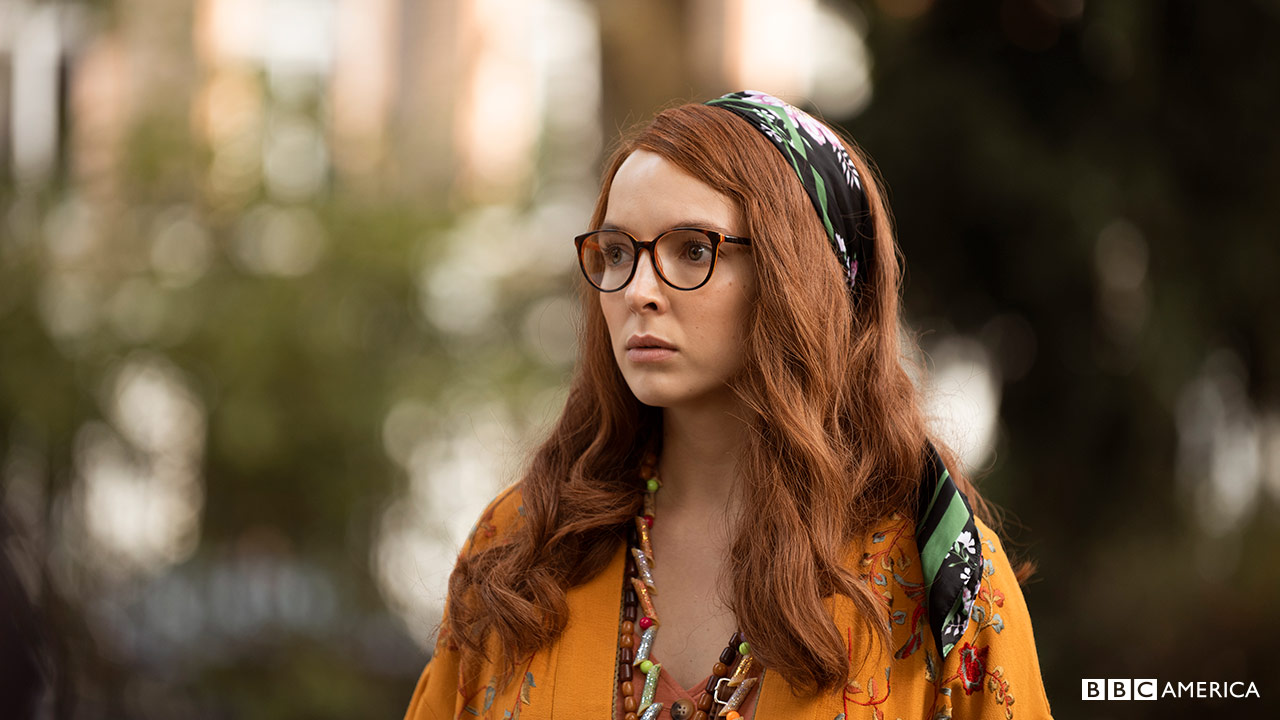 CM: It was written in the script that Villanelle would make a necklace out of penne to wear when pretending to be a teacher. My wonderful assistant Tilly had the fun job of making several different versions of the necklace. The costume came about due to this quirky necklace. I realized to make it feel real, she had to be playing a quirky teacher, hence giving her a hippy feel. We had great fun finding the clothes and I loved all the other  slightly mad necklaces she wore with it.
8. @jodiecomerthing via Twitter: How do you feel about the amount of people dressing up as Villanelle?
CM: I love that people are really enjoying Villanelle's clothes to want to dress up like her. All credit to the Series 1 costume designer, Phoebe De Gaye. I can only hope more people will enjoy my costumes from Series 2 and do the same. This would be the biggest compliment!
9. Tanya G. via Facebook: My question is, how would you describe Villanelle's and Eve's style? And what is your favorite outfit so far from each one?
CM: Villanelle - playful, attention-seeking, amazing taste
Eve - practical, comfortable, layered
My favorite for each would be what they both wear when they meet in Ep 5. I love love love the black dress I found for Villanelle. It has so much drama particularly worn at the beginning with the veil. It's just enough '"dress-up"  attention seeking, without completely dominating this amazing scene. I found the dress on a vintage auction site. It's couture from 2012 and one of only a very few made. I couldn't believe I found it! The veil is my own design, and I wanted something completely original which wouldn't clutter Jodie's face. All this drama and fabric against Eve's stripe back look is fantastic; they complement each other brilliantly. I love that Eve is just in her vest — it shows so much about her state of mind. She's not scared of Villanelle and takes off the bullet proof vest to reveal lots of skin.
When deciding on colors for this scene, I knew Villanelle had to be in black and for once I wanted Eve to be in a similar color. Before when you have seen them together they have been in contrasting colors, for example the pink and the blue from the end of Series 1. By putting them in the same tonal palette was a chance to subtly tell the audience that they are becoming more alike.
10. BBCAmerica.com: The fans are loving Villanelle's suits this year. How has her style evolved from Season 1 and how are you playing with gender in her ensembles?
CM: With all the success of Series 1 costumes for Villanelle it had become evident that we could keep pushing her wardrobe further. Everyone has embraced her love of luxury, so now I could really experiment and play with how eclectic she could be. However, I am aware when I'm designing any costumes that I don't want things to become gratuitous. Villanelle's playfulness had to have reason. Also, when you are pushing her flamboyant style, there needs to be times of quietness too, giving those playful moments more chance to pop. This quietness in her clothes would still have an amazing sense of style, but the palette might be more muted or the silhouette not so bold.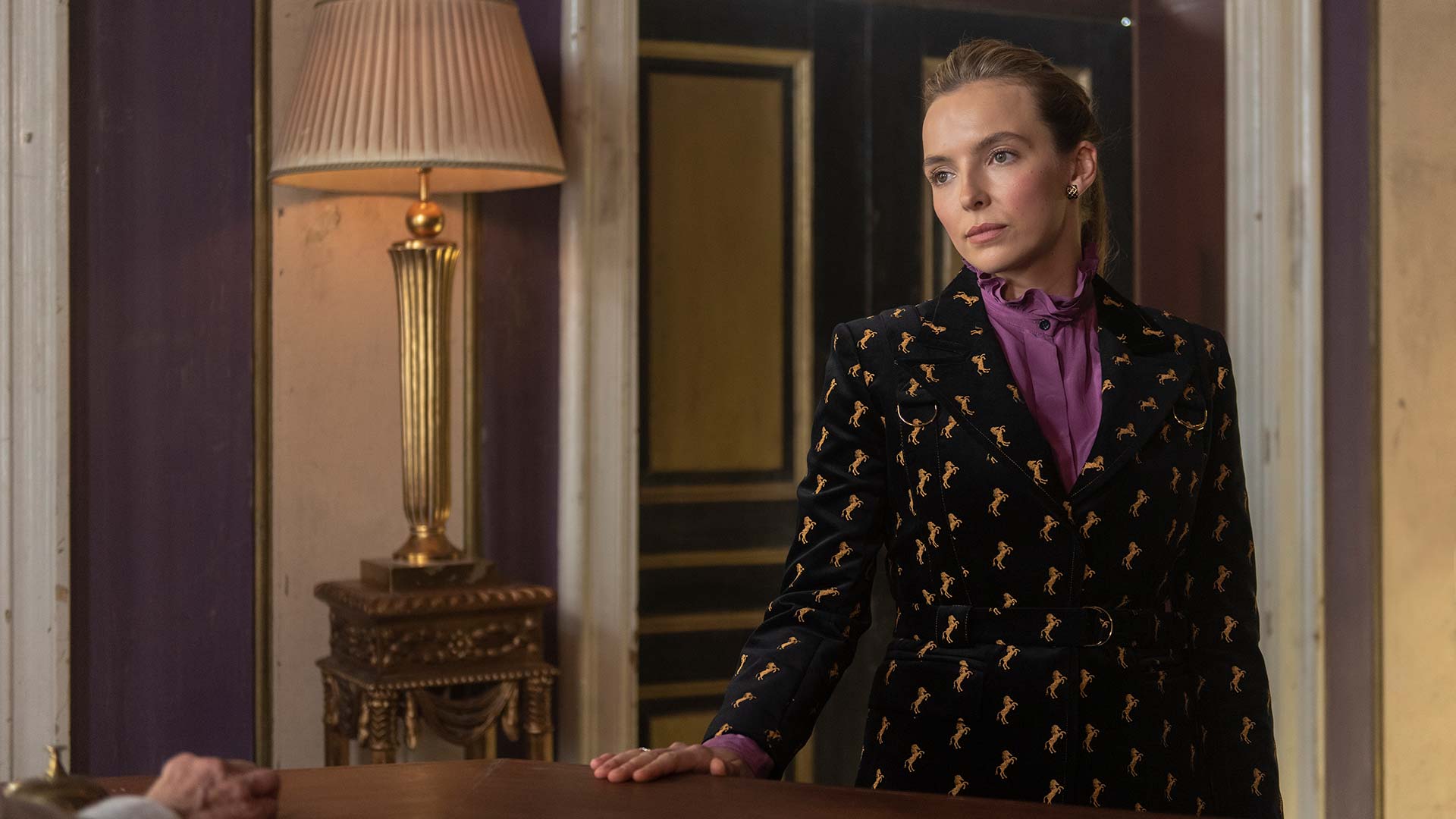 I love all the suits that I am putting Villanelle in and I know the audience has reacted well to them. It's great how varied her look can be in a suit. Episode 3 sees Villanelle in a jacket and silver trousers completely mismatched and slightly edgy, while Episode 6 will see her in a pinstripe blazer. This is a much more conservative feel, and with these examples and more it shows the many moods of Villanelle.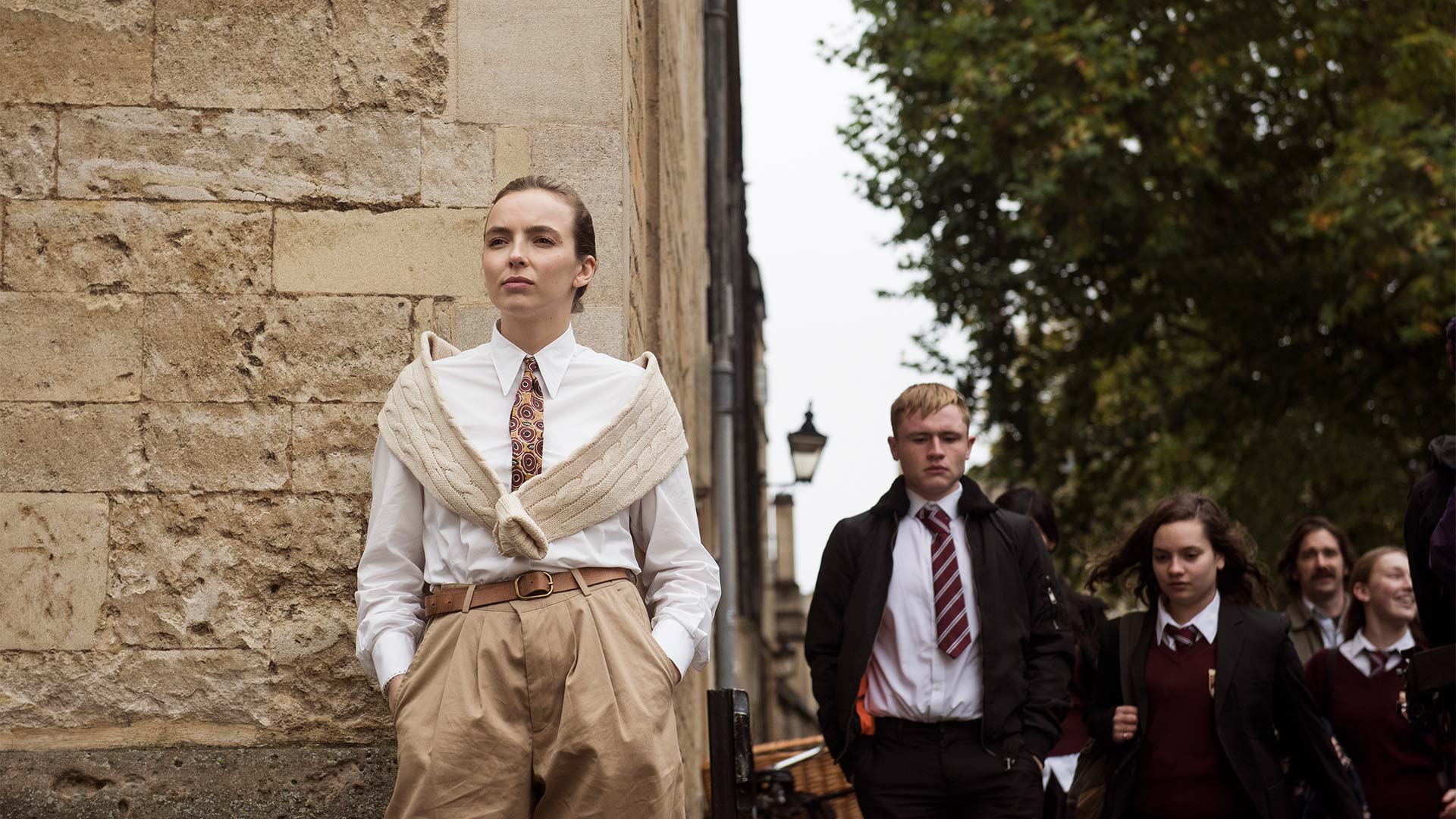 I looked to icons such as k.d. lang to see how she "owned" wearing a man's suit and how simplicity is sometimes just as powerful.