'Killing Eve' Viewing Guide: What You Need to Know Going into Season 3
Killing Eve is back. It's not just back, it's back two weeks early. Please mark your calendars for Sunday, April 12, for the season premiere at 9pm EST. MI6 agent Eve Polastri and assassin Villanelle (yep, just the one name, it's her codename) have really been through it and with season three kicking off, we'll see if they made it out the other side. And, if so, how they fared.
Let's get ready, but first, be warned of season 2 SPOILERS! If you still need to catch up (or treat yourself to a rewatch), stream all of last season right here on BBC America or on the BBCA app.
1. Where we left off with the season 2 cliffhanger.
When we last saw Eve (Sandra Oh) and Villanelle (Jodie Comer) they were at odds. Villanelle had just tricked Eve into killing a man. Not just killing... but bludgeoning him with an axe. Eve thought she was protecting her frenemy, but in fact Villanelle had a pistol. So, of course she could have taken care of it herself, without turning Eve into a fellow murderess. Villanelle's plan was for the two of them to run away together. Eve's... not so much. When Eve turns down her advances, well, Villanelle shoots her. Clearly, this killer-for-hire does not take rejection well.
2. Where we pick up in season 3.
https://www.youtube.com/watch?v=uJCxUaClpzE
In the season three trailer, we hear Villanelle talking about Eve as a former love interest, saying, "I just had a really bad break up. When I think about my ex, I realize... I am so much happier, now she's dead." That's the Villanelle we know! She is so self-serving and doesn't care about anyone else. At least, she puts up a good front. Is Eve dead? Konstantin (Kim Bodnia) answers that question at 0:27, delivering the news to Villanelle, "Eve is alive." The revelation seems to leave her a bit woozy. It begs the question/s: Is Villanelle going to finish the job? Or, try to reconcile?!
3. Who's returning.

All right, we've already covered three of the lead actors to look for, including Sandra Oh as Eve, Jodie Comer as Villanelle, and Kim Bodnia as Konstantin, Villanelle's handler. We can also count on Fiona Shaw to return as MI6 head honcho Carolyn Martens, and Sean Delaney as her son Kenny, researcher extraordinaire. Eve's on-again, off-again husband Niko will also pop up, played by Owen McDonnell (sadly without his signature 'stache in the above).
4. Who's new.

In addition to the established cast, seven new actors have been added to the KE roster. You may recognize Gemma Whelan (Game of Thrones), Camille Cottin (Call My Agent), Steve Pemberton (Inside No. 9), and Evgenia Dodina (One Week and a Day) making the cross-over from other popular series. You can also look for Predrag Bjelac (Harry Potter), Raj Bajaj (A Christmas Prince: The Royal Wedding) and Turlough Convery (Ready Player One). We shall have to wait for the season to kick off to find out just how each fits into this cat-and-mouse chase.
5. Is Eve still working for MI6? 
https://www.youtube.com/watch?v=d6ztFS9NaO0
In another season three sneak peek, we see Eve talking with some new folks who do not appear to be MI6 agents. We say that because when Eve warns them, "Once I tell you about them, your lives are in danger," their response is, "Don't tell us." She can't seem to help herself, and keeps going, divulging, "They're called The Twelve." Oh. She told them. While they don't want to get involved, they already are. We can't confirm what Eve's latest project is, but it seems she is now investigating The Twelve. She may be switching things up!
6. Is Villanelle still obsessed with Eve?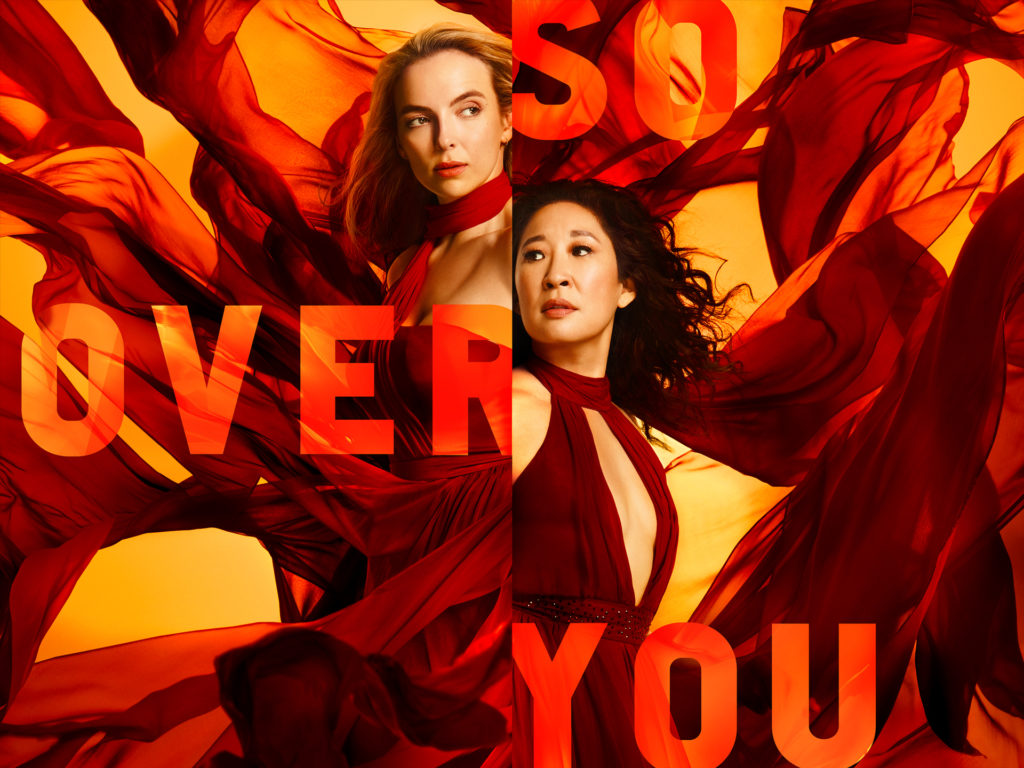 Villanelle and Eve have had a great run. The two started out as adversaries, and it was a thrill to watch them play off of each other. In season two, they became allies, working together... or, so they thought. But it turned out, Carolyn had manipulated them into killing a target. It seemed at that point that it was an utter team breakdown... and break up. Villanelle says she's over Eve and glad she's dead. But, now that Eve is in fact alive, it may be a completely different story. Villanelle has been obsessed with Eve from the start, with Eve equally infatuated. Let's just say, it's not the kind of thing one can just turn off.
7. Meet the new lead writer.
https://twitter.com/smheathcote/status/1219589105358688256
The show will continue to pass the baton to a new female writing voice. Phoebe Waller-Bridge (Fleabag) spearheaded the series, taking on lead writing duties for season one. She left the series in good hands, with Emerald Fennell (Promising Young Woman) stepping in for season two. And now... we can count on British writer Suzanne Heathcote (Fear the Walking Dead) to continue the story, writing, executive-producing and showrunning.
8. What to expect. 
https://twitter.com/KillingEve/status/1245064062855249922
Our sister blog AMC Talk had the chance to talk to Heathcote herself. She covers loads in the exclusive interview, like stepping into an already iconic TV phenomenon and what her "a-ha" moment was as a writer. AND, she gives us some hints on what to expect from season three, saying, "I'm really excited about Villanelle's journey this season. I think we see elements of her character that we've never seen before and begin to understand who she is as a person."
And, as viewers of KE know, we can't have Villanelle without Eve. Heathcote goes on: "Similarly with Eve, we really get to see deeper layers of Eve, and her really coming to terms with the person she is now."
9. What to have on-hand. 
https://twitter.com/sestra_marie/status/1008139777772740608
Clearly, you can sit in your jammies and enjoy the Sunday night premiere all comfy. But, there are ways to make it a little more celebratory. Like, why not indulge in a shepherd's pie, which Eve and Villanelle bond over in season one. As well, it might be fun to dress for the occasion. Do you have an adult-sized pink tulle party dress just laying around? This is a great time to throw it on. If you come up with any other festive ideas, please take a picture and share with us via Anglophenia Facebook or on Twitter. We'd love to see what you get up to on your end.
10. How to go into season 3. 
We highly suggest going back to the beginning and re-watching seasons one and two from start to finish. And then going straight into season three without missing a beat. One, because the series is that good, and two, it will bring you back into the lives of Eve and Villanelle as if no time has passed. It helps keep the momentum going, creating an edge-of-your-seat TV-watching experience (make sure to breathe, we sometimes forget during the tense moments).
https://www.youtube.com/watch?v=U-5tXtkwkHs
Killing Eve season 3 kicks off on Sunday, April 12, at 9pm EST,  over at BBC America.
Are you ready!?