'Killing Eve': The Most Holy Sh*t Moments from the Season 3 Premiere
The highly anticipated Season 3 premiere of Killing Eve was chock full of surprises, all of the murderous and darkly hilarious variety that we've come to relish. Now that we've had a couple days to recover, let's unpack the key moments we can't stop thinking about, including the quiet scene that made the episode's tragic ending hit all the harder.
1. Villanelle Gets Hitched… wait, what?!
[bbca_video_embed media_id="1722838595975" video_id="RfXCic5nqeHT"]
Our brain started to short circuit the moment the camera panned over to reveal everyone's favorite assassin as a Bride Who Wore Black. The sudden realization that we were at none other than Villanelle's big budget Spanish nuptials was simply too much to process. The fashion! The venue! Will there be a live band or DJ? What's on her and Maria's registry? Who even is Maria?
But there was no time for answers. Villanelle delivers a savage toast where she not only waxes poetic about her new bride's best qualities (her shoes, house and tailor) but shares her joy over the fact that her ex (that would be Eve) is dead. It's cringey but the show goes on, at least until the cake cutting (of course we paused for a prolonged ogle at that two-tiered, pastel pink-iced beauty), when suddenly a chic wedding crasher sends Villanelle into attack mode. Their table-flipping wrestling match devolves into a full-blown brawl of which we'd personally crown this random background guest the winner.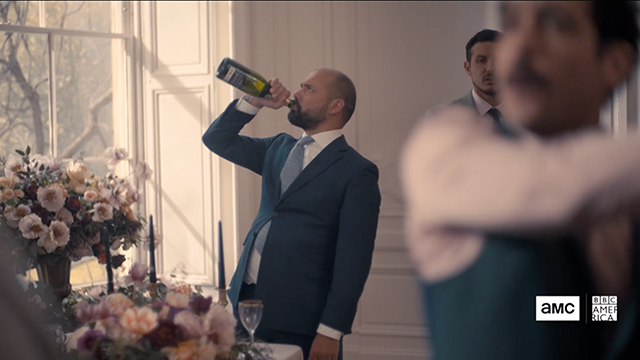 2. The Dasha/Villanelle Connection
[bbca_video_embed media_id="1721832515655" video_id="39_RtDj_r6nW"]
After that epic wedding scene, we were thirsty for some backstory between Villanelle and the tweed-clad mystery woman who "ruined her special day." The premiere doesn't disappoint, delivering this scene full of clues about their past relationship.
Still rocking her wedding look and a bloody nose, Villanelle pokes around the elder woman's apartment and admires some old gymnastics portraits, hinting that she must be the Moscow murderer from the opening scene. Meanwhile, the woman who we come to know as Dasha (now sporting a gold velour tracksuit) informs Villanelle that if she ever "wants back in," she can hook her up with better lifestyle perks than ever before. They have the intense yet playful rapport of a former mentor and mentee, and their hand slap game at the end certainly gives us "It's been years but feels like no time has passed when we're together!" vibes. What kind of trouble will this duo get into this season?
3. New Hall of Fame Murder: The Spice Kill
[bbca_video_embed media_id="1722854979796" video_id="HIsj_o2hmOOz"]
The spice shop murder is not only Villanelle's first kill of the season, but probably one of our favorites of all time (and actress Jodie Comer agrees). It works on so many levels — from the competitive homage to Dasha's 1974 chalk move, to Villanelle's brilliant improvisation and delivery uniform disguise. It's some of her finest work to date and left us fan-girling like a Season one Eve and subsequently feeling mildly concerned over what this show is doing to our morality.
The scene itself called for an impressive level of detail and required the actress playing Villanelle's victim to wear a mouth guard and lay still for multiple takes with a pile of powder on her face. Writer Suzanne Heathcote described it as both "colorful and gruesome," which is pretty much Villanelle's (and the show's) signature style.
4. Kenny and Carolyn's Warm-and-Fuzzy Moment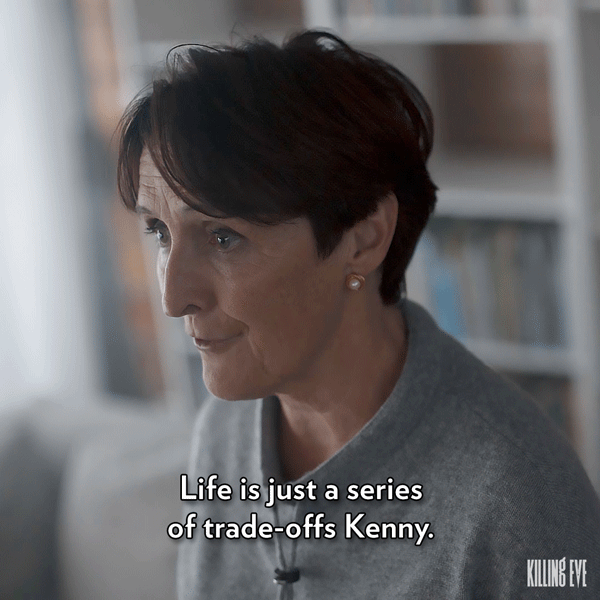 As far as mothers and sons go, Kenny and Carolyn have always had a very (ahem) unique relationship. Their dynamic is fairly emotionally stunted, compounded by the fact that Carolyn was also her son's MI6 boss for a time (that'll do it, eh?). However, this scene (as it turns out, their last together) showed the two of them finally having a good old fashioned parent/child confrontation and gave us hope for them becoming more of a family.
It starts off with Carolyn voicing her displeasure over Kenny's packing (we have to agree, that foam finger memento needs to be destroyed immediately), escalates into Kenny standing up to her and concludes with some motherly advice and a suggestion of fish and chips for dinner. The interaction feels all the more poignant due to what comes next…
5. R.I.P., Kenny Stowton
[bbca_video_embed media_id="1724451907958" video_id="rg0VEcDLM_2y"]
Over the course of 3.1 seasons, Kenny cemented himself as a fan favorite through his deadpan delivery, occasional badassery and lovable eccentricities, so it's no surprise that his shocking demise felt like a punch to the gut. One minute he's casually solving a Rubik's cube in his empty office, and the next he's falling to his death from the roof, only to be discovered by a horrified Eve.
Was this a murder (duh)? Who is responsible? Can someone check on Carolyn? Obviously we're all desperate for answers, but let's take a moment to properly mourn before the next episode this Sunday. AMC Talk caught up with actor Sean Delaney, who plays Kenny, and he shared his reaction to his character's death (he was actually excited!), what it was like to shoot the brutal scene, and how he feels to be leaving the series.
Now... where's Eve?
We catch glimpses Villanelle's very much alive nemesis rolling dumplings in a Korean restaurant, getting wine drunk at home and sending off texts of toilet paper. Eve may be in a slump, but something tells us that Kenny's death will spur her to action real quick.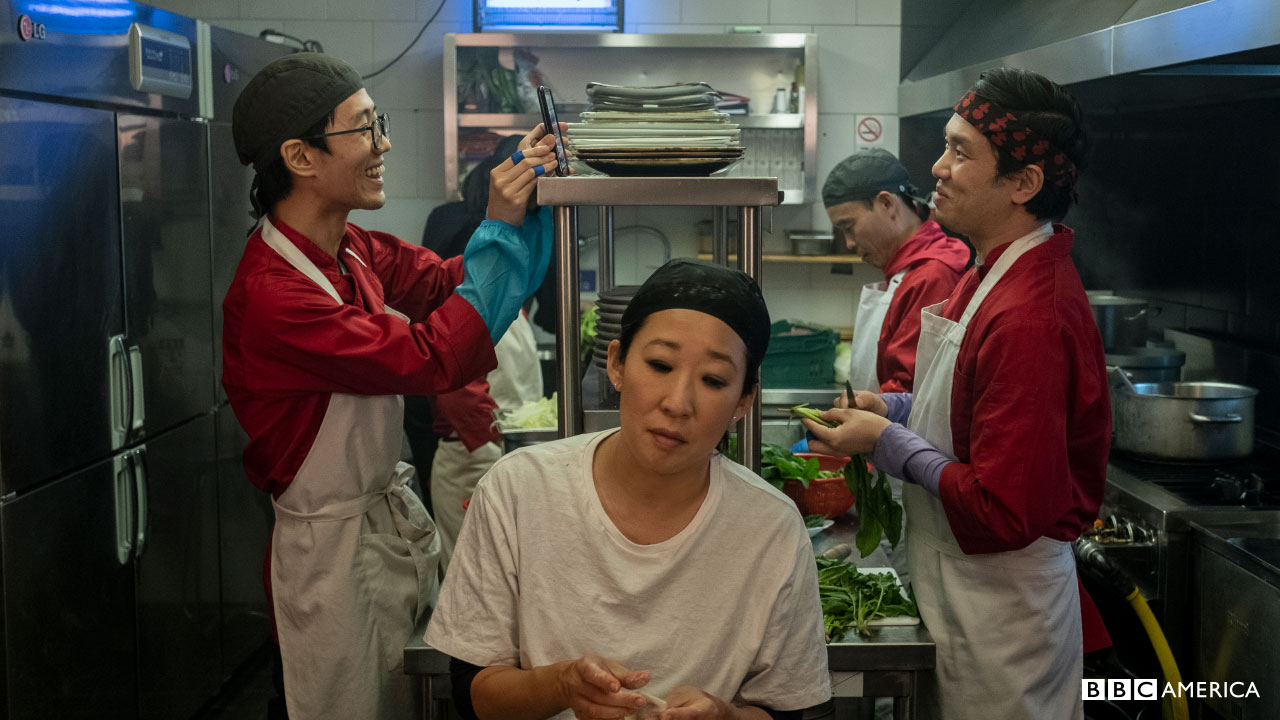 The new season of Killing Eve continues on Sunday at 9pm EST, but before then you can find the (free to watch) premiere, sneak peeks, inside looks and more at BBCAmerica.com and the BBCA app.
What got the biggest reaction out of you in the season premiere?