First Look: Saoirse Ronan Portrays a Rookie Copper in 'See How They Run'
(Photos: Getty Images)
Saoirse Ronan is racking up the roles, already confirmed to be starring in the sci-fi movie Foe. We can also look for her in the forthcoming mystery-drama See How They Run, reports ComingSoon.net.
Tom George makes his feature directorial debut with this whodunit, which revolves around a Hollywood producer trying to make a hit play into a film. When a member of the crew is murdered, law enforcement is called in.
Set in 1950s London, we can look for Ronan as Constable Stalker, who is new to the police force. She and Inspector Stoppard (Sam Rockwell) take on the case, with the sordid theater underground as their backdrop.
You can take a look at Ronan and Rockwell in character below: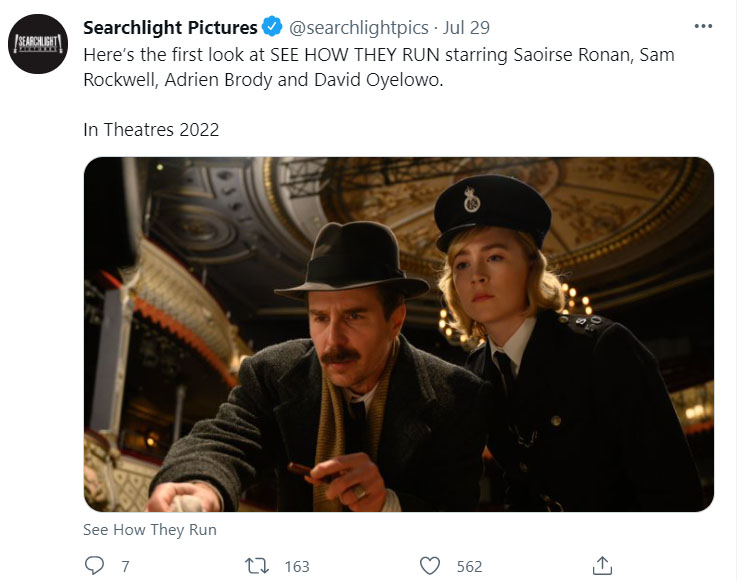 (Photo: Searchlight Pictures)
There's no way of knowing Constable Stalker's knowledge or skill set from the still, but she definitely has a very serious air about her.
If we were in a pinch, we'd trust her to represent. Inspector Stoppard on the other hand, seems a little worn out.
It's not just Ronan and Rockwell, we can look for some other familiar faces, like David Oyelowo, Adrien Brody and Ruth Wilson.
George talked to Variety about getting his first movie made, saying, "Making my debut feature with a company like Searchlight and this incredible cast has been a total dream. I'm so excited to bring this thrilling, smart, funny murder mystery to audiences."
You can look for See How They Run in 2022. In the meantime, Ronan also stars in Wes Anderson's The French Dispatch, out now.
What do you think of the sound/look of this!?