Emma Thompson Tried to Sneak a Kiss from Prince William During Her Damehood Ceremony
November 8, 2018
She's always been royalty to us, but Emma Thompson is now officially a Dame after receiving the honor at Buckingham Palace yesterday (November 7).
The Children Act star was appointed Dame Commander of the British Empire (DBE) for her "services to drama," over a career that's seen her win two Oscars, two Golden Globes and three BAFTA awards.
Don't expect the award to bring out her genteel side, however: Emma rocked up in her inimitable style - wearing a teal trouser suit designed by Stella McCartney and a pair of white, box-fresh sneakers - and tried to steal a kiss from Prince William.
https://twitter.com/KensingtonRoyal/status/1060200145969733632
Well, she never has been one to adhere to protocol.
"I love Prince William," she told reporters after the ceremony. "I've known him since he was little, and we just sniggered at each other. I said, 'I can't kiss you, can I?' And he said, 'No, don't'!"
If Emma was bothered by the rejection, she didn't show it. "If you're first up, you have to be more formal on such an occasion," she explained, "but he's looking wonderful and doing so well. He said, 'This day isn't about me, it's about you'.'"
"It's really lovely because I've always loved the boys, and I've always been a long-term correspondent with their dad [Prince Charles]," she said. "It's a very lovely feeling."
Aw. Emma was taking a break from filming Years & Years, the new TV drama by Russell T. Davies that sees her an ambitious politician, and was joined by her husband Greg Wise and their children Tindy and Gaia.
[caption id="attachment_438378" align="alignnone" width="640"]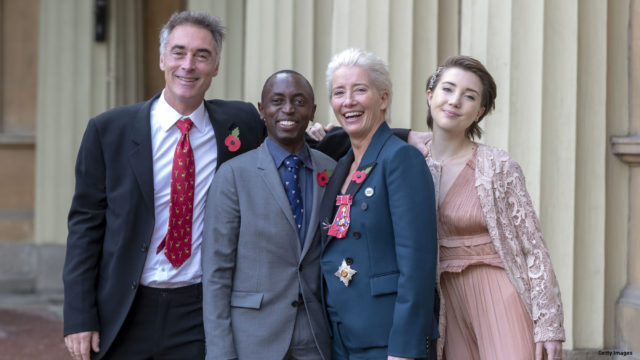 Actress Emma Thompson, with her husband Greg Wise and children Gaia Wise and Tindy Agaba, leaves Buckingham Palace after she received her damehood at an Investiture ceremony on November 7, 2018 in London, England. (Photo: Steve Parsons - WPA Pool/Getty Images)[/caption]
And if Emma's anti-establishment ways seem at odds with life at the palace, then you're not the only one to have noticed.
"I'm very outspoken, politically," Emma added. "I'm a card-carrying feminist, human rights advocate, so good for them, because the establishment need more people who can speak up for those things."
You can say that again. All hail, Dame Emma!
Is there anything like this dame?