10 Things You Never Knew About Peter Capaldi
(Photo: Getty Images)
Who doesn't love Peter Capaldi? Whether he's playing potty-mouthed Malcolm Tucker in The Thick of It, popping up as nosy neighbor Mr. Curry in the Paddington films, or starring in Doctor Who, which he did from 2013-2017, he's always a pleasure to watch. For his latest role, he crosses over to the dark side to portray Gaius Grieves a.k.a. The Thinker, one of the main antagonists in dark comic book movie The Suicide Squad. Before it hits theaters Friday (August 6), here are 10 things you might not know about the prolific Scottish actor.
1. He was born in Glasgow to parents who ran an ice-cream business.
Over on Twitter, you can check out a picture of Capaldi in his family's old-school ice cream van.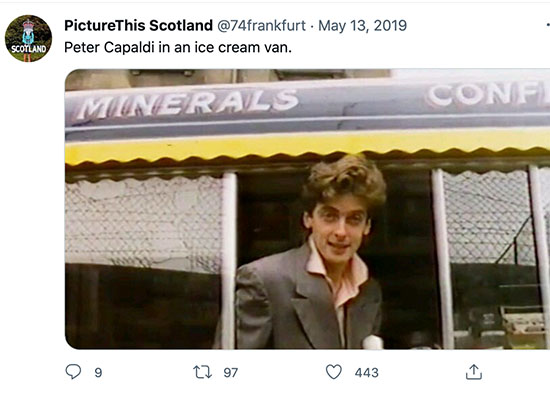 @74frankfurt
2. He grew up nearby to his future The Thick of It collaborator Armando Iannucci.
Iannucci created the cult British political sitcom in which Capaldi played foul-mouthed government communications director Malcolm Tucker before he crossed the pond and created Veep. The two men grew up on the same street in Glasgow, but never really associated with one another until they were adults. "Our parents knew each other really well," Iannucci told The Independent in 2012. "My father used to make kitchen-shelf units and that sort of stuff, and Peter says he grew up with one of my dad's kitchens."
3. When he was a student at art school in Glasgow, he was a member of a punk band called The Dreamboys.
His bandmates included none other than future The Late Late Show host Craig Ferguson. During an appearance on The Graham Norton Show, Capaldi explained why the band's name was kind of misleading – not least because "The Dreamboys" is now the name of a British male stripping troupe.
4. He also put in a stint as a model.
Which a certain Irish chat show host was always going to bring up...
5. He is related to Lewis Capaldi, the singer-songwriter who scored a huge hit with 2019's "Someone You Loved."
Peter Capaldi is actually the second cousin of Lewis's father, which is how he came to appear in a special music video for "Someone You Loved" made in association with U.K. organ donation charity Live Life Give Life. "Lewis is an amazing talent (I'm not just saying that because of his name – Capaldi or not, he's remarkable), and I was happy to draw attention to organ donation," the actor told The Big Issue.
6. He's an Oscar-winning director.
Capaldi's 1993 short film Franz Kafka's It's a Wonderful Life – which he wrote and directed – won the Academy Award for Best Live Action Short Film in 1995. The surreal and humorous 23-minute film follows the great writer Franz Kafka, played by Richard E. Grant, as he agonizes over his 1915 work, The Metamorphosis. You can watch Capaldi and producer Ruth Kenley-Letts collecting their Oscar below.
7. He's been a massive Doctor Who fan since he was a kid.
"It's a very unusual story that somebody who was so into it would end up playing this role," he told The Independent in 2014, a year after being cast as the Twelfth Doctor. "It was such an unlikely event that I never considered it happening to myself. There are things I get excited about that only a fan boy could get excited about. I don't need any help with the backstory."
"Even if I'd never played Doctor Who," Capaldi added, "as a kid, that's what formed me as an actor rather than going to the Royal Shakespeare Company or doing (Anton) Chekhov. It taught me to be an actor. I hope it's all inside me, and it comes up."
8. He has no ambition to receive an honor like an OBE from Queen Elizabeth II.
"Well, I'm not really that interested. I think it's lovely that people get them, but it's not really my thing," he told The Sunday Times in 2017. Asked whether he had been offered an OBE and turned it down, Capaldi replied delicately: "Well, I don't know that that's the proper..." with his response trailing off mysteriously.
For the record, it's considered a bit of a faux pas to reveal you have turned down an honor from the Queen.
9. His wife Elaine Collins is an actress-turned-producer.
The couple, who met in 1983 and married eight years later, starred together in the 1993 road movie Soft Top Hard Shoulder. Collins' recent producing credits include Vera with Brenda Blethyn and the Scottish crime series Shetland starring Douglas Henshall.
10. And finally, he doesn't go out and lobby for new roles.
"I'm quite passive — I've tried to be active and that's not worked out, I just get embarrassed," Capaldi told The Sunday Times in 2017. "And I'm of an age where all the casting directors know me, so what am I meant to do — go to cocktail parties and hope they see me in a new light? The whole thing is so volatile, you can't exercise any control."
Capaldi then added: "I always remember I had an absolutely terrible year, I think it was 2004, with no work at all. I was stoating around Crouch End [in London, where he lives], in [the grocery store] Budgens all day long, miserable, and thinking it was so bad we might have to sell the house. And then suddenly it all changed: I was offered The Thick of It, and I was working all the time. But I have no idea why it changed and that was when it struck me: it is pure luck."
Have we missed something interesting about Peter Capaldi? Let us know!