BARACK OBAMA AND ELIZABETH II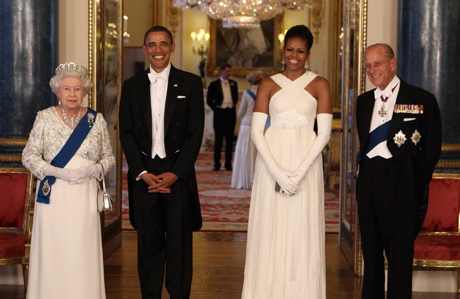 So far, President Obama has met Queen Elizabeth twice.
The most recent meeting came during an official state visit to Britain in May 2011, shortly after the royal wedding, which the president and First Lady did not attend. However, the presidential couple met the newest royal couple, having a private 20-minute meeting with the Duke and Duchess of Cambridge.
The Obamas stayed at Buckingham Palace for two days, where the Queen gave them a state dinner; they reciprocated by holding another state dinner at Winfield House, the official home of the U.S. ambassador.
The first time the president and his wife met Elizabeth was in 2009 when Obama was in London for the G-20 summit. The Obamas presented Her Majesty with a 21st century-style gift, an iPod that held video and photos of her American visits in 1957 and in 2007 and Obama's 2008 convention speech and 2009 inaugural address.
Much was made of an incident during the reception for world leaders when Michelle Obama put her arm around the Queen's back. Many said it was a breach of protocol, as people are not supposed to touch the Queen familiarly.
However, a palace spokeswoman at the time said that was not the case and that the physical contact was a "mutual and spontaneous display of affection and appreciation."
Read More
Filed Under: