RONALD REAGAN AND ELIZABETH II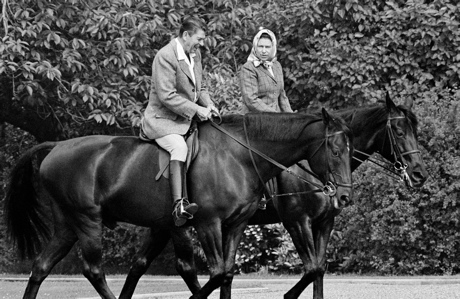 The term "special relationship" that's often used to characterize the alliances between the U.S. and the UK can certainly be applied to the personal bonds between the Queen and Ronald Reagan.
The Reagans were the first presidential couple to be invited to stay overnight at Windsor Castle, and it was during that June 1982 visit that the Queen and the president went on their famous horseback ride together (see photo above), the result of numerous meetings in Washington and London, writes Sally Bedell Smith.
The following February, the Reagans hosted the Queen at their ranch near Santa Barbara, though weather conditions precluded another equestrian jaunt.
The president and First Lady also made more traditional visits to the Queen in 1980 and 1988, but Reagan also went Buckingham Palace in 1989 after he left office to pick up a knighthood.
Reagan was made an Honorary Knight Grand Cross of the Most Honorable Order of the Bath, the highest honor that Britain gives to Americans. (Reagan was one of only three presidents awarded the knighthood – the other two being Eisenhower and George H.W. Bush.)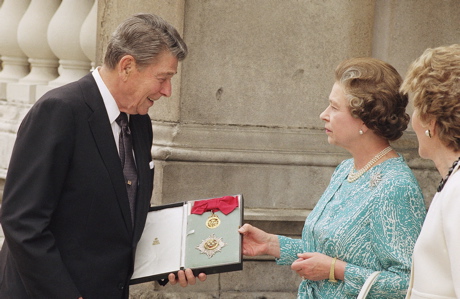 "I can't say how proud I am," Reagan said outside the palace as he held a box containing the accoutrements of his honorific – a star, a badge and a sash.
"Don't drop them," warned the Queen.
NEXT: George H.W. Bush and Elizabeth II
Read More
Filed Under: