Welcome to the latest Pop Culture Pulse, Anglophenia's roundup of the hottest pop culture happenings of the month. Many of us will be continuing to stay home through June, even as the weather heats up, so here are ten excellent ways to keep yourself feeling cool and amused.
1. A VAMPIRIC VILLAIN TO SAVOR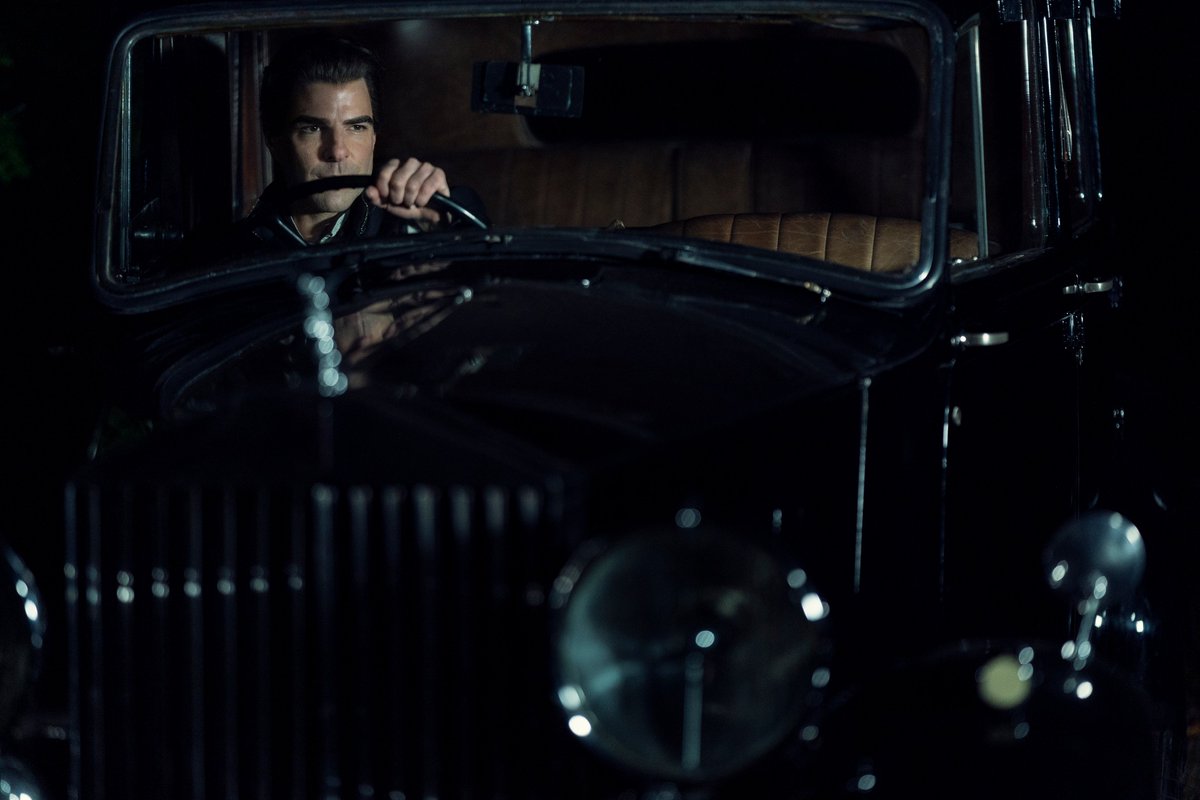 Zachary Quinto reprises his dastardly role as Charlie Manx, a vampire-like figure who feeds off the souls of children, in Season 2 of the hit supernatural series based on Joe Hill's novel. The new episodes, which are being simulcast on AMC and BBC America, begin eight years after the events of season one; Vic McQueen (Ashleigh Cummings), an artist who can track Manx, is now more determined than ever to destroy him as he targets her eight-year-old son. Don't be surprised if you get sucked in from the start.
NOS4A2 will premiere Sunday, June 21 at 10pm EST on both AMC and BBC America – check out the trailer.
2. A POP ALBUM TO SOUNDTRACK YOUR SUMMER
It would be silly to call Lady Gaga's latest album a comeback following her Oscar-nominated performance in A Star Is Born, but Chromatica definitely is a return to her roots as a bold, colorful, and bombastic dance-pop star. Recent singles "Stupid Love" and "Rain on Me" – a duet with Ariana Grande – prove Gaga's ear for a hit haven't deserted her, and standout track "Sine of Love" sees her duet with friend and mentor Sir Elton John. If you could use a little escapism right now, this just-released album is well worth a listen.
Chromatica is out now.
3. A ROYALLY EXCITING REUNION
To raise money for London's historic Old Vic Theatre, which remains closed due to coronavirus, Matt Smith and Claire Foy are returning to the stage for a socially distanced revival of Lungs – the climate change play they starred in last year. This time, though, The Crown's former lead duo will be performing to an empty auditorium while no more than 1,000 viewers watch a private live-stream from home. It's a clever fundraising idea which could make for a unique kind of theatrical experience.
Lungs: In Camera will begin its limited run on June 15 – find out more at the Old Vic website.
4. AN ALT-POP ALBUM WITH A SINGULAR VISION
British singer-songwriter Nadine Shah isn't afraid to broach complex emotions in her music, and she says this fourth album explores the "dichotomy" of being a feminist as well as a thirty-something woman longing for marriage and family. The excellent recent single "Ladies for Babies (Goats for Love)" – conceived as a response to Ace of Base's rather sexist Europop hit "All That She Wants" – shows her gift for exploring these ideas in a unique but bracingly catchy way. So if you like your pop music deep and meaningful, Kitchen Sink is an album to bookmark.
Kitchen Sink drops June 26.
5. AN INSIGHT INTO AN UNLIKELY CULT CLASSIC
When it opened in 1995, director Paul Verhoeven's erotic thriller Showgirls was panned by critics and became a box office bomb. Elizabeth Berkley's turn as an ambitious stripper-turned-Vegas showgirl so damaged her career that she was dropped by her agents. However, over the years Verhoeven's movie has gathered a cult fanbase and even been reappraised by some critics as a stinging showbiz satire. This documentary from writer-director Jeffrey McHale promises to explore the film's legacy as a camp classic and discuss whether Showgirls is "so bad it's good," or simply a good movie that few appreciated at the time.
You Don't Nomi is available on VOD from June 9.
6. A MURDER-MYSTERY IN RURAL WALES
After 2018's acclaimed debut season, Welsh crime drama Hidden returns for an equally intriguing second run. This time, DCI Cadi John (Sian Reese-Williams) and DS Owen Vaughan (Siôn Alun Davies) are dispatched to the picturesque tourist town of Blaenau Ffestiniog, where a trio of troubled teenagers have been implicated in the murder of a lonely retired teacher. All six episodes premiere at once, so you might want to clear some time for a bilingual (English and Welsh with subtitles) binge-watch.
Hidden is available to stream from June 15 on Acorn TV.
7. A FAMILY DRAMA WITH FINE PERFORMANCES
After winning a prize this year's SXSW festival, this indie drama from first-time movie director Channing Godfrey Peoples is getting a VOD release on June 19 – the date of the annual Juneteenth holiday commemorating the abolition of slavery in Texas. Black Mirror's Nicole Beharie stars as an aspirational African-American woman who won the Miss Juneteenth beauty pageant in her youth but was unable to use it as a springboard for future prosperity. Determined for her own daughter to succeed, she enters 15-year-old Kai (newcomer Alexis Chikaeze) in the same pageant against her wishes, paving the way for some home truths to slowly seep out.
Miss Juneteenth is available on VOD from June 19.
8. A CRIME DRAMA THAT GETS PERSONAL
This Danish series takes place in a picturesque coastal town, Helsingør, where the body of a young woman who's just given birth washes up on the beach. D.C.I. Dan Sommerdahl (Peter Mygind) and Detective Flemming Torp (André Babikian) are tasked with investigating her murder, but their professional relationship is jeopardized when Torp reveals he has feelings for Sommerdahl's wife Marianne (Laura Drasbæk) – and they're reciprocated. Expect plenty of private and professional revelations over its eight-episode run.
The Sommerdahl Murders is available to stream from June 29 on Acorn TV.
9. A PODCAST TO GENTLY WARM YOUR HEART
Dame Julie Andrews' new podcast is designed for kids, but a fair few grown-ups will probably find it wholesomely comforting too. Each episode sees the Mary Poppins actress and her daughter Emma Walton Hamilton read one of their favorite children's books while supersizing the experience with interactive games and special guest appearances from the authors themselves. Available to browse now, Julie's Library could be just the cure for a bad case of quarantine boredom.
Julie's Library: Story Time with Julie Andrews is available on Spotify.
10. A VERY FRENCH TALE OF ESPIONAGE
This spy series is such a big deal in France that it's even inspired an interactive exhibit at the Cité des Sciences et de l'Industrie, the biggest science museum in Europe. Season five begins with brilliant but troubled Agent Malotru (Mathieu Kassovitz) apparently dead and France's external intelligence agency, the DGSE, being accused of colluding with the CIA in his murder. Don't be surprised, though, if not everything in The Bureau is quite what it seems.
The Bureau is available to stream from June 18 on Sundance Now.
What are you most looking forward to watching or listening to this month?
Read More