Awkwafina currently takes the lead in the family drama Farewell. She seems to be everywhere these days. But, she didn't just turn up out of nowhere. Awkwafina has been working hard to claim her spot. It appears she's made her breakthrough… and then some.
Here are 10 reasons you should keep an eye out for this rising star:
1. Her raps get people's attention. 
In 2014, Awkwafina released a song called "My Vag," which resulted in four million views and counting. In 2018 she said to The Guardian, "I was just rapping about my genitalia – not making a feminist message." Even if by accident, her song became sort of an anthem for female empowerment and owning one's sexuality.
2.  She hosted her own talk show.
From 2015-2017 she hosted her own talk show called Tawk. She stepped out of the traditional constraints of a studio and set-up in random spots in NYC. Say like… a bodega? Her guests included The Rise of a Porn Star author Helen Hunter and SNL star Pete Davidson. She'd also interview grocery store customers.
3. She wrote a book.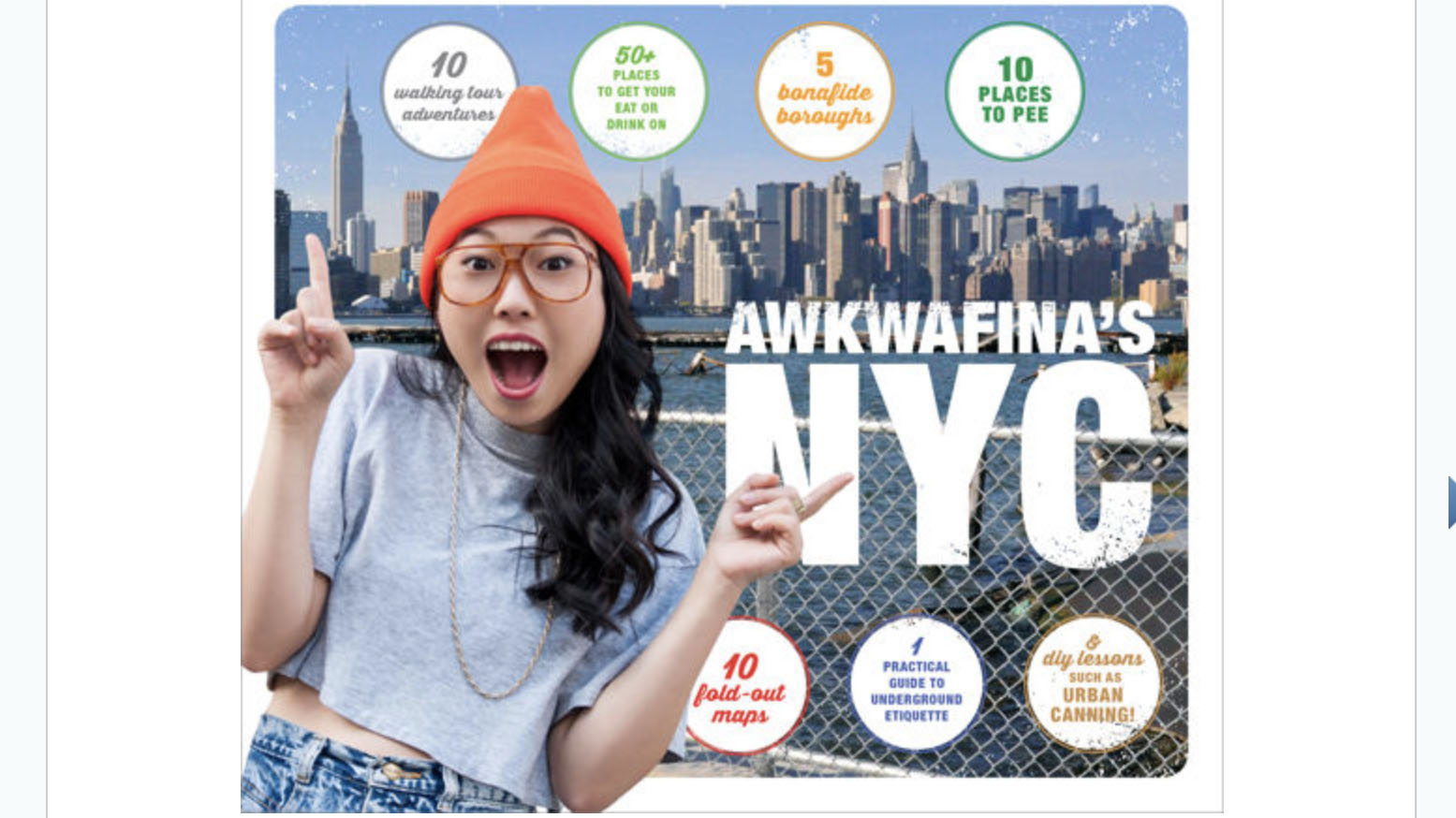 Who wouldn't want to take a spin around NYC with Awkwafina? And, now you can with her 2015 travel guide Awkwafina's NYC. Awkwafina took her talk show on the road and then actually went on the road herself to tour NYC. You can look for 10 walking tours that range from history to food-based. But, all… fun.
4. She's keen on sci-fi.
Back from the future, and @awkwafina killed it tonight. That's a #truetrue pic.twitter.com/huXjZkeMBn

— Future Man (@futuremanonhulu) October 6, 2018
She had a recurring role in 2017's TV series Future Man as "woman at video game store." OK, just because she stars in a sci-fi series doesn't mean she's necessarily into sci-fi. But, Awkwafina seems legit and she wouldn't sign up for anything she didn't support. So, we're gonna categorize this as, "She's just like all of us."
5. She conquered a blockbuster.
Awkwafina was a full-fledged scene stealer in the 2018 hit Crazy Rich Asians. She plays best friend to Rachel (Constance Wu), who is deemed to be dating out of her league. Awkwafina's Peik Lin delivered some seriously memorable lines like referring to her friend's richy-rich boyfriend as the "Asian Bachelor."
6. She's ridiculously funny.
When sitting down to chat with Glamour, she was asked about how to manage a difficult mother-in-law. Her advice, without hesitation, was: "The only viable things are probably illegal. Ya know, like a good ol' kidnap." Clearly, she's joking. But, we could picture sitting on the couch and really enjoying Killing Eve with this gal.
7. She's a natural storyteller.
She wasn't given the name Awkwafina at birth, but actually Nora Lum. She tells Jimmy Kimmel how she came about the name. At 15, she and her bestie, who also acted as her amateur branding manager, came up with the name. They just didn't really think anyone would call her by Awkwafina. Oh, it's stuck.
8. She's encouraging to others. 
Im not my Aunt Linda so I don't usually post stuff like this. But I'm glad I read it on this Tuesday morning. pic.twitter.com/KzlGGZuVWG

— AWKWAFINA (@awkwafina) July 23, 2019
Just the other day, she posted a note written by F. Scott Fitzgerald reminding people it's never too late, or too early, to be the person you want to be. Of course she desensitized the update with a bit of humor saying, "I'm not my Aunt Linda so I don't usually post stuff like that." Aw, glad she did!!
9. She gives credit where due.
https://twitter.com/awkwafina/status/1149954811321815040
Awkwafina may take the lead in the family drama Farewell, but no one goes it alone. She stars opposite Zhao Shuszen, who plays her dying grandmother. Her grandmother doesn't know she's sick… hence the drama. Awkwafina put a beyond sweet post up on Instagram to make sure the light was shown on this fine woman.
10. She keeps going. 
It was announced at Comic-Con that @awkwafina will be joining the cast of Marvel's #ShangChi https://t.co/8cinHsI2Gk #MarvelSDCC pic.twitter.com/FnMkXApaW4

— Hollywood Reporter (@THR) July 21, 2019
And now she's entering the Marvel Universe, set to star in 2021'a Shang-Chi and the Legend of the Ten Rings. If that weren't enough to wow, she's also joining Disney's live-action The Little Mermaid. It makes us wonder… what can't this girl do?? Apparently, nothing… if she puts her mind to it, she will make it happen.
Have you been seeing Awkwafina everywhere, too!? 
Read More
Filed Under: