Today brings exciting news for David Tennant fans: the former Doctor Who actor has signed up to star in an innovative new Netflix series called Criminal.
Announced today, Criminal will comprise 12 standalone episodes set in four different countries: France, Spain, Germany, and the United Kingdom. Three episodes apiece will be made by individual production teams in each country, with the British episodes being steered by showrunners George Kay, who wrote two episodes of Killing Eve's first season, and Jim Field Smith (Endeavour).
Each episode will be set inside a police interview suite, and Netflix teases: "This stripped down, cat-and-mouse drama focuses on the intense mental conflict between detectives and suspects."
There's no word yet on Tennant's character–will he play a detective or a suspect? – but Netflix has revealed a first look image showing him looking pretty purposeful.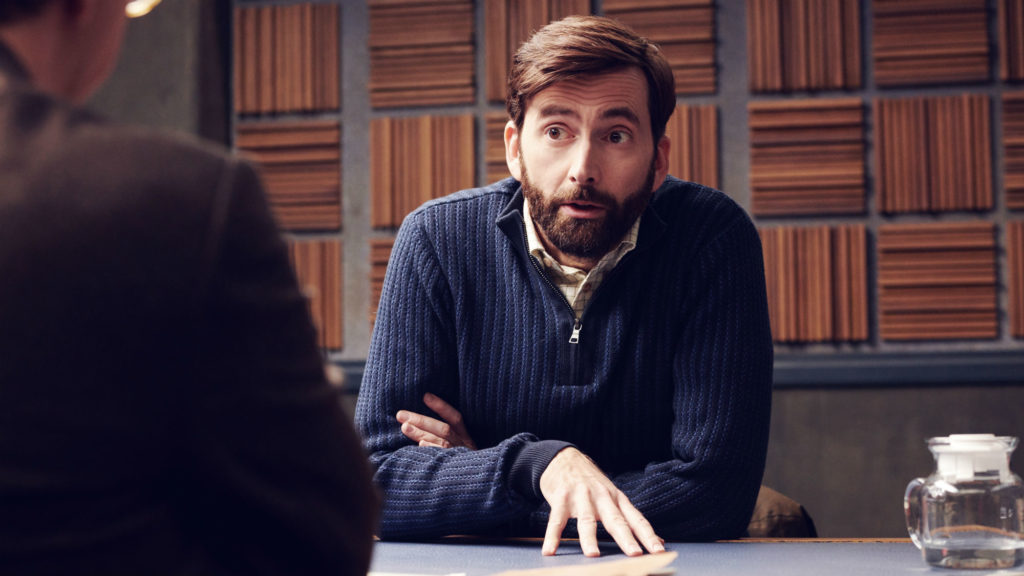 Tennant isn't the only big-name to star confirmed for the U.K. episodes: Hayley Atwell will also appear, while the main cast is led by Katharine Kelly (Mr. Selfridge, Cheat) and Nicholas Pinnock (Fortitude, Marcella).
All 12 episodes will launch on Netflix this fall at a date to be confirmed. In the meantime, you can catch Tennant in Good Omens, Neil Gaiman's adaptation of the popular fantasy novel that he co-wrote with Sir Terry Pratchett. Tennant stars as the demon Crowley opposite Michael Sheen as the angel Aziraphal. It's available now on Amazon Prime.
Tennant and Sheen recently appeared on The Graham Norton Show to discuss the series–and Tennant revealed that he is somewhat confused by how people use the eggplant emoji in texts. Check out the amusing clip below.
Are you excited to see David Tennant in Criminal?
Read More
Filed Under: