A Doctor Who fan's favorite Timelord is definitely a matter of personal preference and something which can inspire endless debate. So let's side-step rankings and absolutes for a second and agree on a simple observation: Jodie Whittaker's Thirteenth Doctor has been a funny, endearing, and naturally authoritative delight since she began her first season in control of the TARDIS. So as we're celebrating Thanksgiving today, let's round up some of the reasons we're thankful for Whittaker's awesome new Timelord.
1. She's an instant game-changer.
Whittaker made history when she debuted in Doctor Who's 2017 Christmas Special by becoming the first woman ever to portray the Timelord – one of TV and sci-fi's most iconic roles. Whittaker herself said after being cast: "It feels completely overwhelming, as a feminist, as a woman, as an actor, as a human, as someone who wants to continually push themselves and challenge themselves, and not be boxed in by what you're told you can and can't be. It feels incredible."
But what's really special about her thirteenth Doctor is the impact she's already having on young people, especially young women. As many fans have been sharing on Twitter, Whittaker's warm and empathetic Doctor is a terrific role model who shows that a female character can really definitely the action in an adventure-based series.
Loving these quirky/real storylines from @bbcdoctorwho and Jodie Whittaker's a great role model for my teenage daughter.

— Sallie Durham (@sallie_durham) October 29, 2018
Feeling so good today and this weekend, just watched history happen with my 12 yo daughter. So glad to give her the oppurtunity to have many strong FEMALE role models. #DoctorWho #GiveItA13

— Sara Elizabeth (@EightySix2ndWin) October 7, 2018
@bbcdoctorwho I have two daughters (10 & 7 year olds) who have never shown any interest in Dr Who or anything like it. It is now unmissable for them! Great to see such an intelligent, funny and brave female role model for young girls on the TV.

— Michael Hathaway (@m_hathaway217) November 4, 2018
2. She's a fully three-dimensional character who takes us on a journey with her.
In the season premiere, "The Woman Who Fell to Earth," the thirteenth Doctor delivers some witty quips after regenerating from Peter Capaldi's twelfth Doctor. "These legs definitely used to be longer!" she observes, while also joking that "it's been a long time since I've bought women's clothes." But after settling into her new form, she simply becomes… a Timelord you really want to spend time with. "I would say that this Doctor is energetic and filled with child-like wonder," Whittaker told NME before the new season began. "[She's] very hopeful, and very determined."
3. She's badass and compassionate at the same time.
It isn't just Bradley Walsh's companion Graham who's delivering this season's emotional notes. Whittaker's Doctor has also been responsible for some genuinely affecting moments, including the memorable scene in episode two, "The Ghost Monument," in which the Timelord is finally reunited with her beloved TARDIS. Perhaps Whittaker was tapping into everything she felt during her own first time in the TARDIS. "After I stepped in, I immediately had to go off and have a little cry," she told Radio Times last month. "I had a real moment. It was surprisingly emotional.' And it's precisely she's character traits that make her so appealing.
4. She's definitely the hands-on type.
Let's not forget that we've seen the Doctor making her own sonic screwdriver. Respect.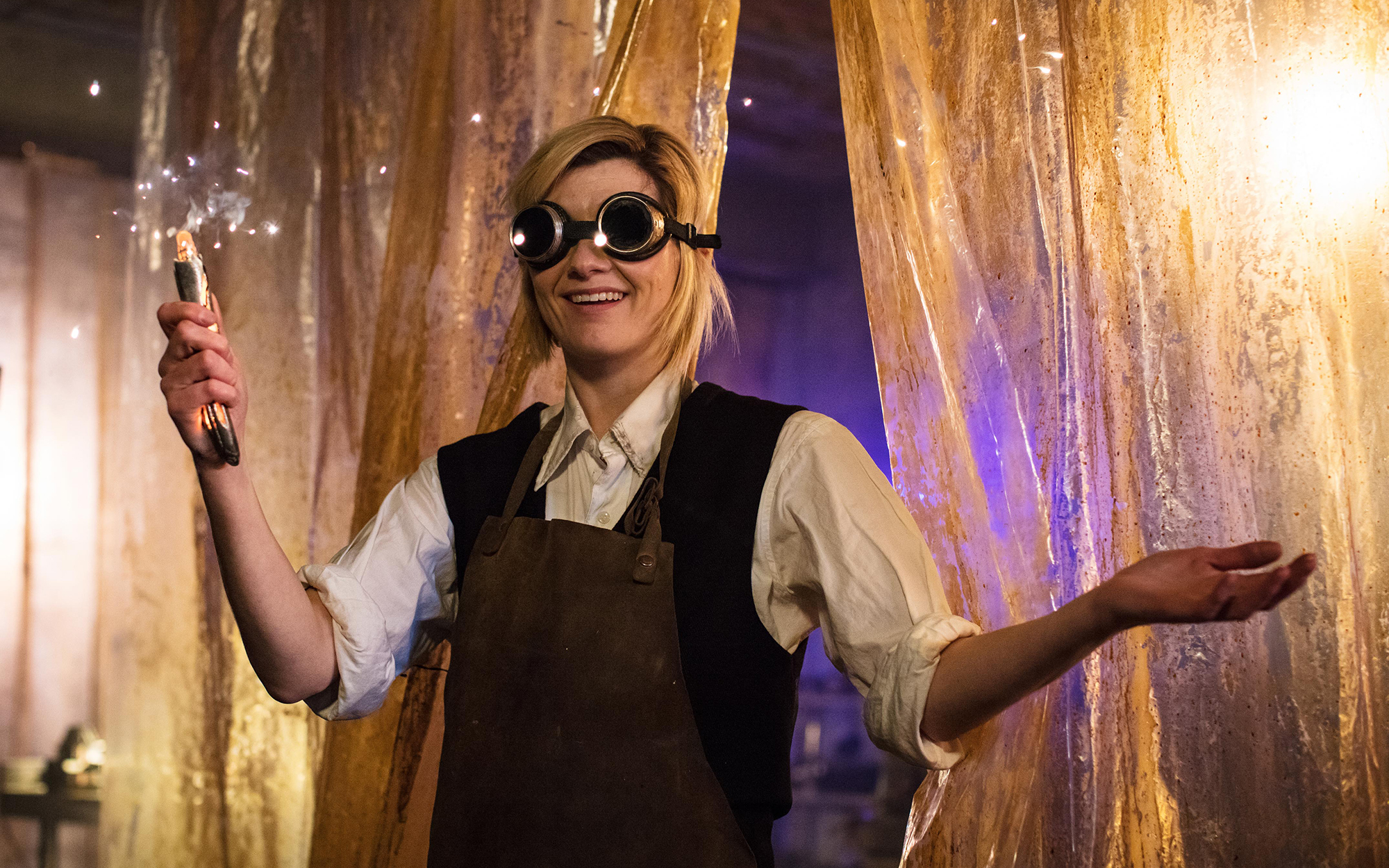 5. She's helping to make the show even more insightful and inspiring.
With new showrunner Chris Chibnall taking over this season, Doctor Who isn't afraid to base episodes around complicated events from recent episodes history. Third episode "Rosa" explores a pivotal moment in the U.S. civil rights movement, while sixth episode "Demons of the Punjab" learns into the partition of India in 1947. And as Doctor Who tackles tough issues, Whittaker totally has the showrunner's back.
"What's the point of making a show if it doesn't reflect society today?" she told London's Evening Standard earlier this week. "We have the opportunity with this show like no other to dip to future, to past, to present, to new worlds and time zones. There is never going to be a drought in the stories you can tell. It's always topical. Chris is a very present-minded person who is very aware of the world he lives in and is passionate about storytelling. It would be wrong of him to not have used the past. He does it in a really beautiful way."
6. She can carry off a natty hat.
Don't believe us? Check out the clip below.
7. And finally, she's really putting the Yorkshire accent on the map.
Whittaker's awesome northern accent accidentally produced comedy gold during a recent U.S. TV appearance, when a subtitle writer had a little trouble working out how to spell her hometown, Huddlesfield in West Yorkshire. In fairness, "Hoozezfield" isn't a bad phonetic guess.
A valiant attempt by the American subtitler.. pic.twitter.com/EiVJOcvV0U

— (((Dotski))) (@dotski_w) October 4, 2018
What's your favorite thing about Jodie Whittaker's Doctor?
Read More