Comic-Con took over San Diego this weekend, with the entire cast of Fantastic Beasts 2 assembling to introduce the first full-length trailer for the Harry Potter spin-off sequel.
The delegates in Hall H at the San Diego Convention Center on Saturday (July 21) were the first to see the new trailer, which takes us inside a pre-Harry Potter Hogwarts. The trailer then takes a much darker course than the teaser released in March, as Grindelwald (Johnny Depp) takes center stage, and Dumbledore (Jude Law) is forced to recruit his former student Newt Scamander (Eddie Redmayne) to take down his nemesis.
Thankfully the internet elves mean we watch it now too:
As for the Comic-Con panel on Saturday (July 21), Eddie and Jude were joined on stage by Alison Sudol, Claudia Kim, Ezra Miller, Zoë Kravitz, Callum Turner, Katherine Waterston and Dan Fogler to answer questions from the audience.
And yes, that's Miller dressed as a sexy mushroom. Specifically, Toadette, a character from Ninetendo's Mario series of games. Well, this is Comic-Con.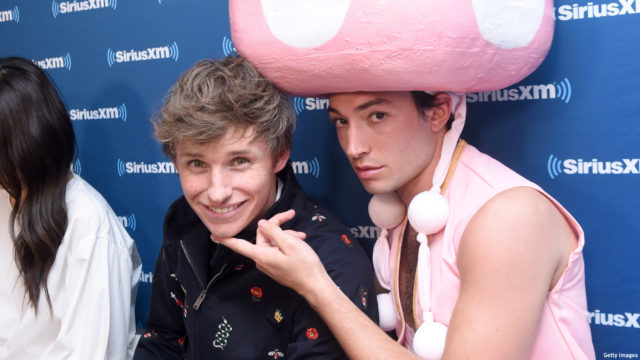 The cast certainly seemed to enjoy each other's company, with the old timers (a.k.a. those who starred in the first Fantastic Beasts movie) teasing newcomer Jude Law about his role. In an interview with Entertainment Tonight, they eschewed his preferred phrase "young Dumbledore" for monikers such as "sexy Dumbledore" or "delicious Dumbledore," much to Jude's embarrassment.
But that wasn't all. One cast member was missing, and a rather crucial one, at that. (The movie's subtitle is The Crimes of Grindelwald, after all.) According to The Hollywood Reporter, Johnny Depp made a surprise appearance in character as magical bad boy Gellert Grindelwald after the panel, despite the controversy surrounding his casting, before delivering a very creepy speech that also features in the new trailer.
Fantastic Beasts: The Crimes of Grindelwald opens in theatres on November 16, 2018.
Are you excited about the next installment of Fantastic Beasts?
Read More
Filed Under: