We trust Downton Abbey creator Julian Fellowes and the production team have a handle on the forthcoming Downton Abbey movie. As of now, it's been confirmed 20 of the TV show's original cast members are set to return for the big screen adaptation.
But, Dame Maggie Smith is still on the fence.
Some headlines seem to say she's "in," but upon closer inspection, it's not officially-official. And it's quite possible that her involvement won't be confirmed until much closer to the release date — even wait until the movie hits theaters in a bid to up the anticipation.
So, rather than sitting on our hands and waiting it out, we shall state our case as to why Dame Maggie simply MUST reprise her role as the inimitable Dowager Countess. If you're reading this, Maggie Smith, please say you're in!
1. If She's Not in the Movie, That Means… 
2. She Keeps Everyone in Check 
In the early days of #Downton White Tie was expected by all male guests at Downton. pic.twitter.com/7OWN8eGxdE

— Downton Abbey (@DowntonAbbey) April 19, 2018
The Dowager Countess has high standards, which she holds herself to and the people around her. When she's in attendance, everyone's etiquette is on point, because it has to be. Without her, life under the Abbey's roof could descend into pure chaos. Well, at least at the dinner table.
3. She's Gracious
Dame #MaggieSmith graciously accepts her #Emmy award — @jimmykimmel, please advise on the location of the lost and found! #DowntonPBS pic.twitter.com/veQ6shRmxA

— Masterpiece PBS (@masterpiecepbs) September 19, 2016
And we're not just talking about the aristocrat she plays. Dame Maggie herself is grace incarnate, even when it comes to dealing with criticism. When Late night host Jimmy Kimmel razzed the Dame for not accepting her 2016 Emmy Award in person — her third win and third no-show — instead of tearing Mr. Kimmel a new one, she calmly turned to Twitter. Here, she asked for his advice on how to collect her unclaimed statue. What poise!
4. She Has the Best One-Liners
The Dowager Countess has countless witty one-liners, which is your favourite? #Downton pic.twitter.com/o3dJVPqIxG

— Downton Abbey (@DowntonAbbey) May 10, 2018
The official Downton Abbey Twitter feed pumps out the Dame's best lines, which both cut deep and keep it real — in a mouthy aristocrat kind of way. The above clip features Isobel Crawley (Penelope Wilton) meeting the Countess for the first time. When Isobel asks an innocent question, "What shall we call each other?," the Countess gets straight to the point, simply replying, "We could always start with Mrs. Crawley and Lady Grantham." Tell it how it is, m'lady!
5. She Delivers 
#Downton Abbey's writer and creator Julian Fellowes speaks very highly of Dame Maggie Smith indeed – and we can't blame him! Do you have a favourite Dowager witticism? pic.twitter.com/1PZLb6vaEz

— Downton Abbey (@DowntonAbbey) July 17, 2018
Of course, so much credit goes to Julian Fellowes for writing this amazing upstairs/downstairs saga, and all that falls in between. But an elegant script only gets you so far. It takes a powerhouse actor to lift the lines off the page and present their meaning for the viewer. Even Fellowes himself said, "I write a line that I think is quite funny, then she (Dame Maggie) says it and it's hilarious." It's all in the delivery.
6. She Gives Good Face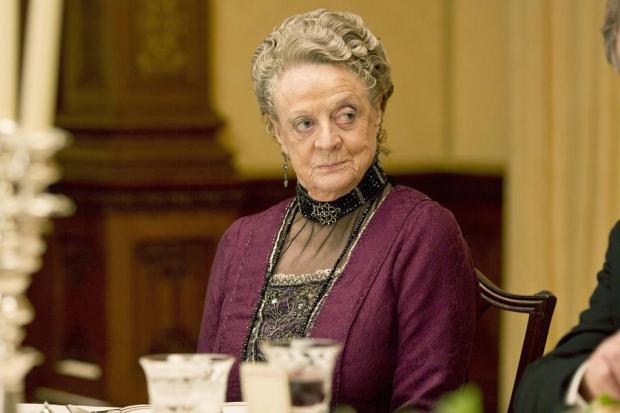 Sometimes Smith doesn't even have to speak to get her message across — it's all in the eyes and her expression. NTS: Don't get on her bad side!
7. Her Coworkers Praise Her

Here's to Maggie Smith, our Dowager Countess! #Downton pic.twitter.com/YHnSBWs5LD

— Downton Abbey (@DowntonAbbey) May 6, 2018
Sure, it's wonderful to get a gold star from Fellowes. But her co-stars gush about the Dame just as much. Hugh Bonneville, who plays her son, Robert, once tweeted of the actress, "She's one of the most cherished actors in the world." It'd be a shame to split up a group of actors whose respect for each other runs so deep.
8. Who Will Hand Out Great Advice?

Wise words from the Dowager. #Downton pic.twitter.com/k03lb8FCvO

— Downton Abbey (@DowntonAbbey) November 25, 2017
If there's no Countess, then pearls of wisdom like, "There can be too much truth in a relationship" and "A lack of compassion can be as vulgar as an excess of tears" will be thin on the ground. And her no-nonsense, matriarchal advice will be sorely missed. We loved it when she told her granddaughter, "I am a woman, Mary. I can be as contrary as I choose." Clearly, the non-word-mincing Lady Mary (Michelle Dockery) took this to heart. She's her grandmother's closest personality match but she has a way to go before she can stand in for the Dowager, counseling and eviscerating with the same quip.
9. And, Finally, It Just Wouldn't Be the Same Without Her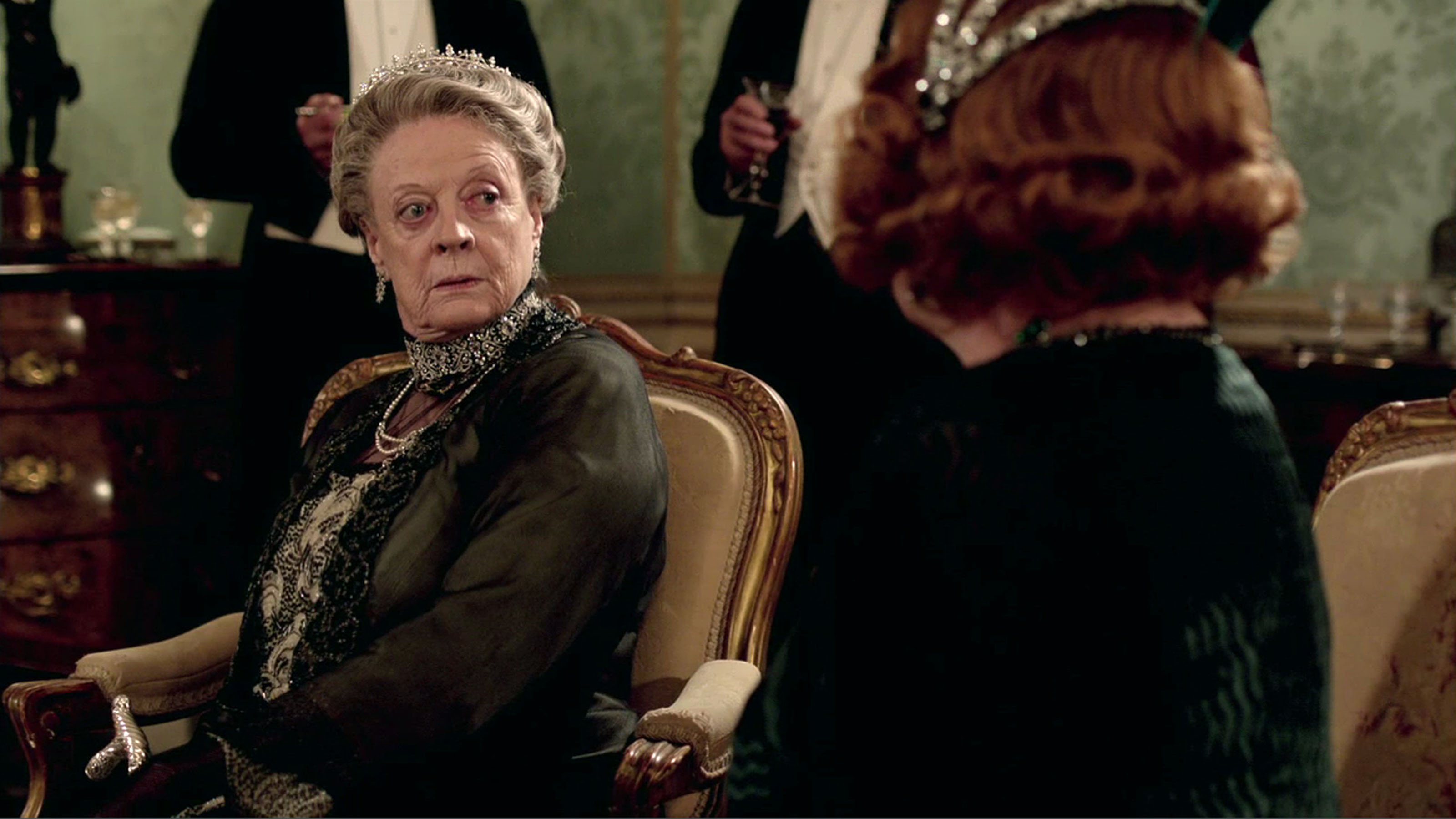 We are stating the obvious here, but really, a Downton Abbey movie wouldn't feel complete without Dame Maggie. She was there from the start, and we hope to see her at the finish.
You've heard our plea, but at the end of the day, it's Dame Maggie's decision.
Why do you want to see Dame Maggie reprise her role? Please share in the comments! 
Read More
Filed Under: