New series 100 Code starts tonight (May 29) on WGN America, the latest in a growing trend for crime dramas that span countries and cultures.
It stars The Lord of the Rings's Dominic Monaghan as an NYC detective who heads to Sweden to help catch a serial killer, and ends up working with Swedish investigator Mikael Eklund (the late, great Michael Nyqvist).
It got us thinking about our favorite border-busting crime dramas, so we put together a list of the best. And you know what that means: yep, subtitles. (And wolves, as it turns out.)
10. The Team (2015 – )
Women are being popped off all across Europe, by a killer using a gruesome and identical MO. Cue the formation of a special investigative team, bringing in top-notch officers from Denmark (Mads' big brother Lars Mikkelsen, who made his name in The Killing), Belgium (Veerle Baetens) and Germany (Jasmin Gerat). Think Charlie's Angels, with Europol calling the shots instead of a creepy old dude.
9. The Border (2014 – )
This Polish series (original title Wataha) takes an unflinching look at xenophobia and misogyny in Poland and Ukraine, with terrorist attacks, human traffickers and refugees hunted by wolves. It's a world away from another earlier TV show called The Border, which tracked a Canadian agency tackling terrorism and smuggling in Toronto. There are wolves in both, though.
8. Criminal Minds: Beyond Borders (2016 – 2017)
This Criminal Minds spin-off hopped countries to follow an elite team of FBI agents tasked with rescuing American citizens who come a-cropper when travelling abroad. It starred Oscar-nominated Gary Sinise as the team's leader, and benefitted from the success of its mothership series, but CBS cancelled it after two seasons.
7. Bordertown (2016 – )
"I just don't like dead people," says Helsinki cop Kari Sorjonen (Ville Virtanen). Well, tough luck. This series follows Kari as he moves to a small border town in search of the quiet life, but quickly discovers there's nothing quiet about the Finnish-Russian border.
6. Due South (1994 – 1999)
No subtitles necessary here, as Mountie Benton Fraser (Paul Gross) crosses the border running between Canada and the USA to join the Chicago Police Department. Ostensibly it is to find out who murdered his father, but the clash of cultures produces so many laughs he and pet wolf Diefenbaker stick around to solve more crimes in this light-hearted classic 90s drama.
5. Crossing Lines (2013 – )
Imagine the Justice League, but populated by special forces operatives from across Europe. The whole thing is led by a lone American (natch), played by the irrepressibly good William Fichtner. The team of skilled crime-solving prodigies come from France (Marc Lavoine), Italy (Wilfred's Gabriella Pession), France (Moon Dailly), Northern Ireland (Richard Flood) and Germany (Game of Thrones's Tom Wlaschiha, albeit with a much shorter hairdo). If that weren't impressive enough, then Hollywood royalty Donald Sutherland puts in an appearance too, as leader of the International Criminal Court (ICC) Michel Dorn.
4. Midnight Sun (2016 – )
The murder of a French national turns out to be the tip of the iceberg in this eerie drama set in a small mining community in the Arctic circle. A Parisian cop (Beirut's Leïla Bekhti) turns up to investigate the case, and must deal with a jaded Swedish prosecutor (Brüno's Gustaf Hammarsten) as well as a community with plenty of secrets. And ooh, look! More wolves. What is it with borders and wolves?
3. Elementary (2012 -)
The second season premiere relocated Holmes (Johnny Lee Miller) and Watson (Lucy Liu) to London, as Holmes confronted the two men he'd wronged in his life: his brother Mycroft (Notting Hill's Rhys Ifans), and his former Scotland Yard colleague Lestrade (Gotham's Sean Pertwee). Basically it was like that Friends episode, but with more mystery and less Jennifer Saunders.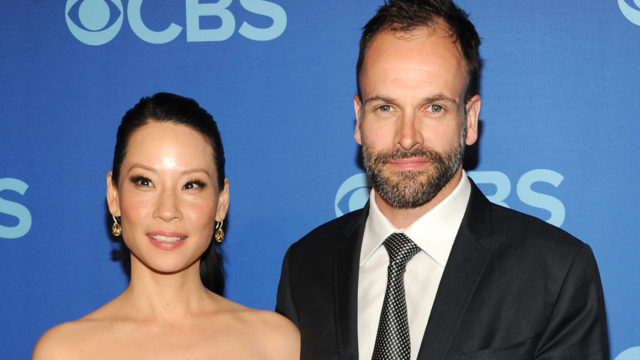 2. Wallander (2016)
In a plotline that sounds suspiciously like something Hercule Poirot, another Kenneth Branagh character, would do, Kurt Wallander attends a global conference on policing in South Africa, only to become involved in a local investigation into a Swedish woman's disappearance. Adapted from 1993 novel The White Lioness by Henning Mankell, the episode depicts the murky world of ANC politics, corrupt wealth and a desperate, disenfranchised youth.
1. The Bridge (2011 – 2018)
The premise of Scandi-noir series Bron/Broen is unforgettable: a body is found placed directly over the border on the Øresund Bridge linking Denmark and Sweden, forcing laidback Danish detective Martin (Kim Bodnia) to work with his prickly Swedish counterpart Saga Noren (Sofia Helin). It was adapted for different markets — the U.S. version moved the action to a bridge on the Texas-Chihuahua border, while the British/French one took place in the Channel Tunnel — but neither adaptation worked as well as the original. That's because the key to its enduring success wasn't the outlandish premise that brought them together, but the tender relationship slowly forged between the two detectives.
Have we missed one?
Read More