Homeland star Damian Lewis will portray Toronto's controversial former mayor Rob Ford in an upcoming film called Run This Town, according to The Hollywood Reporter.
It's fair to say the resemblance isn't obvious. Ford, who died in 2016, was elected mayor in 2010 but was ultimately stripped of his official powers in 2013 due to scandals involving drugs and alcohol abuse.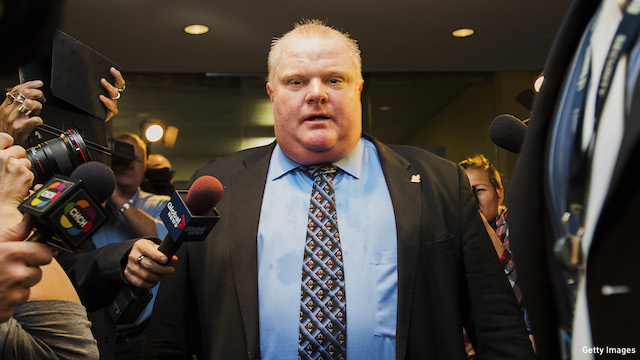 Damian will reportedly wear prosthetics to look more like Ford, which a recent interview with Kit magazine claimed will involve "getting his face and head completely covered in silicon strips" and "breathing through a small hole near the nose."
Aside from the figure of Ford, the story of Run This Town will be fictional. In fact, director Ricky Tollman has told The Toronto Star that Rob Ford isn't the film's lead character, saying he wants to create a "sympathetic portrait" of the late mayor.
"Rob isn't just a caricature, he's a person and he's a human," Tollman explained. "He cared very deeply about the city he was the mayor of. And this was a guy with demons."
The main story is reportedly about how millennials struggle to make a living in a post-recession economy, specifically a young reporter played by Dear Evan Hansen's Ben Platt, who attempts to expose a scandal involving the politician.
Nina Dobrev (The Vampire Diaries) and Mena Moussad (who's just been cast in the lead role of Disney's live action remake of Aladdin) will play Ford's political aides, while Scott Speedman (Animal Kingdom) and Jennifer Ehle (Pride & Prejudice) will also star in undisclosed roles.
Filming is already underway, with scenes being shot on location in Toronto, Canada.
Are you intrigued by this one?
Read More
Filed Under: