The much-anticipated second season of The Handmaid's Tale premiered this week (April 25) and the first two episodes are now available to stream on Hulu.
When we last saw her in the season one finale, Offred (Elisabeth Moss) was being bundled into a black van. We had no idea what her fate would be. And we should point out that Margaret Atwood's 1985 novel, which the series is based on, stops there too. There's no follow-up book. So what you're about to see in season two is all new, although the showrunners moved forward with Atwood's blessing.
Episode one picks up where the finale left off: Offred is in the back of the van. Her mouth is covered and her eyes are wide, but unknowing. We're still not sure if this is good or bad for Offred, but one thing's for certain, it can't get much worse than being held captive for the purpose of reproduction.
This preview is a little spoiler-y, giving away details from the first episode. If you want to be absolutely surprised but still get a sense of what's to come, stick to reading just the headers. For everyone else, here's what you need to know:
1. You need to prepare yourself.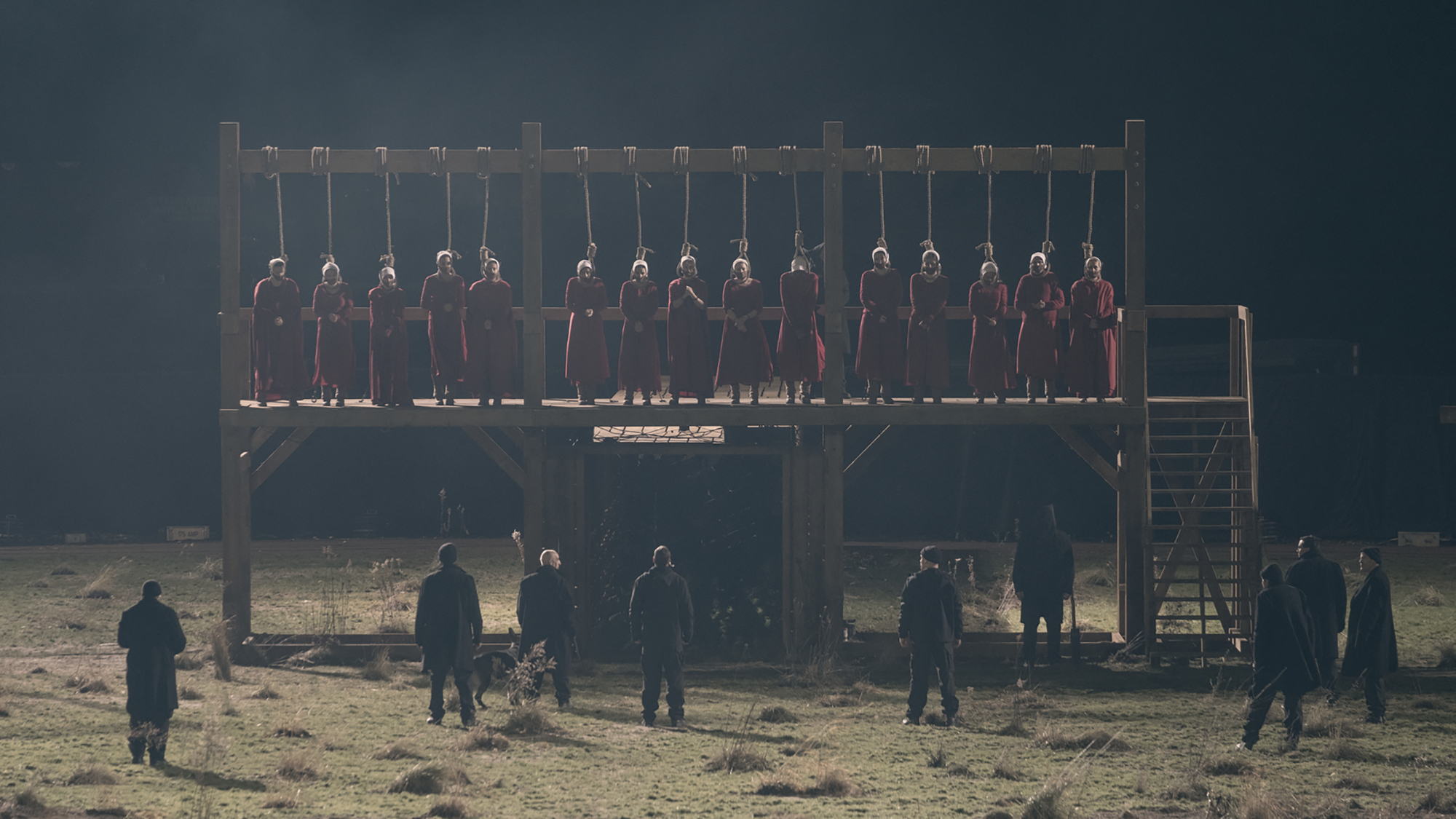 The first 10 minutes of the season opener is nearly entirely visual; there's no dialogue. There's just some shouting from guards as they shuffle the Handmaids out of the vans, down a hallway and into an undisclosed open space that looks like it was once a sporting arena. The sequence is powerful and will leave you just as bewildered as poor Offred. What we can say is… it's an extremely sad spectacle seeing the Handmaids led to a row of hanging nooses, lined up and left to wait.
2. There's no rock bottom.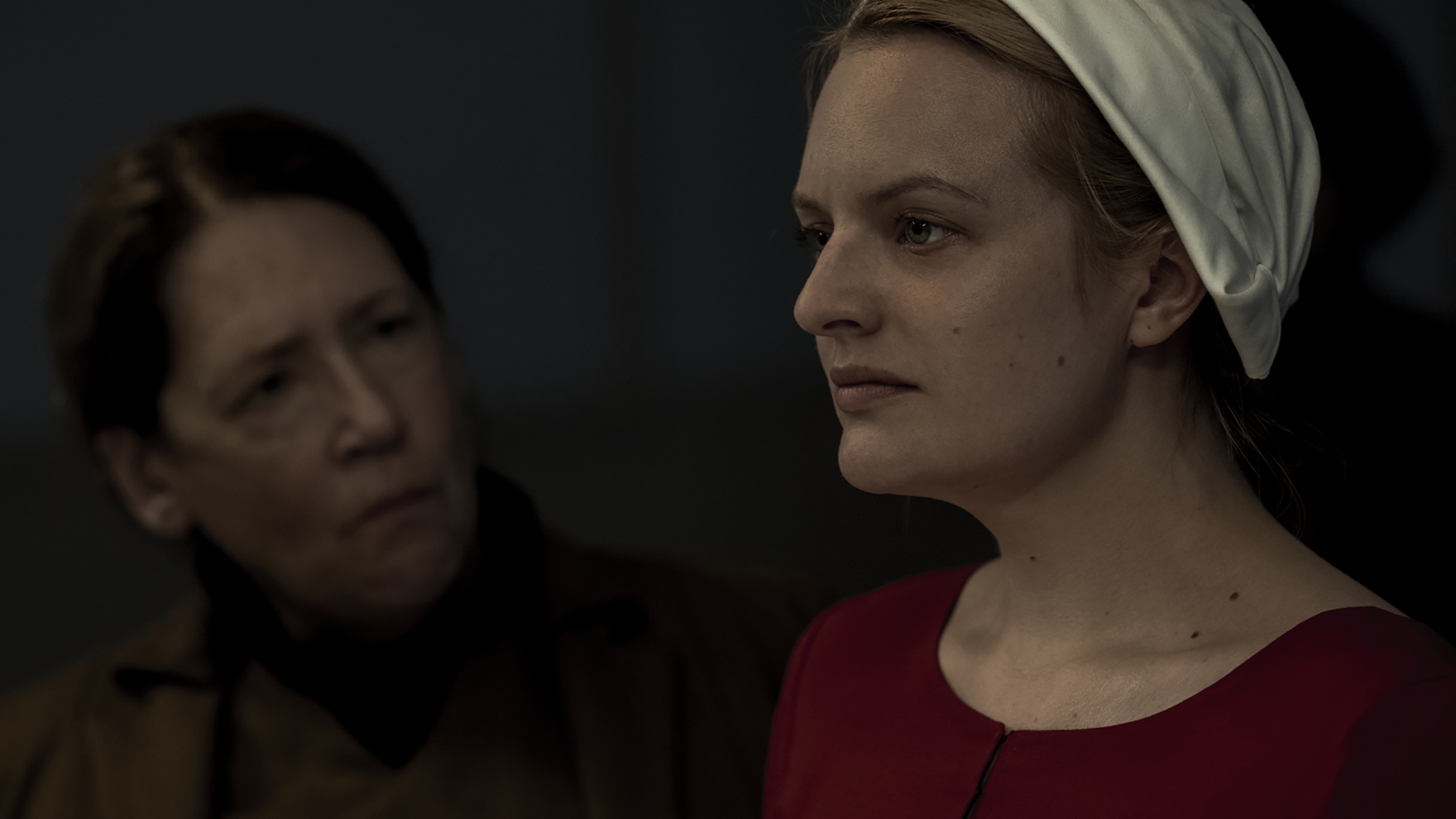 As the nooses are placed around the women's necks, some cry and some pray. The lever is pulled, but the floor doesn't drop below the women's feet. It was all a ruse, a scare tactic, to punish them for bad behavior. And as if living as slaves and enduring a fake execution wasn't horrifying enough, next we see the return of their abusive overseer, Aunt Lydia, who piled on the terror back in season one. The Handmaids have come full circle, returning to live under her cruel watch.
3. She is still donning the red dress.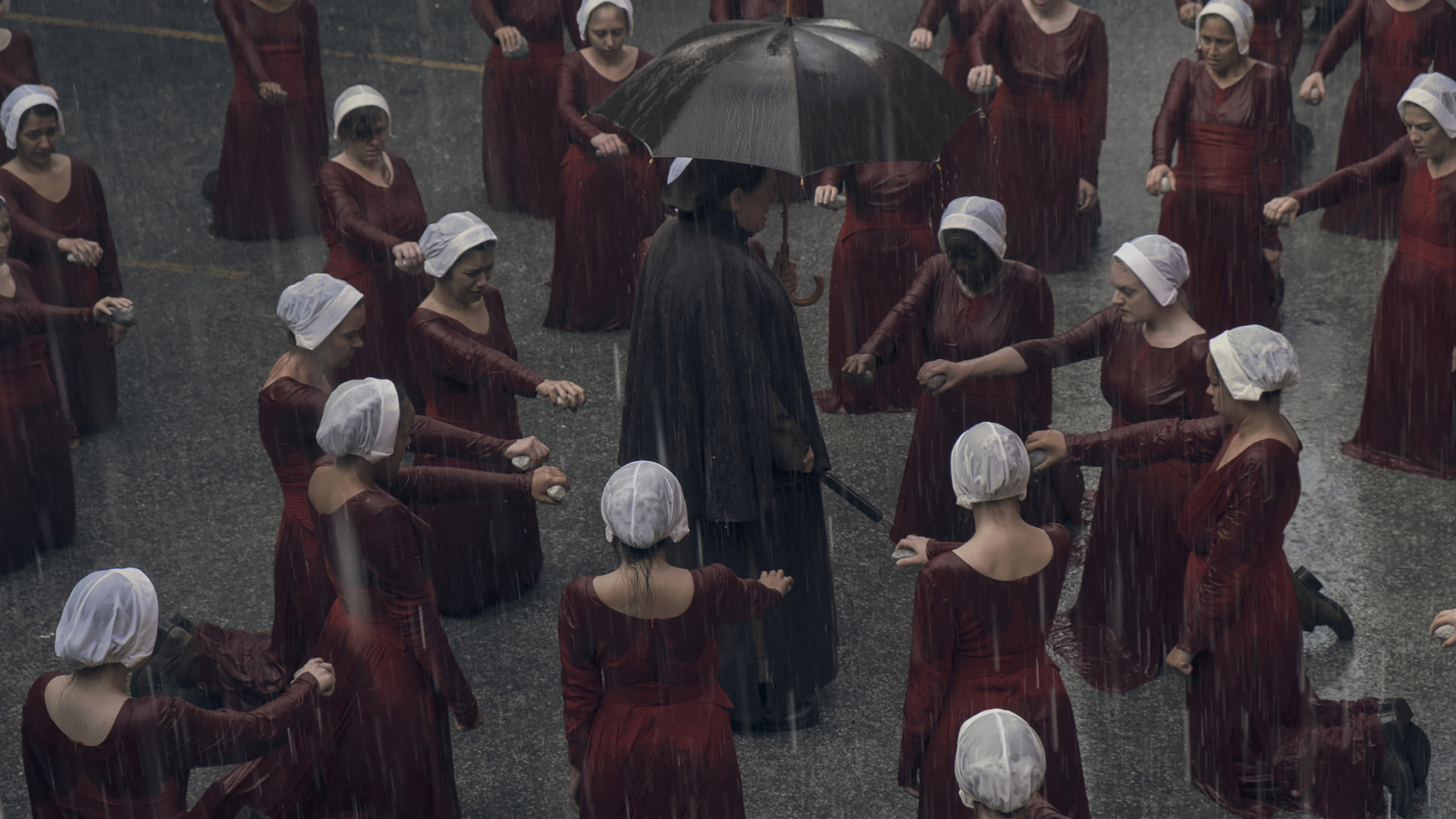 When she entered the van, we thought — or hoped — Offred was about to be freed. And, a lot of viewers may have had similar expectations. It's addressed in the season opener with Aunt Lydia saying, "Girls! There is more than one kind of freedom. There is freedom to. And freedom from." She reminds the young women — as they're being punished — that they're now "safe." Hmm.
4. Offred's "secret" is discovered.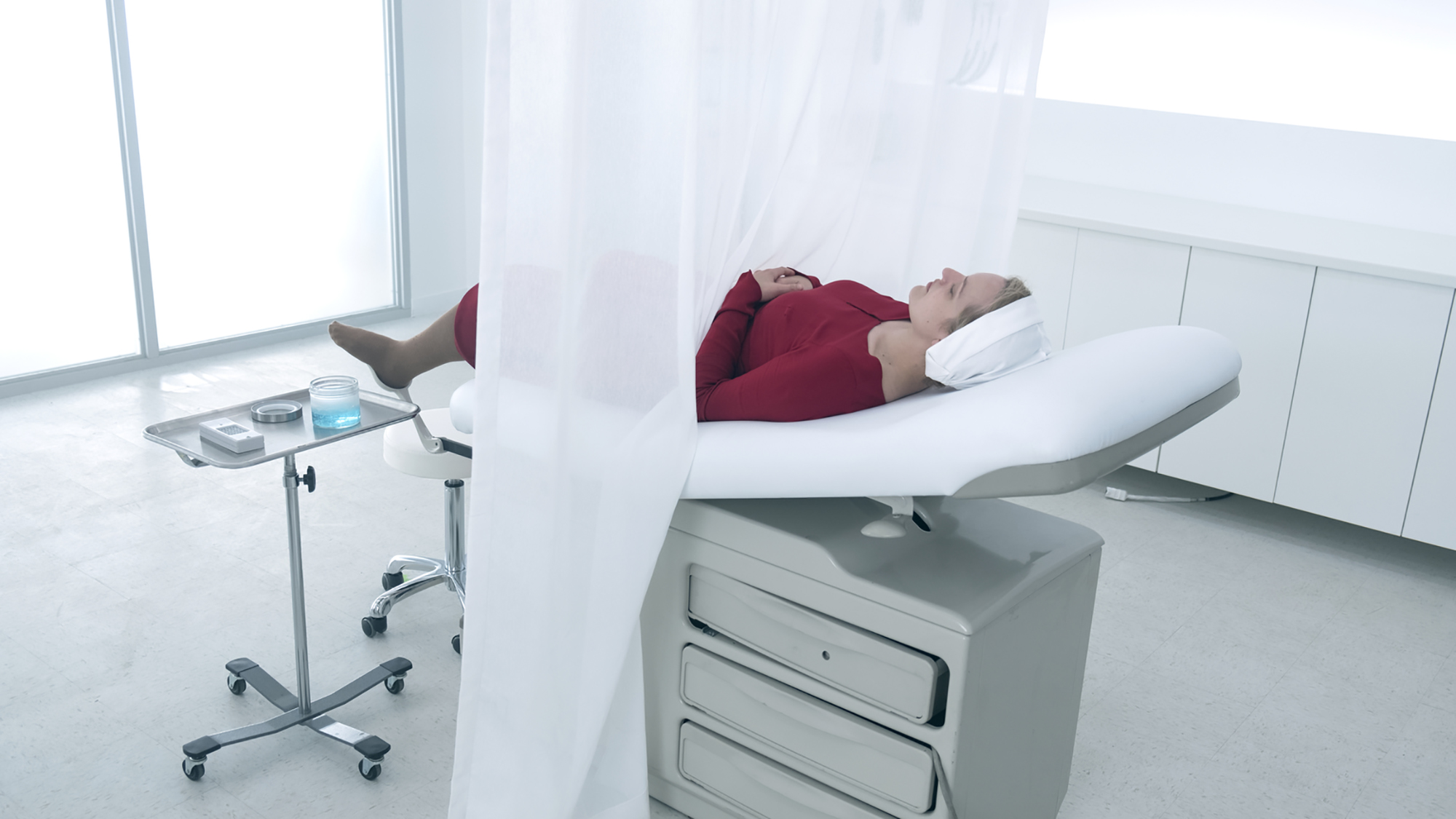 Aunt Lydia soon learns Offred is pregnant. She cannot user her typical tactics and beat her into submission, which would threaten the health of the unborn child. But, there are other ways to make a disobedient Handmaid behave…
5. Aunt Lydia hasn't changed.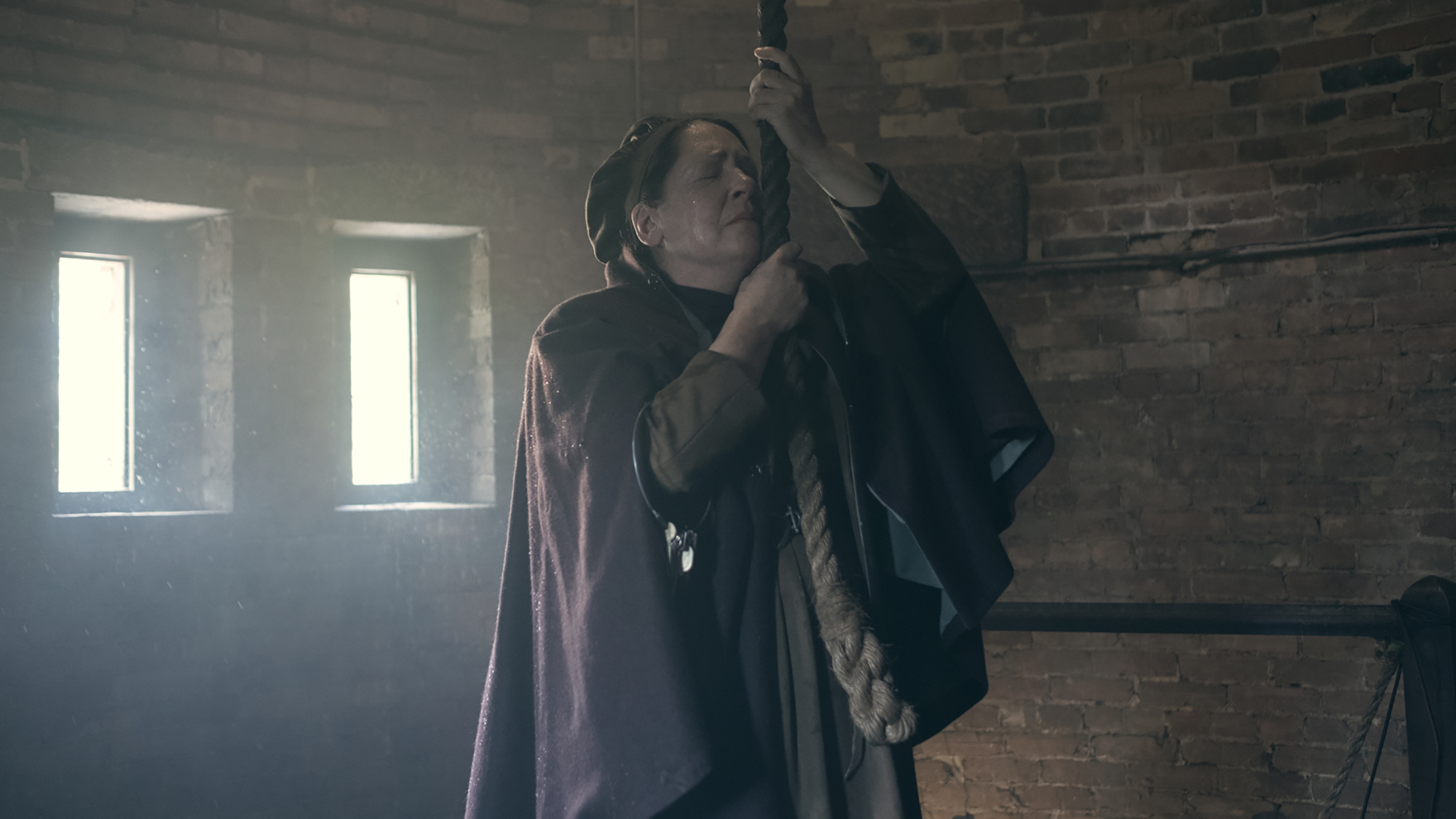 Aunt Lydia is as ruthless as ever. She clearly has control issues and is not letting up anytime soon. Even when she rings a bell, she does it with such passion and commitment. She truly believes in her convictions, but it does make you wonder… does she have a breaking point?
6. Offred has not changed (in a good way).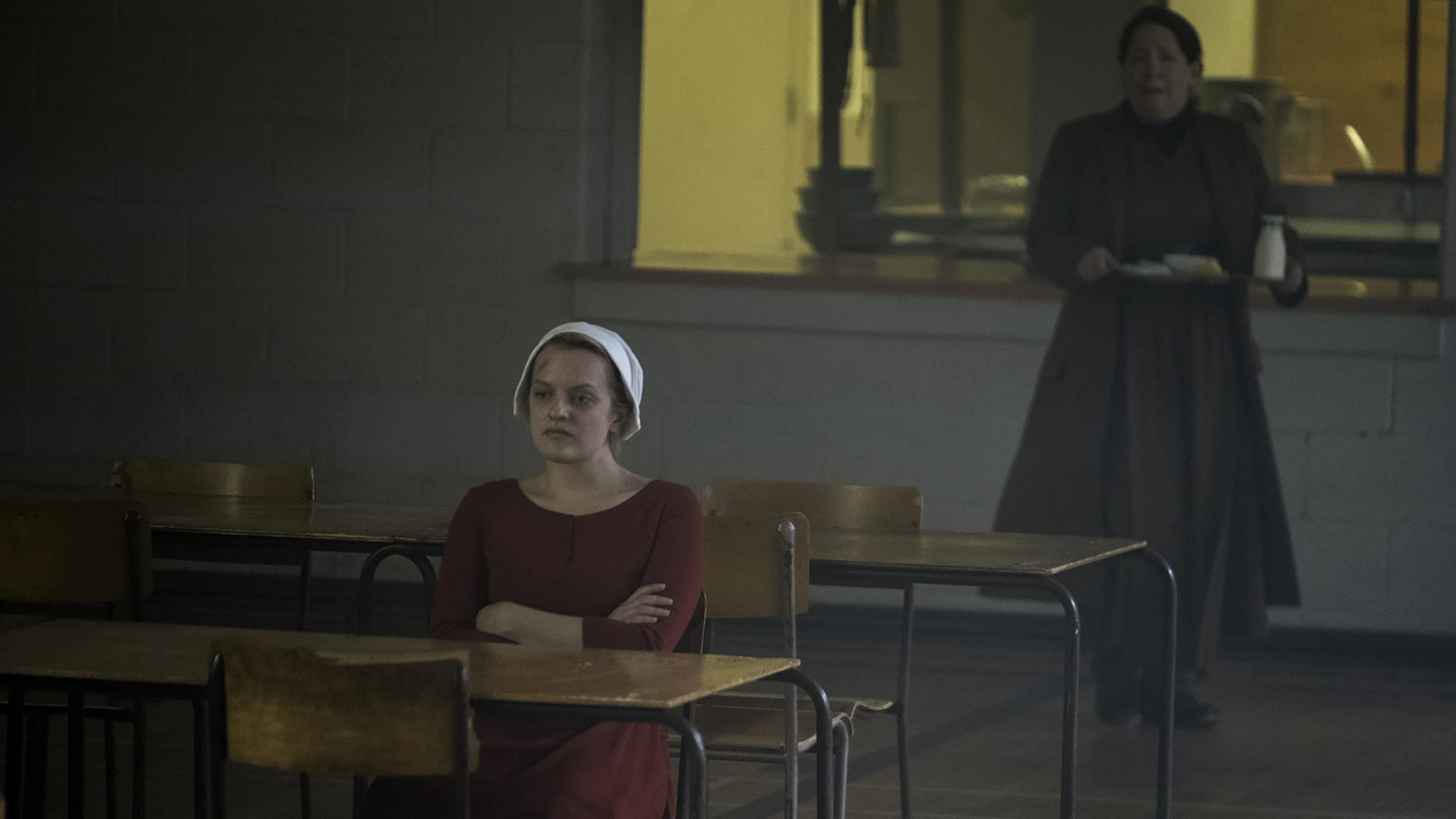 Offered is offered special treatment, but she refuses. She doesn't want to stand out from the other Handmaids.
7. She is not the only "blessed" Handmaid.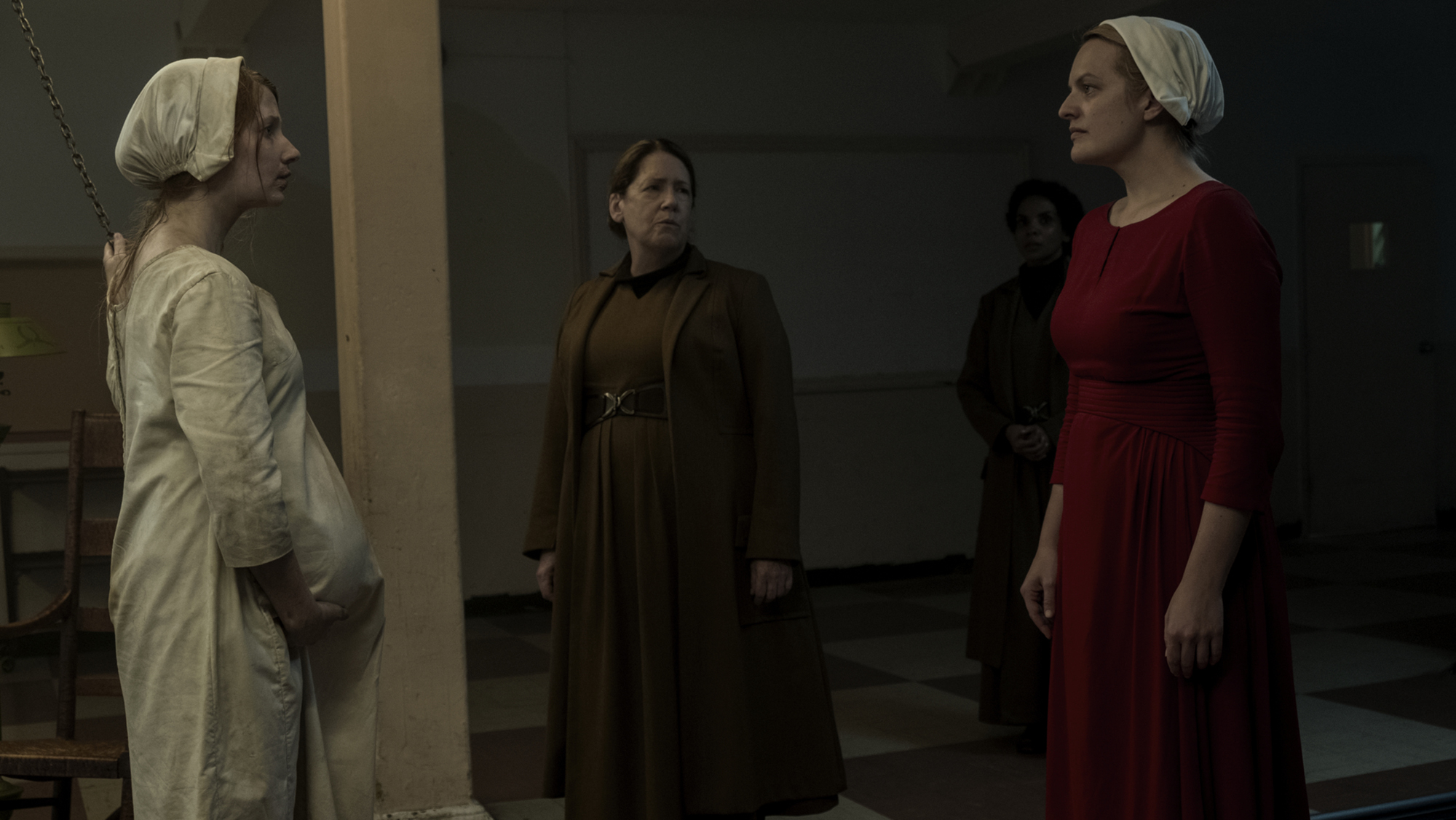 It turns out Offred's not the only "special" one, and she gets a glimpse of what her fate might be if she doesn't cooperate. Maybe it's best to go along with Aunt Lydia, and then come up with a new strategy, away from watching eyes.
8. The torture scenes don't get any easier to watch.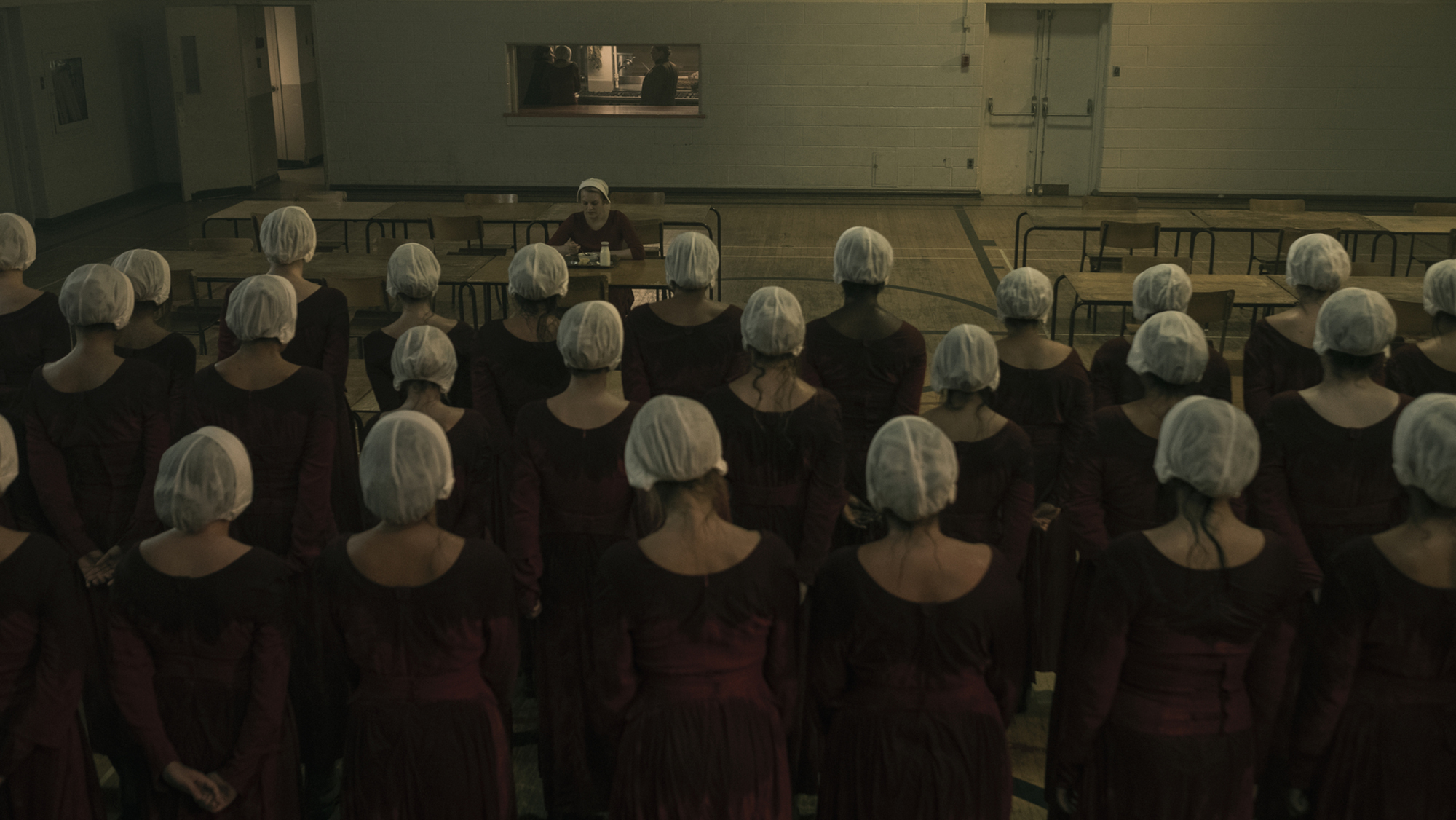 Offred is so strong, showing no fear. In the above photo, you can see her calmly eating soup while the rest of the Handmaids stare over her head into the kitchen, where their friend is being tortured. The disobedient girl's hand is being held on a stove burner. Offred feels for her, but she never flinches. She might be able to listen to a friend scream in pain, but if you're anything like us, you'll need to hit the mute button for this harrowing scene.
9. Mrs. Waterford is still in charge.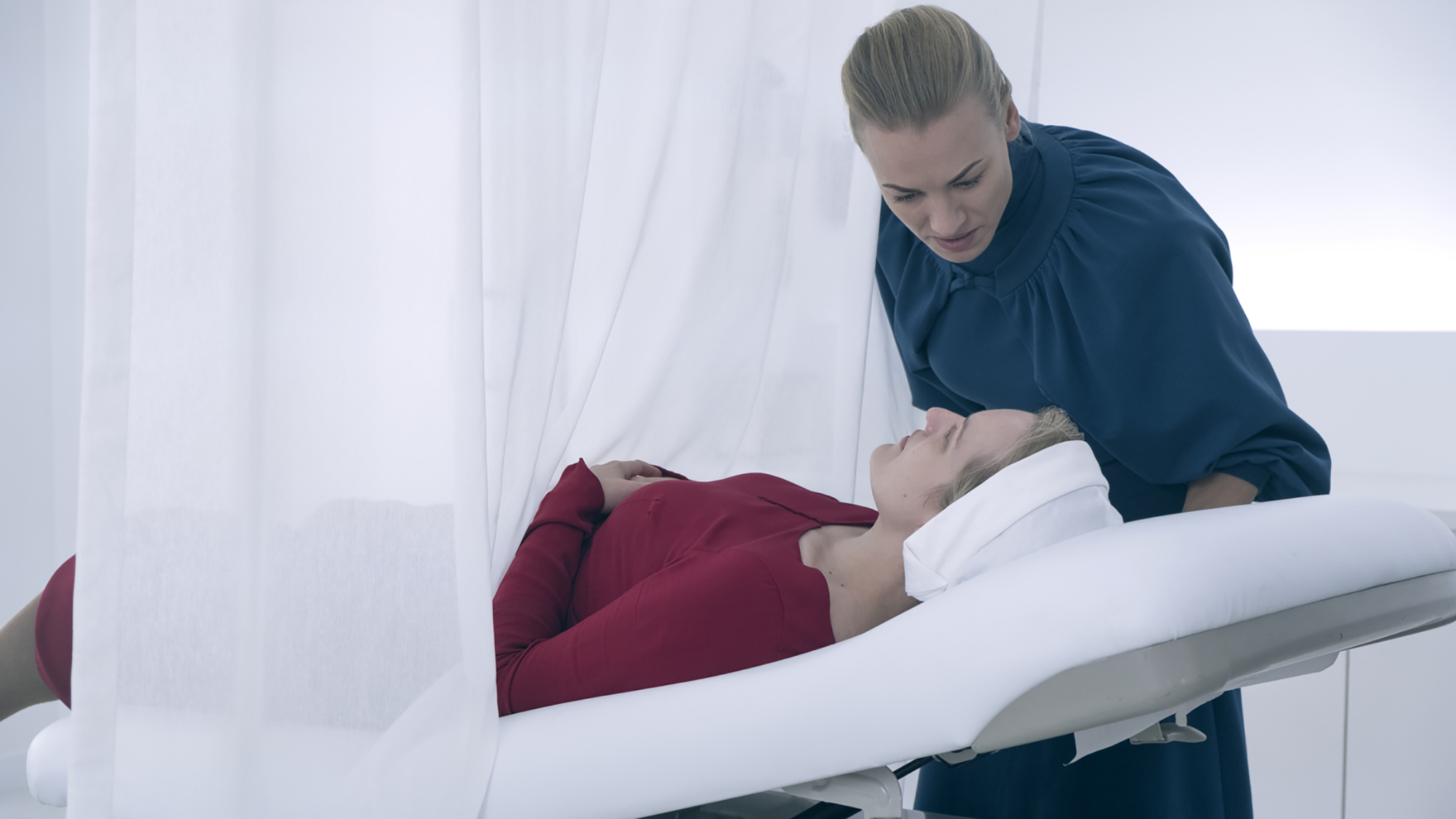 Up until this point we thought the Handmaids had returned to Aunt Lydia's supervision and that was that. But, it appears there are plans for Offred to return to the Waterfords. She is carrying their baby, after all. So it seems the stay with Aunt Lydia is temporary and a way for the Handmaids to be reminded of their role. Mrs. Waterford comes to Offred's side while looking at the ultrasound, telling her Handmaid, "Enough of this smart girl sh*t." But, Offred isn't scared of her, replying, "Don't get upset Sarina, it's bad for the baby." Notice how Offred called her by her first name? That is definitely a no-no in this controlled world. Hmm, maybe Mrs. Waterford isn't in charge anymore. At least, not as much as she'd like to think.
10. It's not over!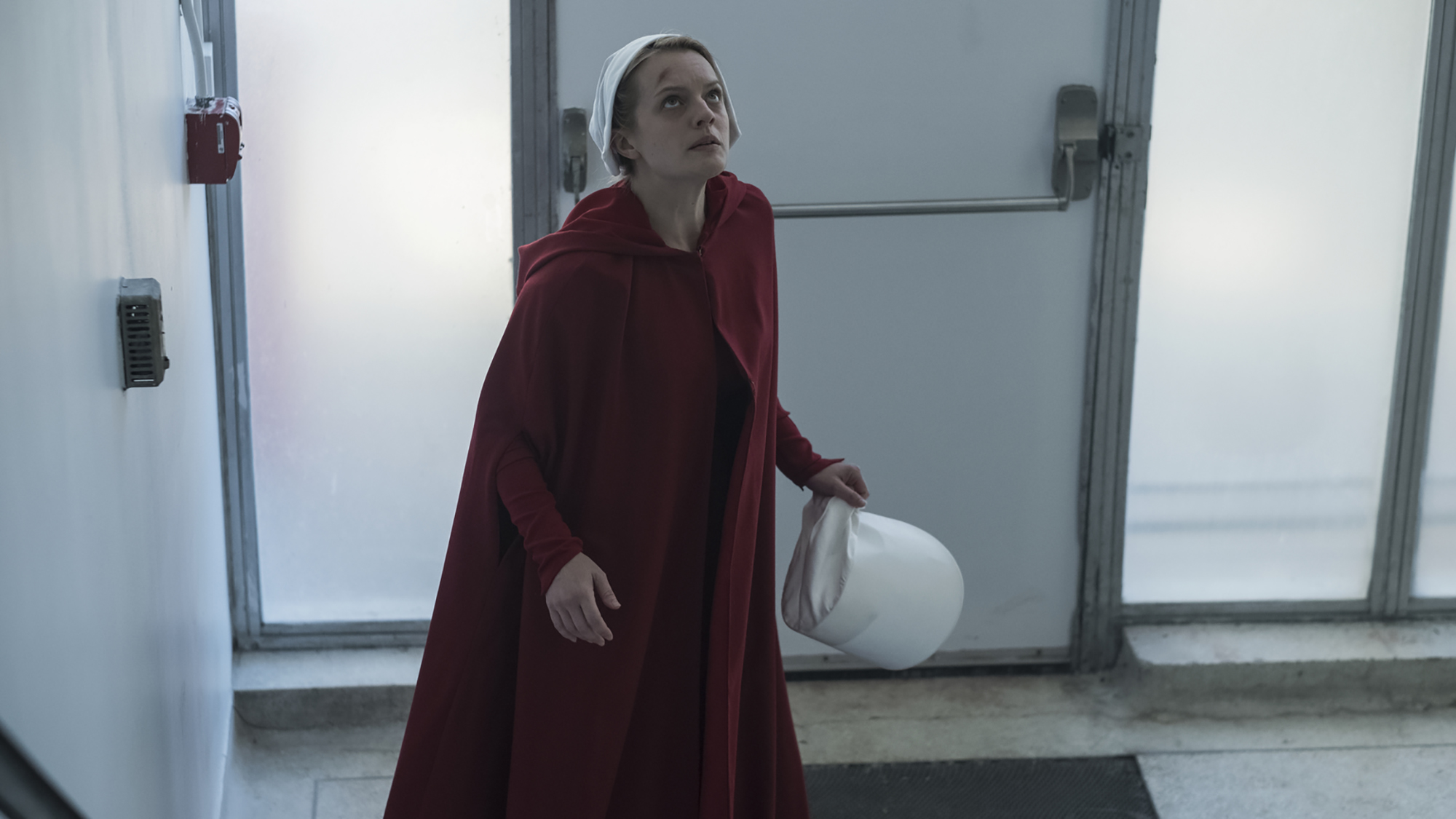 Ok, ok, we know it's not over for Offred, because it's the first episode. But, eh, she doesn't know that. Until… following her exam with the Waterfords, a medical technician calls her by her name. Not Offred, but "June." Her real name. She's not alone; they know she is there. It's just a matter of who "they" are. Her husband and his team of revolutionaries? Or possibly the driver Max, who helped her when she was living with the Waterfords?
Oh man. We gotta keep watching!
Are you all caught up on episode one? What were the standout moments for you!?
Read More
Filed Under: