When Emma Watson (Beauty and the Beast, The Circle) stepped out for the Academy Awards on Sunday evening, perhaps you noticed her new (temporary) tattoo. But only the very eagle-eyed will have picked up on an oversight.
The swirly, inked message on the inside of her right arm was missing an apostrophe, reports BBC News. Watson meant to have the tattoo read, "Time's Up," a term for the movement striving to stave off sexual harassment in the workplace. But instead, it came out as "Times Up." Spot the difference?
It's a little surprising Watson didn't notice the missing apostrophe. She's an English literature graduate, who attended not one but two prestigious schools, Oxford in the U.K. and Brown in the U.S. We're sure The Apostrophe Protection Society would have something to say about this particular punctuation mishap.
Anyone can make a mistake, and she handled the incident like a pro. Rather than getting into an online debate, Watson took to Twitter to post a job vacancy to avoid any future snafus (and, show off her wonderful sense of humor):
Fake tattoo proofreading position available. Experience with apostrophes a must.

— Emma Watson (@EmmaWatson) March 5, 2018
Over 100,000 people have liked this post, and over 11,000 are talking about it (and counting). There's no shortage of applicants.
If you missed it, here's a look at the Harry Potter star on Oscar night:
Emma Watson shows support for Time's Up movement with a new tattoohttps://t.co/5T4JR1z08m

— Mashable (@mashable) March 5, 2018
And here's a closer look at her arm with the temporary tattoo: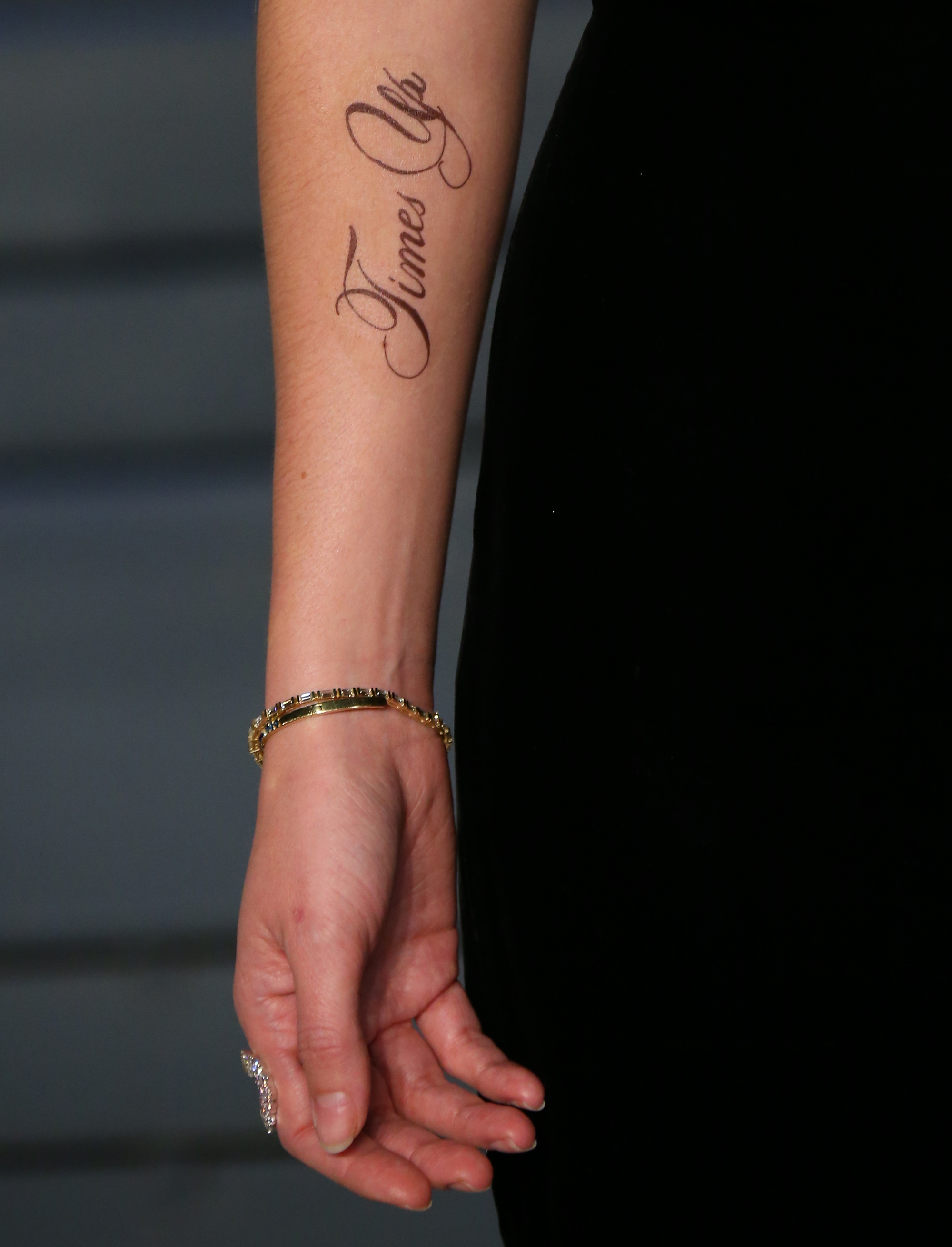 Time's Up is a recent initiative formed by approximately 300 high-profile career women, to fight off sexual harassment in the workplace, as described in this New York Times piece.
And while Watson may have donned the term sans apostrophe, at least she's gotten people talking and given the movement some more coverage.
We most recently saw Watson in 2017's sci-fi flick The Circle, starring opposite Tom Hanks, Karen Gillan and John Boyega. She doesn't have any new roles lined up as of now, but we always look forward to seeing what comes out of her corner.
Do  you think Emma Watson did a good job handling this slight mistake? 
Read More
Filed Under: