Not many scientists transcend the academic world to become a cultural icon, but Professor Stephen Hawking, who died today (March 14) at the age of 76 in Cambridge, England, was one such scientist.
His visionary theories about black holes and relativity transformed physics, and his 54-year-long fight against motor neurone disease, or ALS, inspired countless people across the globe.
Eddie Redmayne was among the first to pay tribute to Professor Hawking this morning, having won an Oscar in 2015 for his portrayal of the young scientist in The Theory of Everything.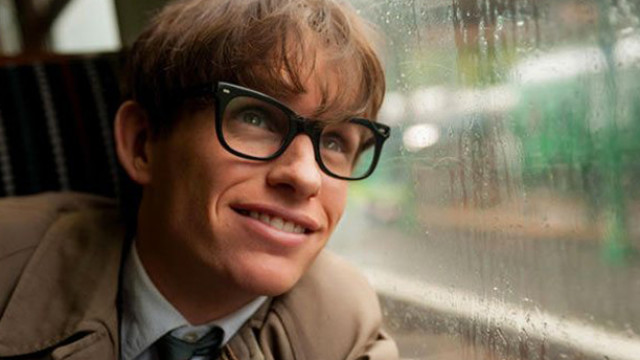 "We have lost a truly beautiful mind," Eddie said in a statement, "an astonishing scientist and the funniest man I have ever had the pleasure to meet. My love and thoughts are with his extraordinary family."
Eddie is not the only actor to have portrayed the late scientist. Benedict Cumberbatch, who played him in 2004's Hawking, and met him twice in the run-up to filming, paid tribute today, saying he felt "so lucky" to have known "such a truly great man," adding: "I will miss our margaritas but will raise one to the stars to celebrate your life."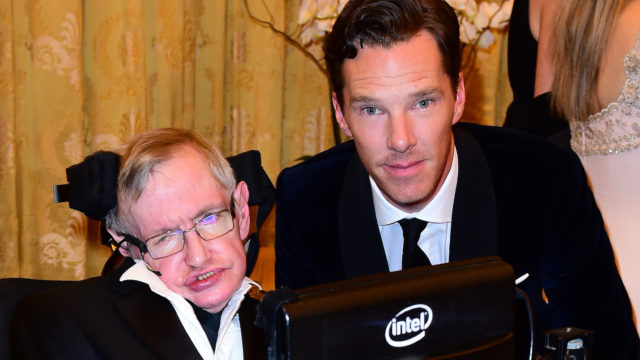 "He virtually created the publishing genre of popular science," Benedict went on to say, calling it "a heroic feat" to bring "the wondrous complexities of the universe to all outside of specialists in this field."
The Big Bang Theory cast also paid tribute to Prof Hawking, who guest starred in 2012 episode "The Hawking Excitation" that featured theoretical physicist Sheldon (Jim Parsons) yearning to meet his hero.
In loving memory of Stephen Hawking. It was an honor to have him on The #BigBangTheory. Thank you for inspiring us and the world. pic.twitter.com/9rWoYqIToy

— The Big Bang Theory (@bigbangtheory) March 14, 2018
Astrophysicist Neil deGrasse Tyson tweeted a picture of himself with Professor Hawking and left his own tribute:
His passing has left an intellectual vacuum in his wake. But it's not empty. Think of it as a kind of vacuum energy permeating the fabric of spacetime that defies measure. Stephen Hawking, RIP 1942-2018. pic.twitter.com/nAanMySqkt

— Neil deGrasse Tyson (@neiltyson) March 14, 2018
The Monty Python official Twitter account reminded us all of the version of the "Galaxy Song" from The Meaning of Life they filmed with Professor Hawking in 2015:
RIP to the magical Stephen Hawking… https://t.co/cpLTD7YfQg

— Monty Python (@montypython) March 14, 2018
The Office co-creator Stephen Merchant was typically self-deprecating in his tribute:
Once had privilege of meeting genius Stephen Hawking. We had so much in common. Same first name. Both been in The Big Bang Theory. So much.

— Stephen Merchant (@StephenMerchant) March 14, 2018
While The Big Sick star Kumail Nanjiani told his Twitter followers to read Professor Hawking's best-selling book A Brief History of Time:
RIP Stephen Hawking. Genuinely very sad to hear that. If you haven't, read A Brief History of Time. It'll make the world feel more amazing and beautiful and strange. It'll also make you feel smart and stupid all at once.

— Kumail Nanjiani (@kumailn) March 14, 2018
…though one person who didn't need telling was Mira Sorvino, who read the book while studying at Harvard:
I am very saddened to hear of Stephen Hawking's passing. His book was an enormous influence on me in college and meeting and getting to talk with him was one of the great thrills of my life. You are shining in the heavens you so loved now!

— Mira Sorvino (@MiraSorvino) March 14, 2018
Actor David Walliams recalled the 2015 Comic Relief sketch he filmed with Professor Hawking, in which he played his Little Britain character Lou:
Goodbye #StephenHawking Thank you for being – amongst everything else – a great laugh. pic.twitter.com/M1d1GEsv9r

— David Walliams (@davidwalliams) March 14, 2018
Cher had us boggling at the news that she once sat down to lunch with the erstwhile Lucasian Professor of Mathematics at Cambridge University:
Dear Stephen,Will Remember Our luncheon Forever. It was amazing🙌🏻.I Know we argued about The Value Of History ("Cher,when Time Travel Is perfected HISTORY Will Obsolete ") But as I Told you "history Is like a friend,and "#'s are like🐓scratches to me😱 Dyslexia
RIP Dear ❤️

— Cher (@cher) March 14, 2018
Even singer Katy Perry paid tribute, though she didn't quite get his Twitter handle right.
there's a big black hole in my heart hours before Pi day. Rest In Peace @Steven_Hawking… See you in the next ❤️

— KATY PERRY (@katyperry) March 14, 2018
And then there was the Hawking family, referred to as "extraordinary" in Eddie Redmayne's tribute today and in his Oscar acceptance speech in 2015. In a statement, Professor Hawking's children Lucy, Robert and Tim said: "We are deeply saddened that our beloved father passed away today.
"He was a great scientist and an extraordinary man whose work and legacy will live on for many years. His courage and persistence with his brilliance and humour inspired people across the world.
"He once said, 'It would not be much of a universe if it wasn't home to the people you love'. We will miss him forever."
Professor Stephen Hawking, 8 January 1942 – 14 March 2018.
Read More
Filed Under: