Everything about Mute — out today (February 23) — suggests a blockbuster movie: it stars a triumvirate of acting talent in Alexander Skarsgård, Paul Rudd and Justin Theroux, it's made by big-name director Duncan Jones, and its neon-drenched aesthetic is reminiscent of Blade Runner.
And yet there won't be lines around the block to watch Mute. Not because it isn't very good, but because it's the latest film to premiere on an online streaming service instead of in a theater.
Doing so isn't necessarily a sign of poor quality, as the term "straight to video" used to suggest. Ex Machina director Alex Garland's next film Annihilation will be released online-only in territories outside the U.S., while Martin Scorsese's forthcoming biopic The Irishman is expected to launch on Netflix in 2019.
This can lead to an abundance of films that are hard to find. Some get attention with a brief box office run: Idris Elba starrer Beasts of No Name, Dee Rees' historical epic Mudbound, and Noah Baumbach's brilliant The Meyerowitz Stories (New and Selected) all had limited theatrical releases in order to qualify for awards season.
But what about the rest? Here are 10 of the best films you won't have seen in your local movie theater.
10. War Machine, 2017
Many people were unaware Brad Pitt even had a film out last year, but he did, with a wildly over-the-top performance that just about keeps this savage war satire together. He's supported by an impressive cast, including Topher Grace, Sir Ben Kingsley, Anthony Michael Hall, Alan Ruck, Meg Tilley and Scoot McNairy.
Watch: Netflix
9. Batman and Bill, 2017
Holy injustice, Batman! This documentary chronicles how Bill Finger, the writer behind many details in the legend of the Caped Crusader, died penniless and forgotten, while artist Bob Kane received all the credit. A tale of a real-life uncredited hero worthy of the Dark Knight himself.
Watch: Hulu
8. Black Field, 2009
This dark historical drama set in the 1870s is about two sisters, the man who comes between them, and the tragedy that results. It debuted at the Vancouver International Film Festival in 2009, but didn't go on release in many other places. Back in the day, that would have been the end for a film — but now, it can revived online for a much wider audience.
Watch: Amazon Video
7. Manifesto, 2017
Prepare to see Cate Blanchett as you've never seen before… again… and again… and again. She plays 13 different characters in this film by Julian Rosefeldt, each of whom declaim famous artistic and philosophical manifestos. Having begun life as an art installation at the Australian Centre for the Moving Image in Melbourne, the film then toured the world's art galleries, ending up at the Sundance Film Festival last year. Amazon bought the U.S. rights and made it available online.
Watch: Amazon Video
6. Becoming Bond, 2017
Here's a cautionary tale for any actor hoping to be named the next 007 after Daniel Craig takes a bow. It mixes documentary with reenacted scenes to chronicle how George Lazenby, a poor Australian car mechanic who'd never acted a day in his life, landed the iconic role of James Bond in 1969's On Her Majesty's Secret Service. A true story that is indeed stranger than fiction.
Watch: Hulu
5. First They Killed My Father, 2017
This astonishing drama directed by Angelina Jolie is based on a memoir by Loung Ung, who was just five years old when the Khmer Rouge took over Cambodia. The story of the subsequent war is told entirely through the eyes of a child, with the camera seldom straying from what she can see or hear. It was released on Netflix in September 2017.
Watch: Netflix
4. Jim & Andy: The Great Beyond, 2017
This Spike Jonze-produced documentary delves into behind-the-scenes footage from the 1999 film Man on the Moon to explore how actor Jim Carrey lost himself in the role of gonzo comedian Andy Kaufman. It turns out there wasn't much dividing Jim and Andy after all, with Jim's approach going from mere method acting to a state of near-Buddhist enlightenment.
Watch: Netflix
3. Most Beautiful Island, 2017
Spanish actor Ana Asensio not only starred, but wrote, directed and produced this arresting thriller about an immigrant working in low-wage jobs in New York City. It won awards left, right and center on the festival circuit, until Amazon dug deep to buy the streaming rights.
Watch: Amazon Video
2. I Don't Feel at Home in This World Anymore, 2017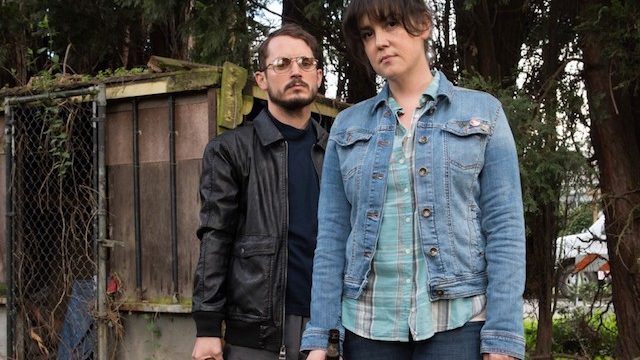 Macon Blair's directorial debut went directly to Netflix after taking home the Grand Jury Prize at the 2017 Sundance Film Festival. It stars Melanie Lynskey and Elijah Wood as an unlikely vigilante and her martial arts-crazed neighbor, who set out to exact vengeance after her home is burglarized.
Watch: Netflix
1. Okja, 2017
Snowpiercer director Bong Joon-ho uses the trappings of sci-fi fantasy to ask some uncomfortable questions about where our food comes from in this film. It tells the story of a young farm girl named Mija (Ahn Seo-hyun) and, uh, a massive genetically engineered pig named Okja. On the one hand, it's an environmental parable, and on the other, it's a sweet coming-of-age story in the vein of E.T. (not to mention another opportunity for Tilda Swinton to play a very strange character indeed).
Watch: Netflix
Have you found any hidden online-only gems?
Read More